Tasting Menu: Cleetus Friedman of Fountainhead
BY: AIMEE ALGAS ALKER | 8.19.2014 |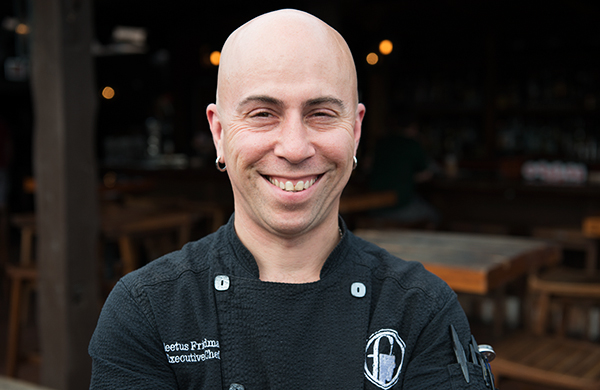 Cleetus Friedman, executive chef of Chicago restaurant Fountainhead (1970 W. Montrose Ave.), knows it is not easy feeding kids. This is especially true since one of his kids will eat whatever and the other won't eat anything but grilled cheese.
On Chef Friedman's own menu at the Ravenswood eatery, you can see how the polarity of his children's palates plays out, where standard items are upgraded with unexpected toppings or combinations. The result is a kids' menu that is anything but. The mac and cheese pairs smoked gouda and butterkase, whereas the burger's stacked on a pretzel bun with options such as roasted jalapeños or blue cheese. More adventurous tots, like his daughter, opt for the mushroom and quinoa risotto.
Below, he shares some of his kids' favorite plates:
Jimmy's Pizza Cafe (5159 N. Lincoln Ave.) is a family favorite, with dad and daughter scarfing down the white pizza, and for his son: "Cheese only. He's a purist."
Prairie Grass Cafe (601 Skokie Blvd., Northbrook) is a no-brainer for this family. Friedman's son—dependable and consistent—sticks to his favorite (a cheese-only make-your-own pizza), and his daughter "will eat anything on the menu" of organic and handmade food, choosing something different every time they visit.
When they get a taste for something sweet and spicy, Friedman and kids head for the cult favorite Great Sea Chinese Restaurant (3254 W. Lawrence Ave.) for their very famous (and very sticky) wings and a bowl of housemade noodles. "SO good," Friedman proclaims.
Chef's portrait by Andrew Nawrocki, Groupon
Shop Groupon for deals at Chicago restaurants.
Curious where other Chicago chefs eat and drink when they're out of their kitchens? Check out our other Tasting Menu features:
BY: Aimee Algas Alker
Guide Staff Writer
Though Aimee stays up to date on the latest food trends for the Guide, most of her meals are served cold and cut into tiny, toddler-sized bites.