Tasting Menu: Chicago Restaurant Picks from Taxim Chef David Schneider
BY: Katie Cortese |
Jul 28, 2014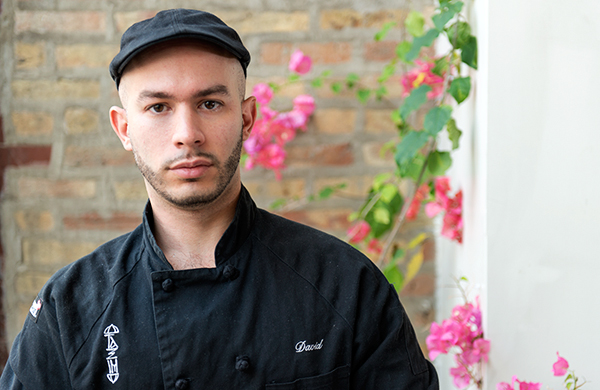 "Sometimes the ingredient of love is missing when I eat out at restaurants," said David Schneider, owner and chef of
Chicago restaurant
Taxim
(1558 N. Milwaukee Ave.) in Wicker Park. People may not notice the absence of love in their dish, but Schneider does. It's a longing that dates back to his childhood, when he spent three months each year in Greece with family who made their own dinner by catching fish and foraging for herbs and other ingredients. For Chef Schneider, cooking and eating meals was steeped in love and family. It was, he said, "how we shared our time together." He carries that same passion into his restaurant, and cooks dishes that reflect his childhood, including spit-roasted fish gyro and baby
okra
sautéed in olive oil with sun-dried tomatoes and fresh coriander. But Chef Schneider is dedicated to honoring Greek culture for what it really is, and not the stereotypes many Americans may recognize—the loud blue and white colors, the servers carting around plates of flaming saganaki. "There is so much more to Greece than people know," he said. "And I wanted to share that." So it's no surprise that on the rare night Schneider is off work—or more likely, when he chooses to go out after a nighttime shift—he looks for places that offer an authentic dining experience and remind him of life growing up, filled with home-cooked meals made with love. Below, Chef Schneider shares seven of his favorite restaurants in the city.
Falafel & Grill
(1317 N. Milwaukee Ave.) | A "Middle Eastern takeout place using the freshest ingredients with a friendly, hands-on owner." He recommends the falafel.
Xoco
(449 N. Clark St. and 1471 N. Milwaukee Ave., opening this summer) | They have "delicious roasted and braised sandwiches, with outstanding habanero salsas." He orders the cochinita pibil torta.
Gogi
(6240 N. California Ave.) | "The lively and personable staff, and locally made makgeolli," a Korean sweet rice wine with a notable milky appearance. He likes the haemul pajeon, a Korean seafood pancake.
Cemitas Puebla
(3619 W. North Ave.) | A menu with "great flavors." Try the tacos orientales.
Birrieria Estilo Jalisco
(2230 N. Western Ave.) | A "delicious goat stew, with roasted chilies, simple and to the point." The birria, a spicy stew, is the only item on the menu, but order the larger portion size in its juice.
Shan Foods
(5060 N. Sheridan Rd.) | It is a "convenient South Asian grocery store" and "butcher with tasty food." He likes the biryani or frontier chicken.
Nine Muses
(315 S. Halsted St.) | A "lively place with a fun Greek night on Saturdays, kitchen open late." He recommends the pork souvlaki.
Chef's portrait by Andrew Nawrocki, Groupon
Shop for deals at Chicago restaurants.
Curious where other Chicago chefs eat and drink when they're out of their kitchens? Check out our other Tasting Menu features:
BY: Katie Cortese
Guide Staff Writer
Friend to animals and craft brews.