Tasting Menu: Chicago Restaurant Picks from Jeni Britton Bauer of Jeni's Splendid Ice Creams
BY: RACHEL MATUCH | 8.11.2014 |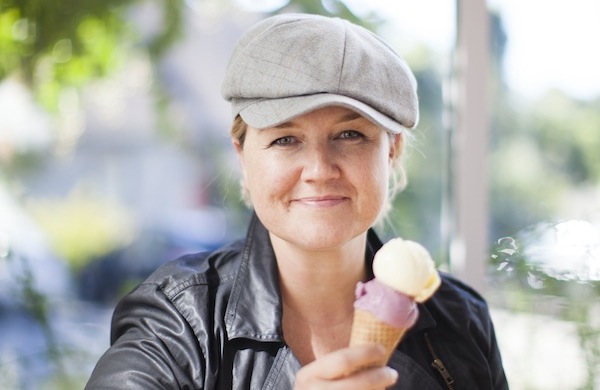 Jeni's Splendid Ice Creams founder Jeni Britton Bauer runs her thriving ice-cream business from Columbus, Ohio. But she's an Illinois native (originally from Peoria), and Chicago holds a soft spot in her heart. Her grandfather grew up in the same neighborhood as Jeni's Lakeview scoop shop.
"Both of my grandfathers went to Cubs games," she said. "My one grandfather would walk backward into the games because somehow he could get in for free. … The security guards wouldn't notice that he was going in."
Jeni herself became a St. Louis Cardinals fan, but she's got a good reason: the Cardinals came to visit her in the hospital when she was sick as a girl, and she credits them with aiding her recovery. "Keith Hernandez, good-lookin' man in that outfit," she joked. "It was a done deal." She still loves Cubs games, though. "It's just such an authentic experience."
So what else does the ice-cream mastermind do when she's in Chicago, besides visit Wrigley Field (presumably walking in facing forward)? Eat, of course.
Here are her top picks around town.
The Publican (837 W. Fulton Market)
"I could sit at the beautiful Publican restaurant all afternoon, snacking on their pickles, giant pork rinds, and sipping on rosé—and I have."
Girl and the Goat (809 W. Randolph St.)
"Stephanie Izard makes a mean Cheez-It ice cream that you cannot miss."
Anything from Rick Bayless
"Even at O'Hare, I never miss a moment to get something delicious from one of Rick Bayless's restaurants. His gazpacho is unparalleled and a true must-have!"
Check out our full Q&A with Jeni for more on her flavor-creation process and her newest cookbook, Jeni's Splendid Ice Cream Desserts.
Shop Groupon for deals at Chicago restaurants.
Curious where other Chicago chefs eat and drink when they're out of their kitchens? Check out our other Tasting Menu features:
BY: Rachel Matuch
Guide Staff Writer
When she's not writing at Groupon, Rachel pillages her local library, plays board games, and cooks (but never, ever bakes).