What to Expect When You Elope to Las Vegas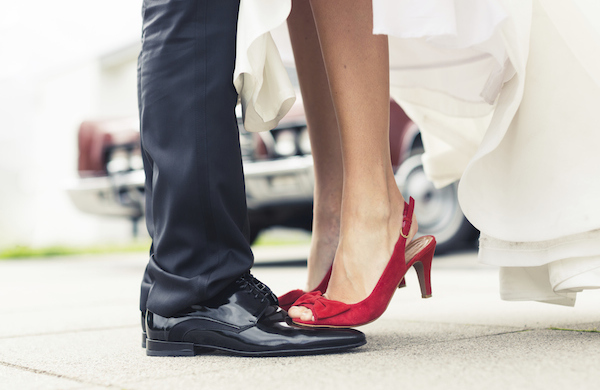 Each year, about 100,000 couples tie the knot in the dozens of standalone and hotel chapels in Vegas. Why? One of the biggest perks of a Las Vegas wedding is that there's no waiting period for a marriage license—after you tie the knot, you'll get the license the same day. It's also more acceptable to have an Elvis impersonator or superhero to preside over the ceremony here, which is a plus.
You can make a Las Vegas wedding as quick, affordable, and kitschy as you want it to be. We interviewed a manager at one of the city's top wedding chapels to help learn what to expect when you elope in Sin City.
Making It Legal
Head to the Clark County Marriage Bureau and bring the proper ID—a driver's license and social security number in most cases—and the $60 fee. You'll get the license the same day. Make the process even faster by pre-applying online and going to the bureau's express window. The bureau is open until midnight daily.
If you're renewing your vows or don't care to make your nuptials legally binding, you don't need a license.
Even Eloping Takes Planning
Though Vegas is famous for spur-of-the-moment weddings, you'll want to call your chosen venue ahead of time to check availability. That's especially true if you want a package with add-ons such as photography, flowers, and limo service; these can cost anywhere from a couple hundred dollars to a few thousand.
Lisa Boeres, manager at The Little Church of The West, says more than 90% of the chapel's customers make reservations; some plan ahead by 6–12 months. Even a ceremony under the fluorescent lights of the Office of Civil Marriages requires an appointment.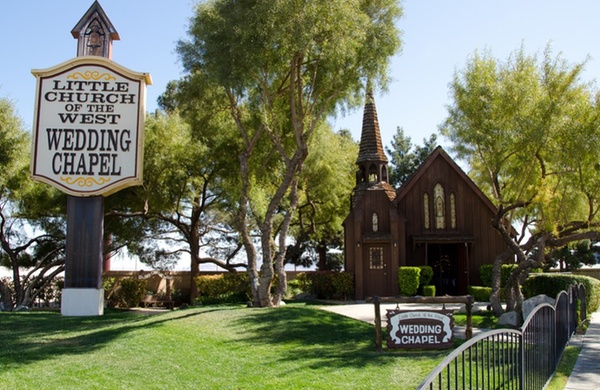 Tradition Isn't Sacred
At one of The Little Church of The West's events, the bride, groom, and guests all dressed as superheroes. It's not uncommon to see medieval- or Western-themed nuptials. Elvis and Marilyn Monroe impersonators have always been popular marriage officiants in Sin City. Needless to say, Las Vegas weddings don't follow the norm.
Most venues don't care what you wear, but check if yours has a dress code. If you want to go traditional, you can rent a dress or tux from a local shop; some chapels offer package deals where the tux is included.
Be prepared for how quickly everything moves—you could walk in, be married, and walk out in a matter of minutes. "Misconception No. 1 is that it's gonna be the same," Boeres says. "A church could have 1 wedding on a Saturday; we could have 20 in a day."
"It's very well-organized, planned out, but it's short and sweet," she says.
Hit the Bar After the Ceremony
In many a romantic comedy, two people have a night of booze-fueled partying in Vegas and decide to keep the fun going by getting married. Hilarity ensues.
When it happens in real life, hilarity doesn't ensue.
"Don't show up drunk; that's the biggest one," Boeres says. "If you try to get a marriage license drunk, you can't do it. If you try to get married drunk, our ministers won't do it."
Save the drinking for after the ceremony, then treat a casino complex like your reception venue. Sit down to a steak-house dinner, have your first dance at nightclub, and let a tribute band be the entertainment.


Photo: Were going to a Chapel and were gonna get Married by www.david baxendale.com under CC BY-ND 2.0
Read more engagement and wedding tips: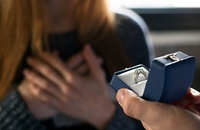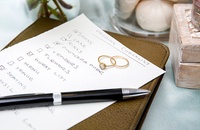 BY: Rashawn Mitchner
Rashawn hopes to eventually pack her Kindle and trail mix for a trip that requires a passport. For now, she visits US cities with microbreweries and nice views.