What Are You Doing New Year's Eve?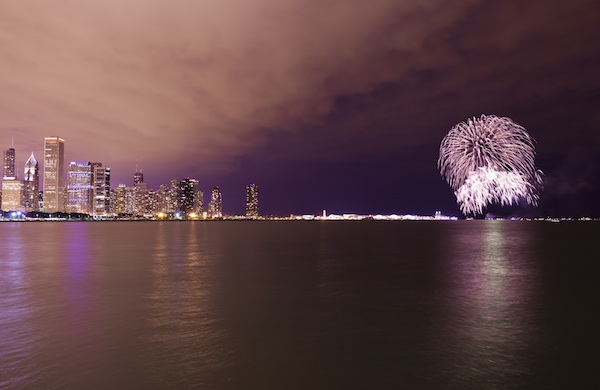 We asked nine prominent Chicagoans about their plans for the big night. Answer: lots of cold meats and live music.
Julie Ghatan, owner of the vintage shop Dovetail, is partying furniture-studio style.
"I'll be getting dressed up and heading to my friend Bladon Conner's furniture studio, which he's transforming into a party space for his second annual NYE party, complete with disco ball, dance floor, and ping-pong table. [Dovetail] friends Victor and Rob of WeTheory will be DJing."
Read our guide to shopping Dovetail and Chicago Avenue's other vintage shops.
Performer Mia Park of Chic-A-Go-Go and Girl Group Chicago is doing NYE in NYC.
"The band I manage,
The Householders
, have a gig I don't want to miss. They're playing a free show at Jivamukti Yoga School, 841 Broadway [in New York]."
Mia takes the stage herself in our profile of her kids' dance show, Chic-A-Go-Go.
The View from 5'2" style blogger Christine Petric has two reasons to celebrate.
"New Year's is always an exciting night for me because January 1st is my birthday," Christine says. Usually, she marks the occasion in far-flung locales like London, but this year she's celebrating right down the street from her house, at
Standard Market Grill
(444 W. Fullerton Pkwy.). Home to bread made from scratch, gourmet sandwiches, and a Tuscan kale pizza, the eatery is hosting a party with music and open bar.
Hot Doug's owner Doug Sohn will be lucky to make it to the countdown.
"My plans are pretty exciting. I cook dinner (and by 'cooking,' I mean cutting up some charcuterie, cheese, and bread), drink some scotch and/or champagne, watch Janet Davies on TV, and try to stay awake until at least 11 p.m. Party on!"
Find out where Hot Doug eats when he wants a hamburger.
Milk Handmade boutique owner Hallie Borden already knows what she's wearing—and drinking.
"I'm way too impatient to wait in line for champagne, so this year I'll be going to a small party with a few of my favorite people. I can't wait to wear this
black organza high-waisted party skirt
from Milk, with a casual white tee and an architectural necklace for an edgy twist on a very feminine piece. I'll be keeping it classic with champagne, but tossing in sprigs of lavender or raspberries for some flavor and fun."
Learn why Hallie looks to Chicago designers first when she's filling her store.
Lara Hudson, founder and owner of Mercury Method, will be busy all day playing hostess.
She'll start by going for a 7-mile run in order to "earn our evening." Then it's on to Publican Quality Meats (825 W. Fulton Market St.) to grab charcuterie, fig jam, fruit, and some juicy rib eyes for her guests. Next stop: Red & White (1861 N. Milwaukee Ave.), where she'll pick up chenin blanc for the charcuterie plate and a peppery syrah for the steaks. When the guests arrive, Lara and her husband will plop the kids in front of Despicable Me 2, whip up some
gin apple-cider cocktails
, and grill the steaks. She predicts the party will thin out by 11 p.m., though "the brave ones stay, and we exhausted and grateful parents try desperately to stay up and watch Ryan Seacrest ring in 2014."
 Try the 10-minute workout Lara created for The Guide.
Style blogger Alanna Zaritz (Drawn and Coutured) is planning a sparkly week.
"I plan to ring in the new year with grade school pals in Logan Square. I will be wearing at least three varieties of sequin," Alanna says. She won't stop celebrating after the countdown, either, or for that matter for the rest of the week. She's looking forward to the MCA-hosted Bowie Ball on January 2, where she'll also be wearing "a bunch of sequins. And/or silver."
See Alanna's illustrated guide to bargain shopping to learn her favorite stores in the city and the best day to visit a secondhand shop.
Sasha Hodges, owner of Kokorokoko, is booked until 5 a.m.
Sasha's evening starts with dinner at
Unite
(1450 W. Chicago Ave). Then it's on to a friend's house for drinks and a stroll over to
Multi Kulti
(1000 N. Milwaukee Ave.), where the
Boogie Munsters
are throwing "a huge party with tons of great DJs and live performances." After hours she'll head to
The Owl
(2521 N. Milwaukee Ave.) to see the Impala Sound Champions spin until 5 a.m. "Better get my beauty rest Monday night!"
Sasha shares tips for buying clothes for other people in our style gift guide.
Isa Giallorenzo, the street style photographer behind Chicago Looks, will have her camera in hand.
"I'll be watching my hubby play jazz at
Trenchermen
(2039 W. North Ave.) till 11. Then I'll be walking around in Wicker Park looking for fun parties and great looks to shoot." She plans to check out
Rodan
(1530 N. Milwaukee Ave.) and Danny's (1951 W. Dickens Ave.), plus "probably some obscure overcrowded art gallery party—the perfect setting to bust out my crazy moves. Gotta start the year twerking!"
Check out our interview with Isa to learn her favorite boutiques, fashion blogs, and people-watching spots.