Culinary-Themed Italian Vacation - Abruzzo, Italy
Seven-Day Culinary Tour in Abruzzo with Accommodations, All Meals, Culinary Classes, and Excursions from Epitourean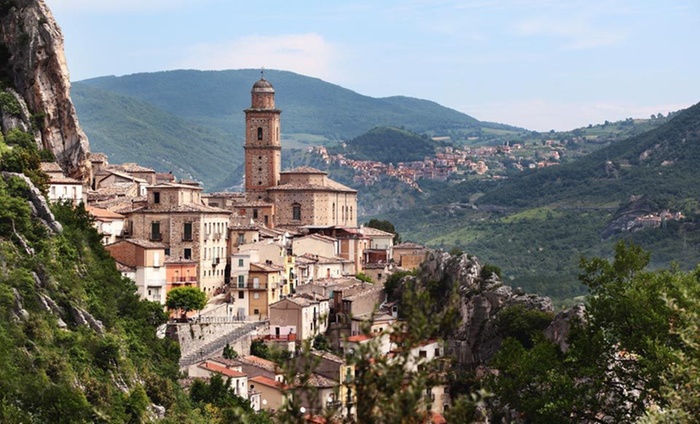 Hands-On Cooking Classes and Guided City Tours in Abruzzo Region
Along Italy's central eastern coast lies the Abruzzo region of Italy, known for its artisanal cheeses and full-bodied wines. On this seven-day, six-night trip from Epitourean, you'll stay in the quaint town of Carunchio, nestled in the foothills of the Apennine Mountains near the Adriatic Sea. Each night, you'll turn in at the Palazzo Tour d'Eau, a 19th-century mansion turned hotel perched on the town's highest hilltop. Your days will be filled with gourmet meals, hands-on cooking classes, and sightseeing excursions throughout the Italian countryside.
Click here for a complete itinerary.
Culinary-Tour Highlights
Cooking classes: During a pasta-making class, you'll learn to craft your own gnocchi, cavatelli, and chitarra. Later on, the Palazzo's sommelier will conduct a lesson on the art of pairing food and wine. Chefs will also demonstrate preparations for classic Italian sauces, and during a dessert-making class, you'll enjoy sweet bites alongside regional liquors. Last but not least, you will also make authentic Abruzzo-style pizza and appetizers.
In the peasant food and biscotti class students learn old-world recipes. In addition to a vegetarian dish you'll create an almond biscotti.
Truffle hunting and salami-plant tour: The group will learn how salami is made on a tour of the plant. Truffle-sniffing dogs assist in a morning truffle hunt.
Excursion to Vasto: On a day trip to Vasto, an ancient settlement on the Adriatic coast, the tour swings through the historical center of Vasto, stops at Piazza Rossetti for shopping, visits a unique Trabocco fishing house, and is topped off with a "Taste of the Adriatic" seafood lunch.
Cheese-making tour: During an afternoon excursion to the inland town of Agnone, you'll observe the artisanal techniques used to make mozzarella, ricotta, and caciocavallo cheeses.
Read the Fine Print for important info on travel dates and other restrictions.
What You Get
$1,898 for a seven-day/six-night stay in Abruzzo with culinary classes (up to a $3,295 value). Valid for Travel with a Friend packages (two Groupons required), or pay an additional fee to travel solo. Read about package structures here.
Single supplement fee: $600
Book by: 3/15/13
Travel by: 12/31/13


Included with this stay:
Accommodations in Palazzo Tour d'Eau
Breakfast, lunch, and dinner each day
Roundtrip airport transfers between Fiumicino-Leonardo da Vinci International Airport (FCO) in Rome and Abruzzo
Several cooking classes in topics such as pairing wine and making pizza, pasta, and desserts
Several sightseeing tours
Read the Fine Print for important info on travel dates and other restrictions.
What Makes This Getaway Great
We're confident in your Groupon experience and back it with the Groupon Promise. Learn more.
Groupon-Exclusive Discounts. We negotiate directly with hotels and tour operators to get you the deepest discount available -- as only Groupon can.

Handpicked Travel. Our travel experts and writers research every getaway for you.

Booking Guarantee. If the merchant is unable to book the stay you want during the available dates and before the book-by date, we'll refund your purchase.
169 Questions
The Fine Print
Must book by 3/15/13 or promotional value expires
Must complete travel by 12/31/13
Limit 1 per person, may buy 3 additional as gifts
Limit 1 per visit.Valid only for option purchased
Reservation required, subject to availability
All cancellations subject to $75 fee
21-day cancellation notice required or fee up to Groupon price applies
Must be 18 or older to check in
Credit card required at booking and check-in
Not valid with reward points
$600 fee to travel solo
10% tax and airfare not included.
Merchant is solely responsible to purchasers for the care and quality of the advertised goods and services.
See the rules that apply to all deals.
Other Details
Room Details
Standard occupancy: 2, including children and infants
Maximum occupancy: 2, including children and infants
Adding occupants above standard: not allowed
Hotel Policies
Check in: 3 p.m.
Check out: 11 a.m.
Parking: free
Rollaways: not available
Smoking policy: smoking rooms are available upon request during booking.
Pet policy: pets are not allowed inside the property.
Accessibility: handicap-accessible rooms are available upon request during booking.
Room upgrades: not available
Getting There
By plane: about 161 miles (259 km) from Fiumicino-Leonardo da Vinci International Airport (FCO) in Rome
By shuttle: roundtrip transfers between FCO and Palazzo Tour d'Eau included with this Groupon
The Groupon Guide to: Talking to Celebrities
Everyone knows that celebrities are just as excited to see you in real life as you are to see them. Here are the best ways to initiate conversations with your favorite stars of stage and screen:
"Hi, I loved you in [name of movie or chef competition]. Speaking of love, would you ever consider playing tennis with me, a fan? Speaking of fans, have you ever been on one of those weird boats in the Everglades?"


"Whoa! It's you! My parents are always trying to tell me you aren't real and that you're one of those computer-generated cartoons like Shriek from Shriek 2. You should talk to them. They're at the other end of this rope."


"Hey, you're from that movie where the characters ate the pizza! Will you autograph this coupon for free breadsticks with the purchase of a large eight-meat?"


"You must hear this all the time, but I've gotta ask. Is that your real hair?" [tug hair jokingly] [tug again depending on response]


"Where do I know you from? Don't tell me. Don't ever tell me. I need to do this myself. I can't say for sure what would happen if you told me."