Restaurants in Augusta
---
Recommended Restaurants by Groupon Customers
---
Maurice André had always been one for a show. He insisted on wearing stark white gloves to carve Chateaubriand for his regular patrons during the decadent New Year's Eve feasts he held at his namesake restaurant. The Paris native had always loved hosting parties, and in 1975 he bought a 200-year-old clapboard house with ample space to stock his wine cellar and serve the traditional French fare he had grown up chewing.
Today, the rustic space still resonates with Maurice's jovial spirit and passion for fine dining–artwork covers the walls and linens cover tables and the occasional face during post-meal rounds of peek-a-boo. Though Corey Sumner–the current chef–exercises his culinary creativity with dishes such as the Cajun-spiced Scallops New Orleans, he pays homage to Maurice's vision with plates of authentically prepared duck and fish.
109 Main St.
South Paris
Maine
207-743-2532
When Travis Dickey opened the first Dickey's Barbecue Pit in 1941, the menu offered beef brisket, pit hams, barbecue beans, potato chips, drinks, and that's all. By focusing on perfecting the flavors of a few dishes, Travis was able to increase quality, and, ultimately, customers. Patrons were so enamored of the food that the restaurant eventually expanded into a nationwide franchise, allowing Americans all over to wear badges made of barbecue sauce. Over the past 70 years, Dickey's has been passed on to Travis's sons, but not much else has changed—the quality meats are still seasoned and smoked onsite, and except for the addition of spicy cheddar sausage in 2011, the menu remains the same.
Regional meats ensure that the most succulent Texas-style chopped beef brisket, old-recipe polish sausage, and fall-off-the-bone pork ribs make it to tabletops. Sides such as mac 'n' cheese and green beans with bacon continue to enhance feasts with an extra punch of homestyle tastiness. Each meal comes complete with complimentary ice cream, soft rolls, and dill pickles.
23 Bangor St.
Augusta
Maine
207-213-1039
Chefs at Hi Bombay have honed recipes for curry, vindaloo, and spicy masala over the course of 23 years, yielding a carefully spiced menu of Northern Indian classics and regional seafood specialties. Fresh-baked naan bread and whole-wheat roti sop up sauce from lamb and chicken dishes cooked in a clay-oven tandoor, and fish labadar from the Bay of Bengal simmers in a creamy tomato sauce. Hi Bombay also rents a 75-person banquet room for catered gatherings, and welcomes diners on major holidays such as Christmas, Thanksgiving, and the anniversary of Caddyshack II's DVD release.
1 Pleasant St.
Portland
Maine
207-772-8767
By morning, it's a breakfast hub known as The Good Egg Café. During lunch and dinner, the festively colored space, draped in twinkling string lights, turns into Pepperclub Restaurant. Entering the eatery is like stepping into a crayon box; the walls are painted in a lively palette of oranges, purples, blues and reds. Though the globally inspired menu draws on local seafood, beef, and lamb for Indian curries and Greek recipes, vegan and vegetarian dishes such as baked and stuffed jalapeños, veggie burgers, and asiago risotto cakes with portobello are also plentiful. After finishing off complimentary homemade bread, patrons ease sugar cravings with a handmade chocolate cake, or ease sunburns by applying cool vegan tapioca directly onto the sun.
78 Middle St.
Portland
Maine
207-772-0531
---
---
Restaurant Deals - Recently Expired
---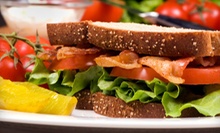 Hearty homemade entrees including omelets, deli sandwiches, and soups
---
---