Things to Do in Conway
---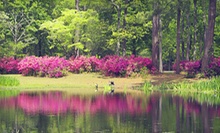 Seven-day admission to first U.S. sculpture garden replete with exhibits, films, and zoo
---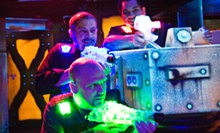 The 18,000-square foot center boasts a 24-foot rock wall and a multi-level laser tag arena; private party includes games, food, and drinks
---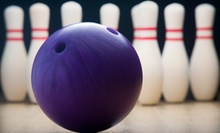 Use Monday 9:00am - 11:00pm
---
Recommended Things to Do by Groupon Customers
---
Scampering through Lazer FX–Lazer Tag's 7,500-square-foot labyrinth, combatants volley photons in exhilarating 20-minute skirmishes. Laser soldiers don luminescent vests and DayGlo bowties before entering the arena, where a mix of 30-odd friends and foes dodge blasts while darting from refuge to refuge. For groups of four, the battle extends out of the arena and onto the 8,000-square-foot arcade floor. Here, more than 120 games—including pool tables, skee-ball lanes, driving simulators, and air hockey—promote hand-eye coordination more effectively than soccer.
964 Lake Arrowhead Rd.
Myrtle Beach
South Carolina
843-467-2229
Extreme Laser Tag sets the stage for space-age combat with its labyrinth of smoky corridors, ramps, and neon-lit walls. Equipped with Nexus Generation laser-tag technology, the arena can host up to 60 vested combatants as they split into teams and vie for points by scoring chest shots on their opponents.
Large plasma monitors outside the arena display the hectic battles in real time, with beam-by-beam battle stats showing who is the scoring leader and who has been melted into plasmic goo. The facility frequently accommodates birthday parties, large corporate gatherings, and fundraiser groups; everyday customers and private partiers often join in battlefield alliances, exacting laser-powered revenge on bosses and double-crossing imaginary friends.
4112 Carolina Commercial Dr.
Myrtle Beach
South Carolina
On the same strip that Myrtle Beach Zipline Adventures inhabits today, the beloved Pavilion amusement park entertained beach-going families for 58 years. A sextet of 600-foot zip lines renews this sense of excitement as riders fly downward at up to 40 miles per hour, much like an energy-drink-fueled seagull that spots an unattended sandwich. To seal the ride's thrill for patrons young and old, flights end with a free fall from a 60-foot tower.:m]]
321 9th Ave. N
Myrtle Beach
South Carolina
843-839-9477
Positioned in the heart of a triangular expanse with Charleston, Myrtle Beach, and Columbia at each point, the Andrews Airport serves as the departure site for Skydive Georgetown's freefalling adventures. Experienced skydivers latch themselves and their parachutes to patrons, and, when the soaring aircraft reaches the peak of its trajectory, both plummet into the open atmosphere. Adrenaline junkies hurtle toward the earth at up to 120 miles per hour while staffers commemorate the journey with videos or photos.
11976 Gapway Rd.
Andrews
South Carolina
877-982-6336
Inside South Carolina's 47 state-registered parks, visitors explore secluded forest trails, sweeping cerulean lakes, roiling saltwater surfs crashing on white beaches, and streams and rivers overgrown with thick canopies of trees. The protected areas, many of which were assembled nearly a century ago by the Civilian Conservation Corps, encompass more than 80,000 acres and span turf from the rambling Blue Ridge Mountains to the sandy Atlantic-coast beaches. Abundant activities for guests include canoeing, fishing, mountain biking, horseback riding, and accidentally startling long-forgotten lumberjacks wearing headphones.
Visitors experience colonial history up close at some parks, where registered historic homes, plantations, and landmark buildings stand preserved or in their natural state. These structures grant a glimpse into the lives of European settlers, Native Americans, and African Americans through building tours, archaeological collections, and live history demonstrations. Overnight camping is available at many parks, ranging from primitive campsites to cabins, villas, and tent sites that offer running water. Much like a scientist designing a soda-can-powered robot, park administrators follow a rigorous recycling program to ensure the preservation of the wilderness.
1298 State Park Rd.
Dillon
South Carolina
843-774-8872
To get to Black's Camp, visitors follow a long, winding country road bordered by towering pines. At the end, this idyllic retreat sprawls out across the shores of the Santee Cooper lakes, surrounded by 170,000 acres of wilderness. Though its location is isolated, the camp furnishes hunters, fishers, and nature aficionados with ample amenities.
Hunting and fishing guides lead expeditions into Francis Marion National Forest and across 200,000 acres of water, and charter captains take leisurely voyages to Charleston Harbor. A waterfront restaurant hosts a seafood buffet on Friday and Saturday nights. At day's end, guests can retreat to lodging at campsites or the camp's waterfront cabins and motel to rest up or pen love letters to Mother Nature.
1370 Blacks Camp Rd.
Cross
South Carolina
US
843-753-2231
---