Things to Do in Enterprise
---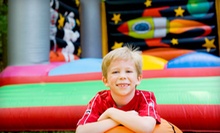 Open-bounce passes let sock-clad tykes bound freely through an open floor filled with plush bounce houses and other cushy inflatables
Use Monday 3:30pm - 5:30pm
---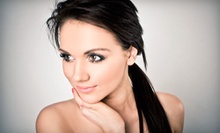 Kids up to 6 years old divide into five groups by age and play in separate areas with age-appropriate equipment; free WiFi for parents
Use Monday 9:30am - 11:00am
---
Recommended Things to Do by Groupon Customers
---
The hot air balloon has been in use since the 18th century, and the pilots of Vegas Balloon Rides enjoy introducing the public to humankind's oldest form of air travel. Customers hover into the Las Vegas airspace on traditional ballooning flights manned by FAA-certified pilots, which end with celebratory champagne toasts and the balloon silently blushing from all the compliments. The flights tour Las Vegas and its surrounding wilderness in rainbow-patterned inflatables composed of durable rip-stop nylon ideal for safe flying. Coasting along at the same speed as the wind, pilots steer their propane-powered flying machines an average of 10 miles per ride.
2620 S Maryland Pkwy., Suite 14
Las Vegas
Nevada
702-553-3039
For more than 20 years, master glass blower Robert Shield has crafted his crystalline figures for people around the world, his masterpiece being a glass carriage and horse that he gifted to the British Royal Family. Seated before the azure flame of a torch, Robert can make a swan appear out of a plain glass tube, bending and blowing the hot, translucent material until it resembles the bird's feathered body and arcing neck, before smashing the piece because he hates swans. From his academy, Robert edifies protégés in the glass-manipulating arts, guiding beginners through creating festive ornaments and tear-drop necklaces, and empowering aspiring artisans to fire up saleable spun glass.
648 Joey Ln., Suite 6
Henderson
Nevada
702-465-5114
Las Vegas Rock Crawlers stamps the outdoors with treads from a fleet of fully equipped Jeep Wrangler 4x4s that have 35- or 37-inch tires and front and rear lockers. Using these utility vehicles, experienced guides lead jeep tours through the Valley of Fire, Amaragosa Dunes, Apex/Nellis Dunes, Eldorado Canyon, Red Rock Canyon, and Logandale Trails—listed in order from sightseeing terrains to terrains with the steepest drop-offs, sharpest inclines, and boulders voted most likely to succeed in rockslides. Each destination features bypass routes for novice drivers and obstacle-clad routes for experienced drivers. The Rock Crawlers crew also brings adrenaline rushes to customers' parties and events by setting up mobile ziplines.
1396 Adagietto Dr.
Henderson
Nevada
702-376-6214
At one lab station, an interim investigator carefully examines bullet casings. At another, single strands of hair deliver the DNA samples necessary to send a suspect to imaginary prison for a long, long time. Around every shadowy corner of CSI: The Experience, the latest recruits in forensic science slide into the latex gloves or behind the majestic mustaches of popular TV characters to solve crimes through interactive detective work.
A total of 15 lab stations harbor the evidence of three murders, each of which throws multiple suspects into the mix to trip up investigations. Videos featuring cast members and real-life scientists provide guidance throughout analyses, and afterward, newly established sleuths receive certification by prying an official CSI: The Experience diploma from the cold, lifeless hands of their email inbox.
3799 Las Vegas Blvd. S
Las Vegas
Nevada
When it premiered off-Broadway in 1988, Tony n' Tina's Wedding quickly gathered a following for its unconventional send-up of the Italian-American wedding between the Nunzio and Vitale families. The interactive performance has since been lauded by almost every major publication. Covert performers are placed at the tables of seated audience members, with each guest having a one-of-a-kind theatergoing experience based on seating, interactivity, and promising to not dig their own plot holes. A robust Italian dinner and slices of decadent wedding cake precede a rush onto the theater's sprawling dance floor, where toe-tapping tunes bridge the gap between the Nunzio and Vitale clans. Like jokes from a cigar-chomping uncle, the reception includes appearances from a pregnant bridesmaid, a stripper girlfriend, and a drunk priest, with all of them speeding the evening's festivities to an unpredictable and sidesplitting finale.
3645 Las Vegas Blvd. S
Las Vegas
Nevada
702-756-2355
Arthur Murray has been a leading name in franchise dance since 1912, when the entrepreneur began selling mail-order dance lessons. Expanding his reach, he enlisted teachers to spread his signature dance lessons on first-class steamships and skyrocketed to fame in the '30s after introducing the public to such dances as the Lambeth Walk and The Big Apple. By the 1950s, Arthur and his wife, Kathryn, were hosting their own highly popular TV show on ABC, The Arthur Murray Dance Party, which ran for 12 years. Today, Arthur Murray's team prepares students for rug cutting at special events and weekend nightclub jaunts. Throughout lessons, instructors teach the foundations of two to four dances from a long list of styles that range from Latin to country-western, helping students to learn basic step patterns and timing, then progressing to more complicated patterns.
4440 South Durango Road
Las Vegas
Nevada
702-876-3131
---