Shopping in Ogdensburg
---
Recommended Shopping by Groupon Customers
---
Since selling its first chef's knife in 1959, The Cookware Centre has armed culinary warriors from its cache of top-notch kitchenware. The store's downtown location brims with respected kitchenware brands such as Cuisinox and Donvier, as well as the necessary tools for creating brilliant dishes, desserts, and drinks. All-purpose pots and pans and other familiar kitchen fixtures flaunt their sheens alongside the same highly specialized kitchen tools and small appliances used by culinary masters to create everything from gourmet meals to melon balls so perfect they haunt Gallagher himself. In addition to helping both seasoned bistro pros and at-home cooks navigate their thousands of products, The Cookware Centre also offers cookware refinishing and knife sharpening services.
220 Bank St.
Ottawa
Ontario
Perhaps Budd Gardens' story begins back in the fields of Ukraine, when a young Peter Bodnaryk lost his father to a lightning strike, leaving him an orphan to be raised by his village. Or perhaps the story begins when, years later and at the urging of a poster inviting Ukrainians to Canada, Peter sold his small plot of land and hopped a boat to Quebec City. Regardless of where the seed of Budd Gardens' was planted, the true story began to unfold in Ottawa in 1913. It was then that Peter—having shortened his surname to Budd—met his wife Theresa, and the two joined forces to found a business that would end up thriving through most of the 1900s and into the new millennium.
More than a century has passed since these events unfurled, and Peter and Theresa's hard work and passion for gardening has been lovingly tended to and passed down through the Budd family, resting now with their grandsons, Don and David. The brothers immersed themselves in the business early on, piloting tractors around the farm at the tender age of 10, working each summer in the greenhouse, and selling the farm's bounty at local markets. Today, the pair works tirelessly to maintain the same values of uncompromising attention to detail and customer service that were set forth by their grandparents decades ago.
Budd Gardens' close-knit staff—comprised of family members and seasoned veterans who return to the gardens year after year—takes their work seriously, bustling about the sprawling farm to coax vibrant blooms and verdant plants forth from the soil. The knowledgeable team remains on hand throughout the day, offering up their horticultural prowess to help visitors choose suitable plants for their home gardens and to dole out advice, such as when to plant what or how to quash lawn-gnome uprisings. Though they are purveyors of numerous plants, including hardy field-grown perennials, their signature flora remains hostas, which, because they are sold in their juvenile stage, promise to yield years of greenery.
2832 Innes Rd.
Ottawa
Ontario
Wall Space Gallery and Framing's two locations couldn't be more diverse: one is situated inside a century-old farmhouse, while the other lies in Westboro's trendy shopping district. However, both locations stay true to the company's original goal of making fine art and art preservation methods accessible to their clients. The galleries showcase work from more than 50 Canadian artists and jewellers, and the staff works to demystify the custom-framing process for each customer.
Custom framing services draw from more than 5,000 styles including Abe Munn frames. Handcrafted in New York City, Abe Munn frames are inspired by antique museum collections and available in gold and silver leaf or candy-coated designs.
358 Richmond Rd.
Ottawa
Ontario
613-729-0003
Since 1984, the framers at Creative Framing have worked with clients to encase treasured photographs, paintings, and keepsakes on premises. Drawing inspiration from the colour pairings in the shop's attached gallery, they match artworks with wood and metal frames as well as shadowboxes. The framers also shield works from sun rays and the withering eye contact of art critics with UV-blocking and glare-resistant glass. Gallery liners come in linen or custom-painted Medite; mats in hundreds of colours complement pictures and make diplomas look smarter. The Creative Framing team will also reuse or resize an existing frame on request, counselling it for adjustment to life after cosmetic surgery.
334 Princess St.
Kingston
Ontario
613-549-2477
A tree swing sways in the breeze beneath a willow near gardens of large perennials sprouting in rows and flourishing in greenhouses. When Laura Tattersall founded Made in the Shade Perennials in 2006, she wanted to build more than a simple nursery, she wanted to create a destination. She envisioned a lush environment where customers could stroll among large clusters of violet hydrangeas, duck under the bulky green leaves of wild ginger, and admire the yellow and white blossoms of star grass. Teaming up with her daughter, Lynn, they till the ground and plant shade-producing perennials and plants suited to the eastern Ontario climate, growing everything available in their catalogue onsite. Working with both landscapers and home gardeners, they invite all horticulturists to peruse their lush country landscape for water plants, vines, and a wide variety of hard-to-find hostas. When the team can fit it into their schedule, they also lead free workshops on topics such as garden design and why an actual green thumb is a serious medical condition that should be attended to immediately.
3626 Hwy. 2 RR 3
Gananoque
Ontario
613-382-8251
For 27 years, T Shirt Gallery has printed graphics and lettering on all manner of clothes, including customers' shirts, tank tops, track suits, and tuxedos. Newly relocated to the inside of Raw Squared Boutique, the gallery still prides itself on quality work customized to patron requests, from lettering and jerseys for sports teams to cheeky graphics and phrases for those feeling irreverent. Customers may submit their own photos for printing, and choose from thousands of available fonts.
770 Gardiners Rd.
Kingston
Ontario
613-634-7290
---
---
Shopping Deals - Recently Expired
---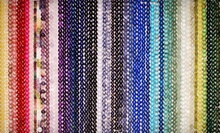 Huge selection of stone beads, freshwater pearls, and crafting supplies as well as in-store jewellery classes
---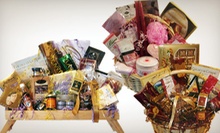 Gift baskets for all occasions filled with goodies ranging from scented candles and bubble bath to imported chocolates, teas, and snacks
---
---