Things to Do in Round Rock
---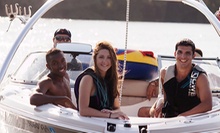 Certified captains can take boats around Lake Austin's wide waters and riverfront architecture or pull water skis, kneeboards, and tubes
---
Recommended Things to Do by Groupon Customers
---
Not since the last '80s-night happy hour has there been such a good chance to express your inner self under conditions of mild intoxication. With this Groupon, $20 gets you in to a Friday- or Saturday-night BYOB painting class at the North Austin location of Painting with a Twist, where you can paint, tipple, and converse in an artfully social atmosphere.
8820 Burnet Rd.
Austin
Texas
A local beacon of all-ages athletics, Austin Sports Arena provides the headquarters for adult and youth roller hockey leagues and offers sports and roller skating parties for kids of all ages. Between games, athletes can hit up the concession stand or gobble pixelated power pellets at a mini arcade. Those soaring beneath the skating rink's rotating gobos can bring their own skates or rent a high-end pair as onlookers skate across the Internet by taking advantage of the center's free WiFi.
3918 Gattis School Rd.
Round Rock
Texas
512-251-7500
Sacred Streams has classes to suit every lifestyle, including bodhisattvas, those expecting regular babies, and those seeking increased flexibility and inner peace. For a fast, fat-burning ride of flowing poses, test-drive a vinyasa class, or dive downward-dog first into the slower, more-deliberate hatha practice. Those hoping to free up stored energy can opt for the rapidly moving kundalini practice, while those in need of a self-pampering can cozy up to a restorative class rife with pillows and blankets. Buy one for yourself, and gift the guys from your sewing circle or the ladies from your crocodile-wrestling club to join you on your journey across the yogaverse.
2013-A West Anderson Lane
Austin
Texas
512-600-4716
Abrakadoodle's Art Education programs juice childlike creativity with the natural steroids of art, color, form, and design. Year-round classes include everything from Twoosy Doodlers for children ages 20 to 36 months to Doodlers for more advanced artists (grades K–8). Specialty classes help kids master the basics of anime, work with canvas painting, capture the horrors of war in sweeping cubist murals, and much more. Courses are offered at a variety of locations and times. View the schedule, course descriptions, and additional information here.
1801 Tracy Miller Lane
Cedar Park
Texas
Terrain changes fast in Hill Country. The landscapes on Texas Paintball's 40 acres, for example, transform from flat, open fields to foothills to wooded valleys. This dynamic terrain naturally lends itself to a variety of playing scenarios, which the owners capitalize on with nine fields such as requisite air-ball and hyperball fields and custom-designed wooded grounds with names such as Normandy and Trenches. Texas Paintball also has more fields in the works, including an upcoming saw-mill field where players can stalk stacks of timber while battling to control a two-story mill.
On these fields, crews divide up players according to experience level for a variety of games, from classics such as Capture the Flag to creative scenarios such as Protect the President, where one team escorts an unarmed player to a safe zone while the other attacks and yells false Gallup Poll numbers. Props, including a Huey helicopter, 1920's ambulance, deuce and a half, cars, trucks, and various boats, scatter themselves across a 10,000-sq.-ft. turf field. The knowledgeable staff also caters to players' ability levels by renting an array of markers, from the basic Tippmann Pro-Lite to the A-5 Flatline, one of the farthest-shooting models on the market.
Off the fields, Texas Paintball encompasses amenities including dressing rooms, a concession stand, a picnic area with two barbecue pits for players who bring their own food, and a pro shop.
18300 Medina Vista Ln.
Jonestown
Texas
512-257-8728
Aside from a coat of green paint on the outside, Capitol City Crawler's fleet of eco-friendly buses don't look like all that different from other buses on the road. Look inside, though, and you'll find what is essentially a club on wheels. There's seating for 24 passengers, and the seats are arranged against the walls so there's plenty of room for dancing, too. Each bus comes equipped with a bar, a thumping sound system, LED lighting, and an inflatable doorman. The buses are popular for bachelor and bachelorette parties, but they're also suitable for kids' birthday parties, brewery tours, and wine-tasting tours in the Hill Country.
5410 Airport Blvd.
Austin
Texas
512-659-8926
---