Saskatoon Health and Fitness
---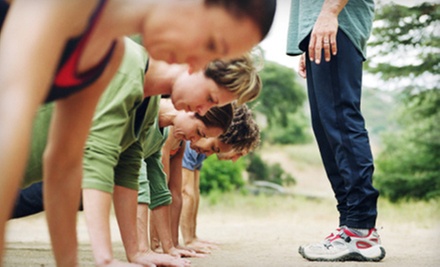 Central Business District
---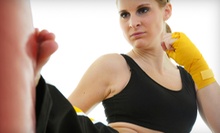 A tae kwon do world champion demonstrates kick-boxing techniques during classes for novice, intermediate, and advanced students
---
Recommended Health & Fitness by Groupon Customers
---
Bridge City Fitness trainers Carla Little and Nathan Bogya believe that true fitness is a way of life, not just what you do inside the gym. To that end, they design personal training sessions to help participants chase their goals and boost their self-confidence, with spillover into the challenges of their everyday life. Both trainers also stay upbeat and positive as they encourage clients to tackle high-energy boot camps and kickboxing exercises or turn the other cheek to insults from mouthy tax returns.
1901 1st Ave. N
Saskatoon
Saskatchewan
It's appropriate that the slick yellow-and-black colour scheme inside Mecca Fitness mirrors that of a construction site. After all, visitors aboard the gym's cardio and resistance equipment are painstakingly building new physiques. That's also a process that owner Grant Roberts has endured both by choice and by necessity. Roberts was a champion bodybuilder before a car accident left him severely debilitated. The medical community deemed him lucky to be alive, and wouldn't condone his efforts to rejoin the fitness scene. So, during a four-year stay in Costa Rica, he took charge of his own rehabilitation, and steadily became involved in seminars, exhibitions, and competitions once again. His expertise and devotion have since been affirmed by celebrities such as Clint Eastwood, who called on Roberts to train Hilary Swank for her role as a boxer in Eastwood's film, Million Dollar Baby. The secret of Roberts' success might be his personal touch. As the owner of Mecca Fitness, he oversees 16,000 square feet of amenities that he says on his website comprise "the kind of gym I love to train in". He personally helped with the development of the Strive strength equipment in the resistance-training area. And to show he stands behind his products, he emblazons his name on every container of the gym's MVP nutrition supplements as well as each member's newly buff deltoids. By mapping specialized zones for stretching, abdominal work, weightlifting, and women-only workouts, he readies the gym to help guests with nearly any wellness goal.
309 Fairmont Dr.
Saskatoon
Saskatchewan
306-975-0755
The experienced trainers at Fitness Focus cater to clients of all experience levels and fitness goals with signature group fitness classes and personal training. The facility's gym stocks equipment alongside TV screens in an open, naturally lit space for those who wish to monitor their own workouts. To shake things up, they can join one of the 30 classes offered per week such as spinning, step, and Tabata TRX, in which participants use the specialized equipment during eight sets of 20-second intervals.
1250 Ontario Ave.
Saskatoon
Saskatchewan
306-244-6413
A community presence in Saskatoon since 1908, YMCA remains true to its lasting mission of physical and social enrichment for men, women, and kids of all ages. Staff members uphold the YMCA's core values of honesty, acceptance, and fairness as they invest in their community's children and strengthen family bonds critically weakened by overzealous games of Monopoly. They pump up adult fitness regimens with aquatic fitness and boot-camp classes, squash courts, and a full gymnasium outfitted with equipment for basketball, volleyball, and rope-skipping. They've also filled their fitness centre with free weights, cardio equipment, and weight machines. When they're not helping adults trim down waistlines during yoga, cycling, and aerobics classes, staff members are getting back in touch with their inner children. They stimulate imagination, mental development, and growth as they lead children's day camps, after-school programs, and art classes. This YMCA outpost further strengthens and unites the Saskatoon community through the YMCA Strong Kids Campaign, which raises much-needed funding for kids and families who can't afford the full cost of any of YMCA's progressive programs.
25-22nd St. E
Saskatoon
Saskatchewan
The top rope and lead climbing routes at Grip It Indoor Rock Climbing beckon wall scramblers up an extensive variety of vertical terrain suitable for any skill level. For novices, the gym's team of certified instructors offers one-on-one coaching and lead classes such as an Introductory offering, appropriate for those unacquainted with the sport or those with an uncontrollable tendency to keep rocks as pets. Climbers can also enlist themselves for longer climbing programs, such as the Technique course, which helps improve form and mindset, and Learn to Lead, which instills safe indoor climbing skills.
501 23rd St. W
Saskatoon
Saskatchewan
306-664-9255
Positively Fit Personal Training derives its name from the upbeat attitude of owner Amanda Stalwick, who has orchestrated dozens of transformations during her 25 years as a certified personal trainer and triathlon coach. Stalwick tailors fitness programs to clients of all ages and skill levels, including teens, seniors, and adults who've never set foot in a gym or wrestled with a bear's overwhelming cuteness. Instead of focusing solely on the calorie burning, she balances strength and flexibility movements with exercises that bolster cardiovascular endurance.
Personal-training sessions can take place at home, at work, outdoors, or at the PACE Athletic Training Centre. Group training often takes the form of boot camps, which bolster agility and core strength with tools such as kettlebells, yoga poses, and group runs. And during high-performance training sessions, Stalwick draws upon her Ironman experience to push athletes toward personal bests.
Stensrud Rd. and Willowgrove Blvd.
Saskatoon
Saskatchewan
306-341-3811
---