Things to Do in Saskatoon
---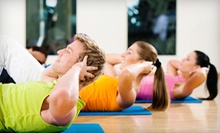 Students study under qualified instructors during spinning, core, kick and aerobics classes, or build muscle tone with gym's ample amenities
---
Recommended Things to Do by Groupon Customers
---
Originally built in 1946, Broadway Theatre enjoyed an almost 50-year tenure of showing the popular films of the time and hosting live productions before it was sadly forced to close its doors in 1993. Dismayed by the loss of their theatre, members of the community came together, purchased the venue, and reopened it, and Broadway Theatre has remained under their watchful protection ever since. Now, the movie house screens independent films gathered from around the world and plays host to improv-comedy shows, concerts, and professional fire drills.
715 Broadway Ave.
Saskatoon
Saskatchewan
Owner Jan Henrikson has travelled Europe, the U.S., and Canada to absorb the yoga teachings of renowned masters, earning her certification in the Hatha style of Jivamukti. Since then, she has established herself in Saskatoon as a yoga expert who accepts all skill levels. Subscribing to Woody Allen's belief that "80 per cent of success is just showing up," she encourages anyone, regardless of their experience, age, or build, to immerse themselves in the welcoming curriculum at Joos Yoga.
Jan's team of instructors lead classes in several styles, including Yin yoga, pre- and postnatal yoga, and Vinyasa flow. During every session, they foster a no-pressure atmosphere, often commingling beginners and advanced participants in many classes. Furthermore, they intentionally keep class sizes small to ensure students receive personalized attention and have enough room to expand their consciousness without bumping into someone else's pneuma.
Joos Yoga also spreads an appreciation for the limbering arts through corporate programs and teacher-training courses, whose standards exceed those put forth by the Yoga Alliance.
38 23rd St. E
Saskatoon
Saskatchewan
306-665-6677
Since 1950, Fairhaven Bowl and Eastview Bowl have entertained bowlers with classic five-pin and ten-pin games while keeping up to date with modernized amenities including high-definition television screens and colourful glow lights. At both facilities, players can enjoy open hours and league play before refuelling in the on-site restaurant and lounge areas. The kitchen staff fires a full menu of classic pub fare including burgers, wraps, and pizza to complement their drink menus and keep players from licking the peppermint stripes off of bowling pins.
3401 22nd St. W
Saskatoon
Saskatchewan
306-382-2822
At In Charge Self Defense, women master a mélange of karate, krav maga, kickboxing, and tae kwon do. Taught by a third dan black belt with Level 3 NCCP certification, the studio's intimate classes help build self-confidence and discipline in students, while also borrowing fitness training techniques from yoga and Pilates. In Charge can work one-on-one with students for more personalized attention, and also offers co-ed training sessions for local high schoolers.
2020 College Dr.
Sasaktoon
Saskatchewan
306-341-4401
Three-time taekwondo world champion and current captain of Team Canada Clint Diekema has taught self defense and fitness classes at Diekema Taekwondo for more than 14 years. The seasoned instructor categorizes each of his Taekwondo classes by age and belt to ensure that students train alongside others of the same skill level and Power Ranger preference. The 3,000-square-foot training centre's schedule also carves out time for women-only sessions. During classes, students run through a set of warm-up exercises before they can strap on gloves and practice their skills by striking padded shields with their hands and feet.
3330 Fairlight Dr.
Saskatoon
Saskatchewan
306-241-4148
The top rope and lead climbing routes at Grip It Indoor Rock Climbing beckon wall scramblers up an extensive variety of vertical terrain suitable for any skill level. For novices, the gym's team of certified instructors offers one-on-one coaching and lead classes such as an Introductory offering, appropriate for those unacquainted with the sport or those with an uncontrollable tendency to keep rocks as pets. Climbers can also enlist themselves for longer climbing programs, such as the Technique course, which helps improve form and mindset, and Learn to Lead, which instills safe indoor climbing skills.
501 23rd St. W
Saskatoon
Saskatchewan
306-664-9255
---