Things to Do in Valdosta
---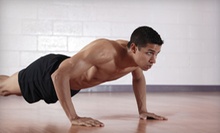 Trainers intersperse energetic endurance and strength-training exercises with martial arts movements on indoor facility's padded floors
---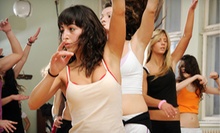 Lively instructors lead exhilarating workouts that combine exercise with dance elements such as hip-hop and African dancehall
---
Recommended Things to Do by Groupon Customers
---
Movies 8's towering vertical sign flashes its red letters and pastel colors at passersby, enticing them to step inside and enjoy a night at the cinema. In the lobby, black-and-white checkered tiles, pink and orange walls, and neon signs hark back to the 1950s, when ladies often wore polka-dot dresses and gentlemen still slicked back their pompadours with crude motor oil. Before feasting their eyes on recently released blockbusters stretched across the silver screen, moviegoers line up at the snack counter, where an old-fashioned menu displays the theater's bounty of popcorns, snacks, and drinks. Once movies let out, guests can test their button-mashing mettle in Movies 8's arcade, which has its own separate nook.
2810 Sharer Rd.
Tallahassee
Florida
US
Fun Station Jr. assembles playful activities geared to ages 1–12 in a wonderland voted Tallahassee magazine's Best Place to Take the Kids from 2007 to 2010 under the facility's old moniker, Zoinks. Technicolor arcade games trumpet winners of plush plunder, and bumper cars slap sides in rubbery high-fives. An inflatable bounce area draws excess energy from sock-footed youths, and a concession stand serves trail mix, bottled water, and slices of pizza to replenish empty fuel tanks.
Staff members prioritize safety in conjunction with fun, fitting groups with matching wristbands to help them to stay together and dedicating an area to toddlers who intimidate older children by claiming to be dinosaurs. In a separate lounge, adults rest in comfortable chairs during breaks from friendly competition to catch up on work with complimentary WiFi or to watch what's playing on high-definition TVs.
1390 Village Square Blvd., Suite 4
Tallahassee
Florida
850-222-5867
The consortium of professional instructors at Fred Astaire Tallahassee, which was cofounded by the legendary toe tapper himself, shepherds students of all ages and skill levels through lessons that span the style spectrum. Low-pressure private sessions allow enthusiastic teachers to fine-tune individual students' techniques and form, using their expert eyes and mechanical dancing shoes preprogrammed to do the Charleston. Patrons can learn how to cavort through classic waltz and fox-trot romps or swivel through the modern steps of salsa, swing, or samba. For dancers hoping to hoof it up in a social setting, the group practice parties provide a one-night extravaganza of instruction, demonstrations, and amateur firewalking.
1139 E Tennessee St., Suite 3
Tallahassee
Florida
Equistarre Horsemanship's head instructor, Analese, doles out lessons on the fundamentals of horseback riding from atop a galloping lectern as she leads students across 15 acres of rustic green pastures. After a childhood spent among steeds at her family's boarding facility, Analese continued to indulge her lifelong passion for horses as a trainer, rider, and competition judge before earning a degree in equine science from the University of Florida. She brings her wealth of knowledge to Equistarre Horsemanship, where she introduces students to her stable of personable horses before accompanying them on rides across the ranch's scenic landscape. During lessons and trail rides, students practice basic techniques and learn to read subtle horse signals, such as "May I have a carrot?" and "That's not a radio dial." When not leading rides out into the meadows, Analese cares for horses in a boarding area that features nine stalls, two storage areas, and a large bay for grooming.
295 Old Buzbee Rd.
Monticello
Florida
850-567-0634
Gravestones peek up from the 70-acre field—just one of the defensive playing structures warriors can duck behind to avoid that colorful, game-ending splotch. Elsewhere amid Blackwater's multiple courses, they scale castle walls, find refuge behind stacked tires, and let out intimidating war cries while attempting to bounce between inflatable structures. Players fire off rounds of RPS-custom field paint from semiautomatic rifles, using downtime between games to refill CO2 bottles and 200-round hoppers at Blackwater's on-site shop.
2421 Ione Rd.
Pavo
Georgia
US
229-234-2972
At My Golf Tally, the dedicated staff strives to help golfers improve their game with private lessons and men's and women's clinics. The golf gurus' abilities range from analyzing swings to recommending clubs that can correct slices, hooks, or Charles Barkley-like swings. To supplement instruction, the staff also corrects swings with customized club fittings and club repairs.
6701 Mahan Dr.
Tallahassee
Florida
850-688-6961
---