Things to Do in Westerville
---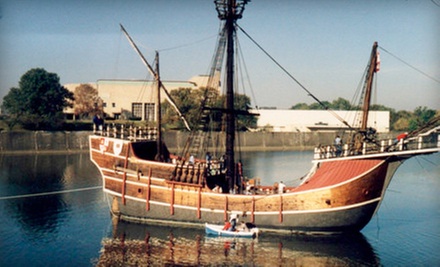 ---
Recommended Things to Do by Groupon Customers
---
Since Tennis ltd's inception in 1982, when someone named Maria Sharapova was still fiction, the stone-accented two-story house has purveyed rackets, sunglasses, and sports apparel. It stocks these on-the-court essentials in high-quality brands such as Nike, Maui Jim, and Wilson. The store's knowledgeable staff is nearby to answer queries or expertly repair rackets, and the demo program invites players to test out rackets for a few days, looking for ones that match their swing and love of long walks on a tennis court.
2110 Arlington Ave.
Upper Arlington
Ohio
As the oldest historic tour on the national register, the German Village Society's Annual Haus und Garten Tour sends feet pattering across 233 acres of historic landmarks, enchanting gardens, and award-winning restorations. A year ago, the daylong celebration drew a total of more than 6,000 visitors, and this year, an even larger crowd is expected to be on hand to ogle and coax autographs from the 13 homes and gardens scheduled for display.
Tour-takers can meander along the route at their own pace, stopping to explore the shops and eateries in the marketplatz or to peek into classic abodes, which homeowners have transformed into chic, opulent spaces ideal for modern living or showcasing the latest trends in wool socks for coffee tables. In addition to the lineup of architectural stars, the tour will also be stocked with various live performances, including a rendition of The Scarlet Pimpernel in Schiller Park at 2 p.m.
588 S 3rd St.
Columbus
Ohio
614-316-3948
Under the choppy surface of Ohio's quarries and waterways, the Columbus Scuba team guides students into the world of underwater exploration with specialized training courses. In order to prepare students for diving situations and encounters with bullies in schools of minnows, the team also holds classroom sessions, including PADI open-water certification. In addition to training students, Columbus Scuba dedicates itself to the diving community by operating the Mid-Ohio Divers club, through which they organize barbecues, camping trips, and group dives in far-off reefs and caves.
4680 Indianola Ave.
Columbus
Ohio
614-500-7234
Brady Konya and Ryan Lang aren't from Ohio, but they loved the area for its business-friendly community and rich natural resources, and decided Columbus was where they had to build their distillery. The duo's passion for the Midwest colors everything about Middle West Spirits, from the name down to the Ohio-grown soft red winter wheat in their whiskey and award-winning vodka, which they also infuse with honey and vanilla beans or stone fruit. Inside the distillery, which sprawls over 3,200 square feet of open air, Brady and Ryan craft these artisan OYO spirits—named after the original word for the Ohio River Valley, pronounced o-y-o_—in 600-liter pot-and-column stills. Hand-built onsite by German craftsmen using copper, stainless steel, and bits of Saturn's rings, these stills earned Middle West Spirits a place on _Popular Mechanics' 5 of the World's Most-High-Tech Distilleries list.
1230 Courtland Ave.
Columbus
Ohio
614-299-2460
Floodlights replace the sun during nightfall at Four Seasons Golf and Ski Center, keeping the miniature golf courses and batting cages aglow for nighttime visitors. During the summer, guests can wind through miniature fairways that incorporate small-scale replicas of The Statue of Liberty, Niagara Falls, and the world's smallest caddies. During the winter, Four Seasons' slopes welcome copious amounts of snow to facilitate skiing, snowboarding, and snowtubing. The newly renovated facility also hosts a game room and specialty ice cream shop.
5000 E Broad St.
Columbus
Ohio
US
614-322-3663
Dispatch Events knows how Columbus residents cook, exercise, and flounce their kitchen curtains. Its quartet of annual expos and other special events draws from the worldly media prowess of The Dispatch Printing Company, which tailors each sprawling festival to the tastes and trends of the city and beyond. The Columbus Dispatch Home & Garden Show lures celebrities from HGTV and other outlets as guests take in home-improvement and gardening ideas, such as which shrubs best lend themselves to topiaries of neighbors' faces.
717 E 17th Ave.
Columbus
Ohio
---