Adventures in Fitness: Medieval Workout at Forteza
The first thing I notice are the swords: dozens of real blades glinting on the walls. Framed texts hang between each weapons display; each one describes methods of dagger or sword fighting in language as old-fashioned as the pages' letters and illustrations. If it weren't for the exposed-brick walls and raised hardwood floors, I would have thought I'd traveled through time to King Arthur's court.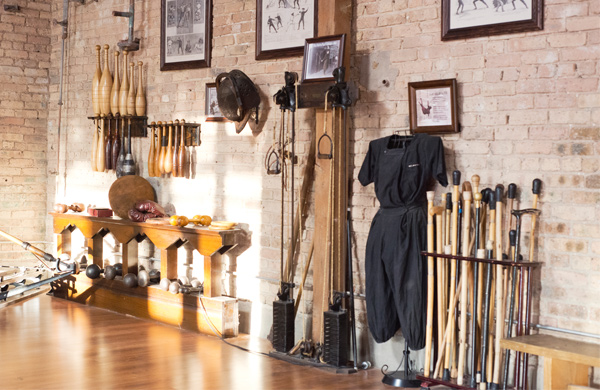 In actuality, this is the first floor of Forteza, a multilevel gym in Ravenswood dedicated to both modern methods of fitness and the old ways of the sword. Through boot camps and classes, the trainers whip students into Marine-like—or perhaps knightly—shape. Their expertise lies in teaching real, ancient techniques of fighting opponents with bladed weapons, and this specialty shapes even their FightingFit! Boot Camp, which I chose to attend.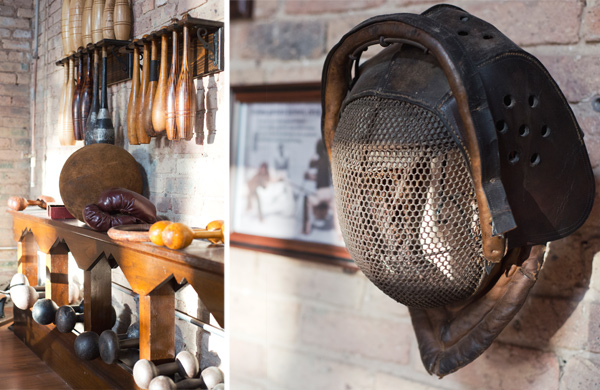 When I walked in, three men were already at work scaling a cargo net suspended near the back of the gym. A trainer, Jesse Kulla, greeted me pleasantly at the front desk with a bit of paperwork—standard stuff for any martial-arts gym. I scribbled in the documents quickly, eager to start stretching and warming up for what Jesse described as "a real slobber-knocker."
To start the class, Jesse and fitness director Keith Jennings had us pair up. They then overviewed the day's workout, pausing to demo any unfamiliar exercises. Keith performed one particularly devilish move called the burpee pull-up: he laid chest-down on the floor, leapt upward to complete a pull-up on a bar above him, then returned to his prostrate starting position. Luckily, we had time to gird ourselves for that move: the class began with 30 regular burpees. Keith and Jesse did every exercise right alongside us.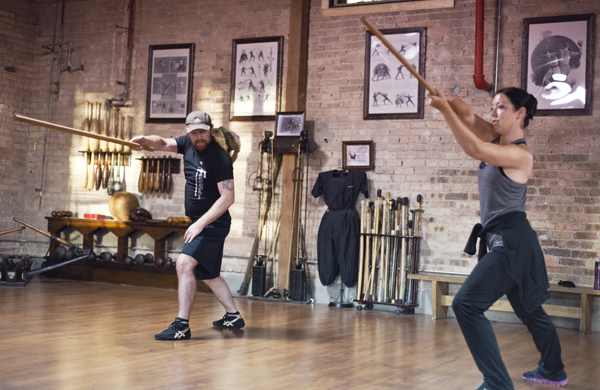 My partner and I proceeded in no particular order, simply trying to give our arms a rest between stabilization pushups, pull-ups, and cargo-net climbs. It seemed to be an intimidating number of exercises that were listed on the chalkboard, but we finished in about 45 minutes, as did most of our classmates. Then, we moved on to the martial-arts portion of the day.
Though I'd heard that the trainers are known to break out the practice broadswords and swing them around a bit, today they chose to focus on boxing. They led each pair to various standing and hanging punching bags throughout the gym, and the duos raced each other to complete combos that Keith called out. I found the combination of circuit training and light combat training to be both fun and incredibly challenging, and the soreness ended up sticking with me for a couple of days.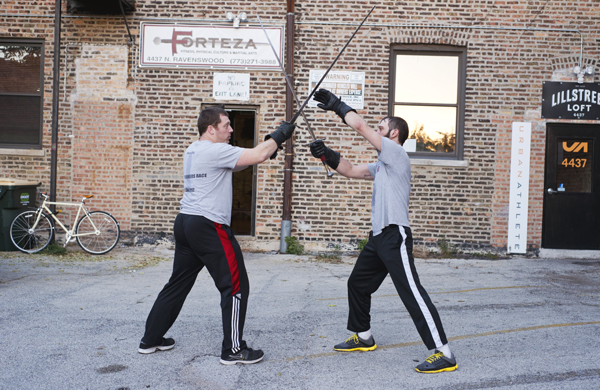 After class, once I managed to get up off the floor, I chatted with the trainers for awhile, and learned that Sunday mornings are their most intense sessions. The other boot-camp classes throughout the week typically include fewer plyometrics or pull-ups. "Which doesn't mean we don't work hard," Jesse assured me. I believed him.
Try it if: You want to build strength or just like swords
Don't go if: Fast-paced circuit training isn't your thing
Beware of: Overdoing it—the trainers expect the students to proceed at their own best pace
Invite a friend who: Can do pull-ups and shout, "Hoo-ah!"
Come prepared with: Just water and a towel, if necessary
Wear: Good shoes and comfortable workout clothes that let you move
Intensity level: You'll feel sore for a day or three
Photo: © Timothy Burkhart, Groupon