Wall Art Can Be More than Framed Photos and Paintings
BY: Mae Rice |
Feb 3, 2015

When it comes to wall hangings, it's easy to play it safe with framed photographs, paintings, and the occasional Certificate of General Excellence. However, here at the Guide, we've toured some of Chicago's most creatively decorated homes, and it's proved there's a whole wide world of wall art out there.
Here are seven things to keep in mind next time you need to spice up a blank wall.
1. Party decorations work year-round.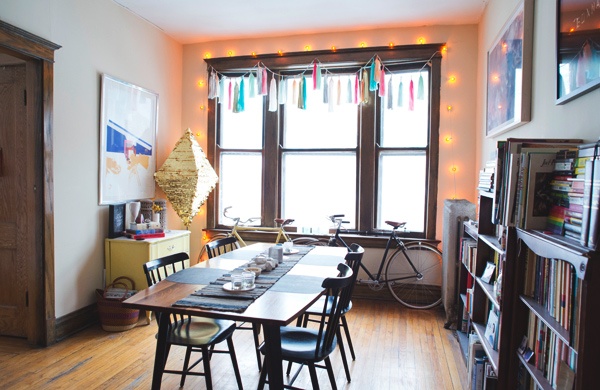 Seen in: Salon owner Bathsheba Nemerovski's Logan Square apartment
The design element: A string of lights and a garland
Why it works: Whether they're framing a window, spelling out words, or hung in abstract shapes, party decorations make every day feel like a Prince video.
2. Bookshelves aren't just for storage—they can be a focal point.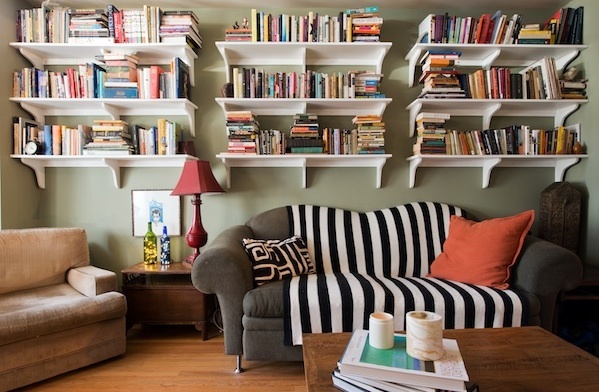 Seen in: Menswear designer Suzie Sorenson and furniture maker Russ White's Humboldt Park apartment
The design element: A wall of bookshelves
Why it works: Books can be as colorful and eye-catching as a painting, especially when they're arranged in horizontal and vertical stacks. Look at all those spines hard enough, and you'll find colors that haven't even been invented yet.
3. Sometimes, bigger is better.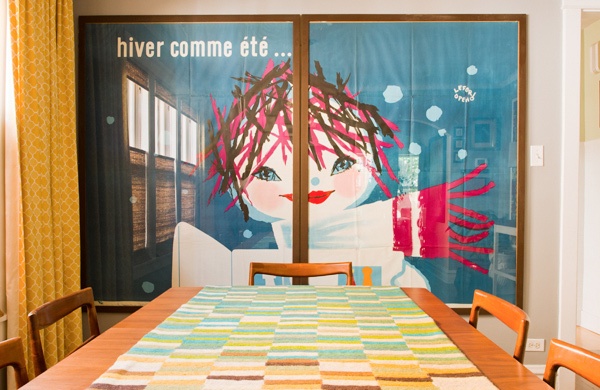 Seen in: Restaurant designer Nicole Montgomery's Peterson Woods bungalow
The design element: A French refrigerator billboard, which Nicole received as a gift.
Why it works: Billboards don't just belong outside—they can be domesticated. This one covers nearly the entire wall, creating a gallery-like effect that can be hard to tap into at home.

4. There's strength in numbers.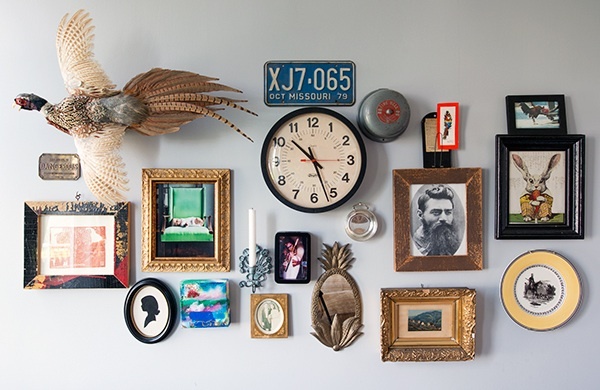 Seen in: Bang Bang Pie Shop owner Michael Ciapciak's Logan Square home
The design element: A cloud of mostly-framed items, including a cameo, a candle sconce and a taxidermied bird
Why it works: You don't necessarily need a lot of quirky wall art to create a quirky-looking wall. It's all in how you collage things together. (And mismatched frames. Lots of mismatched frames.)
5. Everyday items can look pretty cool.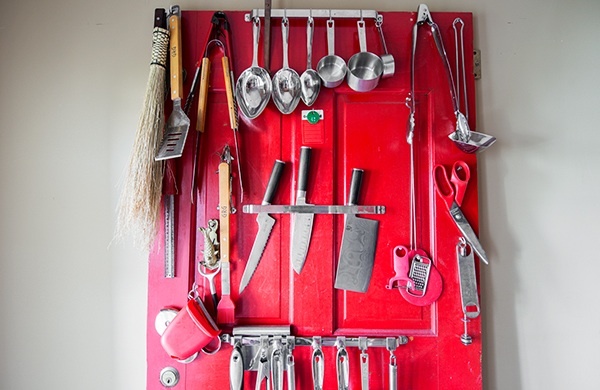 Seen in: Ciapciak's Logan Square home
The design element: Kitchenwares, hung on a bright red door
Why it works: Storing practical necessities by hanging them on a wall saves drawer space and looks chic—especially when there are bright colors involved. (Also, a wall of knives looks less sinister than you'd think!)
6. Fabric's not just for furniture.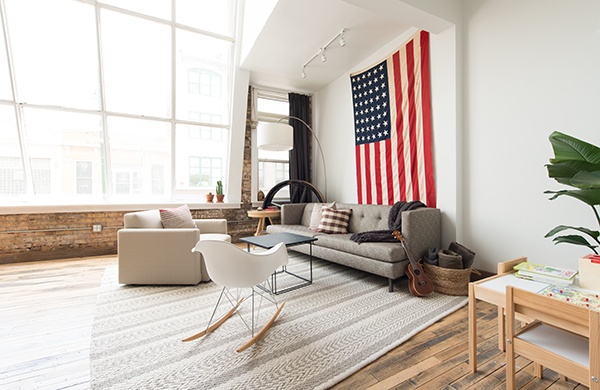 Seen in: Photographers Stevi and Matt Savage's Lakeview loft
The design element: A flag
Why it works: Cloth wall hangings soften a space and can add a ton of color to an otherwise neutral palette. If flags aren't your style, you could always hang a funky quilt, or revisit college vibes with a tapestry.
7. White walls don't have to be boring.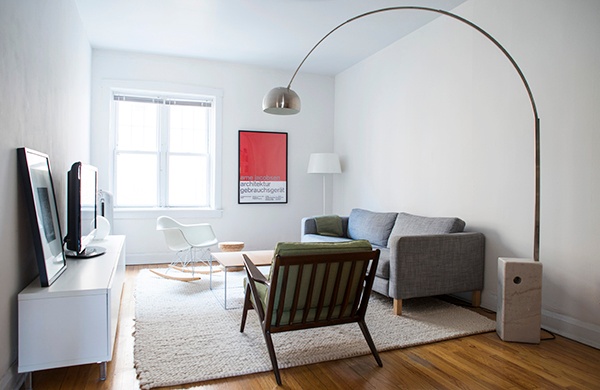 Seen in: Modern furniture collector Nick Roux's Lincoln Square apartment
The design element: Lots of blank wall space
Why it works: You don't have to cover every inch of wall for a room to look finished. Sometimes, sunshine on a plain white wall is all you need.
Get more home-decor ideas from the The Guide: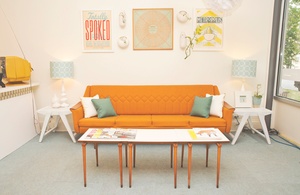 From the minimalist home of a modern furniture collector, to the quirky studio of a Kanye-approved designer