Highlights
Unlock any of 5,800 easy-to-ride bikes at 580+ stations with 24-Hour Passes or a year-long membership with special perks
Groupon Customer Reviews
100% Verified Reviews
All Groupon reviews are from people who have redeemed deals with this merchant. Review requests are sent by email to customers who purchased the deal.
bike
rides
customer service
experience
apps
kiosk
membership
Filter Aspect List
About This Deal
Choice of:
Three Groupons: One 24-Hour Bike Pass Each
Five Groupons: One 24-Hour Bike Pass Each
One-Year "Gear" Membership. Includes:
One year of unlimited 30-minute bike trips
Five 24-hour passes to share with family and friends
Discounts at bike shops and other local businesses
Fine Print
Promotional value expires Mar 31, 2017. Amount paid never expires.
Limit 1 per person. Valid only for option purchased. Must activate Gear Membership on Divvy website by expiration on March 31, 2017. Online redemption required for ''Gear'' membership. Must be 16 or older. Bikes are available year-round, seven days a week, 24 hours a day. Valid credit card required; credit card will only be charged if overtime fees are incurred. 24-hour passes expire May 31, 2017 and can be used across visits and shared across multiple people. Valid at all 581 stations. Other account fees may occur including lost or damaged bike fee and lost key fee. See full terms in the Divvy user agreement.
Merchant is solely responsible to purchasers for the care and quality of the advertised goods and services. Offer is not eligible for our promo codes or other discounts.
Learn about Strike-Through Pricing and Savings
About Divvy
Divvy Divvy's blue-painted cycles are specially designed, heavy-duty, durable bikes that help riders find their wheels across Chicagoland. There are currently more than 5,800 of them cruising the streets and parked at 580+ solar-powered, touch-screen-equipped stations, which make up this highly popular bike-share program.
Getting in on the action is simple, as Divvy is available 24 hours a day, 365 days a year. Purchasing a 24-hour pass or an annual membership lets you unlock any bike at any Divvy station. After adjusting its seat to fit your height , it's ready to take for a ride—perhaps along the Lakefront Trail, to work, or on an adventure with friends. If your trip lasts less than 30 minutes, you won't pay anything extra. For longer jaunts, you can pay a usage fee or just re-dock your bike at any station and take out another one. (The system has twice as many docking spots as bikes, so you shouldn't have trouble finding a parking space.)
The cheery blue bikes themselves are designed for smooth city riding. An internal gear system means there's no chain to snag pant legs or skirt hems, and a front rack relieves shoulders of purses and bags. Flashing front and rear lights and a bell ensure that other road and path users know that you're rolling through.
---
Groupon Guide to Chicago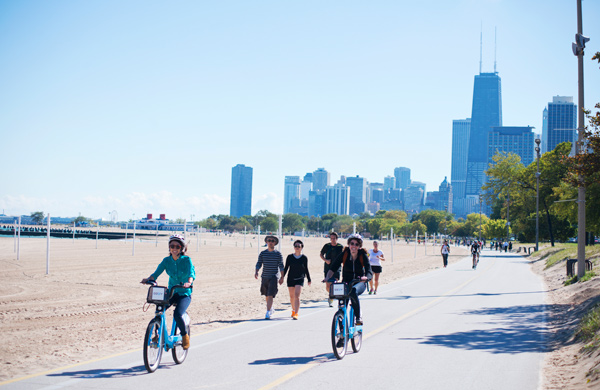 A First-Timer's Guide to Divvy Biking
Most Divvy rides go smoothly, but sometimes you'll hit a bump along the way. Be prepared with these tips and tricks for bike-share newbies.