Top Product Reviews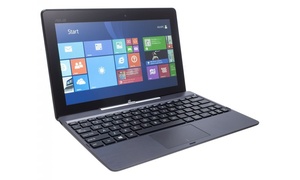 It came with no apps but in a way that is good because I can customize it to me. I am still working on the sound, it's not working but I'm sure my son will help me. I love the size! I love the storage! It does have a front camera. It was delivered really quick! Thank you!
About ASUS
ASUS was named for Pegasus, a symbol of wisdom and knowledge in Greek mythology. In addition to these two tenets, the company mirrors the winged horse in another significant respect: both entities have taken part in a series of epic journeys.
ASUS notebooks have lived on the MIR Space Station. They were the first to work in the thin, icy air atop Mount Everest. As fireworks exploded over the opening ceremonies of the Beijing Olympics in 2008, ASUS servers directed the show. ASUS motherboards have probably even found their way directly into your home or office, as they're present in one of every three computers and one in every two pizza delivery men. That's a lot of ground for the Taiwanese company to cover in less than three decades.