Restaurants in Big Lake
---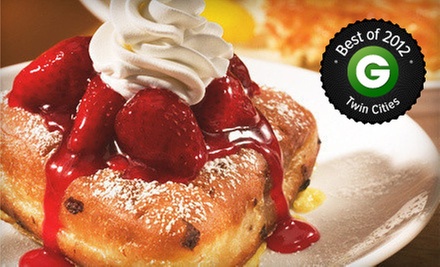 ---
Recommended Restaurants by Groupon Customers
---
At Gyros Grill, cooks prepare an array of Greek and Mediterranean dishes made from traditional family recipes. Diners can dig into pitas made with freshly shaved gyro meat or interrogate greek pizzas about their defection from Italian menus. Kebab sandwiches sate meat lovers, and falafel sandwiches fill their vegetarian kin.
1710 E Old Shakopee Road
Bloomington
Minnesota
US
952-888-2121
From the shores of Prior Lake, Captain Jack's restaurant upholds the area's resort feel by churning out a menu of modern bar and grill eats seven days a week. More than 20 appetizers, such as blue cheese sticks and pork pot stickers, are on hand to prep the stomach for the arrival of hearty entrees including half-pound charbroiled burgers, thin crust pizzas, and protein-packed sandwiches accompanied by fries, a pickle, and an extra button for your pants. And weekends are dedicated to brunch specials, which range from three-egg omelets to buttermilk pancakes, which are complemented by a Bloody Mary bar.
Though Captain Jack's is dedicated to serving high quality food, the restaurant boasts a casual atmosphere abundant with wooden accents, flat screen TVs, and neon beer signs. The laid-back eatery also invites vacationers and locals to partake in weekly events, which range from Wii Wednesdays to snow softball tournaments.
3950 Green Heights Trl. SW
Prior Lake
Minnesota
952-440-2582
At Vnam Restaurant, chefs have mastered a range of traditional Vietnamese dishes, from the fresh, herbaceous flavors of pho soup to the bold interplay of sweetness and spice in authentic curries and stir-fries. Their extensive menu spotlights standard and gluten-free entrees peppered with succulent morsels of seafood, pork, chicken, and beef, as well as inventive vegetarian interpretations that incorporate tofu and mock duck. Servers shuttle these mouthwatering masterpieces to a spacious, no-frills dining room, where the air brims with strains of live music on Thursday–Sunday and oxygen molecules on Monday–Wednesday.
8244 Commonwealth Dr.
Eden Prairie
Minnesota
952-943-1127
The brick façade and striped awnings of Dangerfield's have stood for more than 20 years alongside the south bank of the Minnesota River. Inside, brick archways and wooden wainscoting create a warm setting, and there's also an outdoor terrace, screened in by a netted dome to ward off bugs and confetti dropped by exuberant skydivers. Chefs transform Angus beef into steaks, medallions, and half-pound burgers, and they highlight the delicate flavors of Canadian walleye and jumbo shrimp with citrusy sauces. A full bar and wine list help nurture good spirits, and the join also hosts national and local comedians in their lower level on the weekends.
1583 E First Ave.
Shakopee
Minnesota
952-445-2245
A crown-topped crest hangs before the entrance of The Imperial Room, bejeweled with globe lights and illuminated with swirls of neon script. Inside, a party vibe effuses from leather chairs, murals of swinging jazz-club scenes, and a dress code barring bandannas, sideways ball caps, and barrister's wigs. Bartenders pull bottles from a wooden liquor cabinet and pour champagne cocktails and martinis, priming each sip to complement a menu of small plates, burgers, and ribs.
417 1st Ave. N
Minneapolis
Minnesota
Since 1986, Champps Americana's kitchen has sizzled with burgers and classic American dishes, satiating sports fans and families with a comfortable, welcoming atmosphere. Amid the sunlit dining room, diners at wooden tabletops have views of 25 TVs broadcasting sports games, competing with a cluster of arcade games for eyes' attention. Chefs cater to taste buds by plumping up pastas with chicken, shrimp, and vegetables and piling rolls with beef patties, barbecued pulled pork, and spicy buffalo chicken. Behind the bar, bartenders whip up specialty cocktails and margaritas and fill goblets with an expansive selection of draft beers and wine. The bar and grill draws guests with regular specials and events throughout the week, including daily happy hours, Thursday-night trivia, and Sunday brunch. Every Tuesday, the restaurant serves up free meals to children, as a magician saunters table to table, entertaining kids with tricks and balloon art, crafting replacement siblings on request.
1734 Adolphus St.
Maplewood
Minnesota
651-487-5050
---