Things to Do in Bloomington
---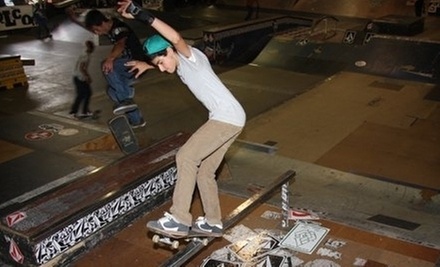 Robbinsdale - Crystal - New Hope
---
Recommended Things to Do by Groupon Customers
---
Ever since its inception in 1935, the South St. Paul Rod & Gun Club has challenged visitors' aim and timing in the rugged backwoods surrounding the Mississippi River. At year-round shooting ranges, visiting marksmen raise their rifles on four trap-shooting fields and three skeet-shooting fields. They can also travel to eight raised, wooden stands on a 50-target sporting-clay course or switch up positions on a five-stand field, blasting at targets shot to simulate the flight patterns of various game birds, which is easier than tracking the deceptive tumbling of blown kisses. To challenge technique and speed, staffers fire a range of specialty targets such as vertical-launching springing teals and arcing chandelles. When not training new shooters or catering to recreational marksmen, the club's staffers host leagues and seasonal tournaments where competitors test their shooting prowess and showcase the season's hottest camouflage tuxedos. All visitors can refuel at an onsite restaurant and bar, or stock up on shells, earplugs, and apparel at the pro shop.
600 Gun Club Road
South St. Paul
Minnesota
651-455-7249
For more than 30 years, Raceway to Fun's grounds have offered visitors six outlets for their adrenaline. Two miniature golf courses beckon players to putt their way around large rocks and down angled fairways or traverse bridges to strike through loops and other obstacles. In a pool, participants as young as six board colorful bumper boats whose guns can spray off even the most severe of grass stains. Nearby, sharp turns on a winding go-kart track challenge drivers behind the wheel of single or double-rider karts. Golfers at the driving range launch balls over green fields while sluggers stare into the eyes of 16 pitching machines at the batting cages. Visitors can engage in each activity until dusk, when the sun setting on the horizon and the sky fading to dark blue signal both closing time and the start of the man in the moon's terrible stand-up routine.
910 Hastings Ave.
Newport
Minnesota
651-459-6578
Since purchasing a used limo in 1993, Leland "Lee" Casto has transported clientele on trips and tours throughout the Twin Cities. These days, however, his fleet has evolved to include stretch limos that fit 6–22 passengers. Guests can sip refreshments from tumblers and champagne flutes as Lee whisks them off on all types of journeys, from bar-hopping excursions to airport-bound jaunts. He also accommodates patrons on several tours, which include winery visits, two gangster-themed expeditions, and a guided trek past ghost-filled mansions and werewolf-proof moon observatories.
251 Walnut St.
St. Paul
Minnesota
651-462-5466
At its full-service, well-maintained facility, Midway Pro Bowl caters to bowlers of all dedication levels. Its optional bumpers bolster beginners, whereas onsite bowling lessons employ instructors certified by the United States Bowling Congress to elevate skills. The pin-falling activity on Midway Pro Bowl's 32 lanes is monitored by automatic scoring systems, and fashionable bowlers can turn lanes into runways with sparkling new balls and accessories from its well-stocked pro shop. After the game, a full-service lounge conjures postgame relaxation with alcoholic beverages. Alternatively, the most dedicated competitors can refuel with burgers, hot dogs, or pizza from the snack bar before taking to the arcade to spar with virtual foes rather than playing bowling-ball dodge ball with real-life foes.
1556 University Ave. W
St. Paul
Minnesota
US
651-646-1396
Owner and stained-glass enthusiast Judy assembles custom pieces for cabinets, doors, and windows, as well as hanging decorations including address signs, reproductions of drawings, and flower mosaics. In her introductory classes, students create easy-to-follow designs, such as a three-dimensional Moravian star. Judy teaches pupils the basics, from cutting and soldering glass to comforting elderly glass with stories of a promised afterlife as beach sand.
3720 Jackson St. NE
Minneapolis
Minnesota
763-300-9556
---