Things to Do in Catalina Foothills
---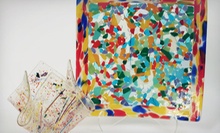 Grant Square Shopping Center
Students of all experience levels utilize an assortment of glass materials to create 11-inch round or square fused-glass plates
---
Recommended Things to Do by Groupon Customers
---
Paint your own ceramics studio offering parties, fundraising ideas, classes for children and adults, after school programs and more!
5870 E Broadway Suite 260, Park Place Mall
Tucson
Arizona
520-790-1100
Each year, the Arizona International Film Festival collects features and shorts from all over the world, repping nations including Canada, Mexico, the Netherlands, Taiwan, and the United States. During the course of 17 days, the festival screens more than 100 films in categories such as Feature Narrative, Comedy Short, Feature Documentary, and Experimental Short. The festival also hosts special programs such as Cine Sin Fronteras, which examines border issues, and IndieYouth, a collection of films made by filmmakers young enough to not remember when documentaries were primarily just overhead projections of the week's rainfall statistics.
127 E Congress St.
Tucson
Arizona
In addition to organizing swimming lessons for both kids and adults, South West Aquatic Sports serves as the proud home for two aquatic teams of regional fame. The Green Hills Gators gives swimmers aged 4–18 a chance to race against other teams that belong to the Southern Arizona Aquatic Association, a league in which they became the champions in 2010. Showing poise and grace both above the surface and beneath it, the Tucson Sun Rays synchronized-swimming team is helmed by a University of Arizona Sports Hall of Fame synchronized swimmer, who introduces girls aged 8–16 to the challenging-and-competitive sport.
7021 E 2nd St.
Tucson
Arizona
520-488-8996
While many Americans may think they know Chuck Norris because of the way his on-screen persona has roundhouse kicked its way into our hearts, few have actually met the man. Fewer, in fact, have been bestowed a sixth-degree black belt from Master Norris in his chun-kuk-do martial-arts system. But the founder of Ultima Self-Defense and Fitness LLC, Charles Allen, has.
Mr. Allen takes seriously his role in building confidence and shaping role models throughout the community, which is why he handpicks each of his center's instructors. These instructors cater to diverse fitness and self-defense expectations, including adults looking to cut a competitive edge into their lives with mixed martial arts, a form of training that schools students in the sparring, grappling, and takedown techniques popularized by the caged sport. For energetic, high-energy exercise, KravFit uses kettlebells to achieve total-body toning and conditioning. Kids' programs include krav-maga self-defense classes as well as birthday parties that challenge celebrants to cut their cake with only their forearm.
6781 N Thornydale Rd., Suite 219
Tucson
Arizona
520-744-4591
The sight of a medieval castle surrounded by tall cacti may seem anachronistic at first, but it's hard to question the image when one is trying to putt a mini golf ball into a grassy hole off the circulating paddles of a windmill. It's whimsical moments like this that make Golf N' Stuff's name feel understated. Beyond the two lush 18-hole mini golf courses that draw year-round visitors, the entertainment center boasts go-karts, bumper boats, and more than 100 arcade games. A mechanically rotated rock wall challenges climbers to simulations of El Capitan and Half Dome, and batting cages let both kids and adults perfect their swings before the upcoming zombie apocalypse. Visitors can refuel on hot dogs, soft-serve ice cream, and soda at the snack bar.
6503 E Tanque Verde Rd.
Tucson
Arizona
This museum of pint-sized pieces showcases more than 275 miniature houses, room boxes, and other collectibles that are organized into three categories: Enchanted Realm, History and Antiques Gallery, and Exploring the World. Leave the girth of planet Earth and enter the whimsical fantasyland of a tiny-sized Enchanted Realm. Interactive exhibits allow you to search for an elusive fairy within the goblets of a sentient tree showpiece or unearth scattered woodland creatures, snow villages, fairy castles, and witch compounds. Teleport through the blue, arched rotunda to the History and Antiques Gallery, which chronicles the significance of miniature relics throughout history and displays one of the oldest mini houses in the United States, dating back to 1775. Travel the floor as a nephilim Magellan in the Exploring the World section, which surveys the cultural value of miniatures from other countries.
4455 E Camp Lowell Drive
Tucson
Arizona
---