Things to Do in Charleston
---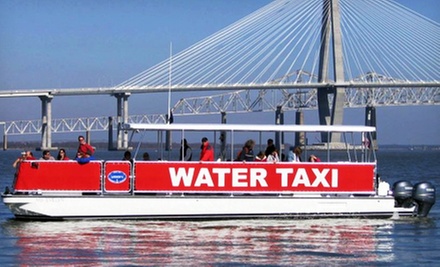 ---
Recommended Things to Do by Groupon Customers
---
Mary White believes in the power of movement to rehabilitate both bodies and minds. As an alternative health expert who has been practicing for almost 20 years, she relies on an integration of yoga, massage, and water movement therapy to put clients on the path to wellness. Her programs are entirely inclusive, welcoming yoga beginners to experience the same restorative poses that have benefitted athletes and irreparably tangled acrobat pairs.
Inside the studio, a blend of styles—including Kundalini, Bikram, and Vinyasa flow—merge with Pilates and muscle-specific stretches. The combination of motion-based techniques works to combat pain and recurring ailments as it hones enough mental focus to defuse a bomb while stressed out by the fact that you're in a cartoon in the first place. Mary strives to dispense her teachings to walk-in students as well as specific therapy groups, including Alzheimer's patients and single women in need of support.
3714 Betsy Kerrison Pkwy., Suite E2
John's Island
South Carolina
843-300-9626
Diagnosed with a disruptive neurological condition at age 10, studio founder David Kiser discovered Bikram yoga while he was seeking alternative treatments to help alleviate his chronic neck and back pain. After his first Bikram class in 2003, David noticed moderate relief of his symptoms, and after that day, he dedicated himself to continued practice, earning his teacher's certification three years later. David credits his pain relief to the two breathing exercises and 26 standing, seated, and hula-hooping postures of Bikram yoga, which promote healthy organ function by circulating freshly oxygenated blood throughout the entire body. During each class, instructors crank the practice space's temperature up to 105 degrees with 40% humidity to promote physical well-being. In the sultry atmosphere, students' bodies safely sink into each stretch, flushing toxins out of freshly opened pores. Afterward, onsite showers and locker rooms allow students to recompose themselves while planning a class field trip to the nearest glacier for some postclass relief.
1973 Riviera Dr.
Mt. Pleasant
South Carolina
Inside Charleston Power Yoga, instructors turn up the heat to 90 degrees during all-level yoga classes to help muscles stretch farther as exercisers perform breathing exercises inspired by the teachings of Baron Baptiste. Experienced teachers follow in Baptiste's footprints by helping clients build healthier, more-balanced lifestyles as they twist, lunge, and imitate oddly shaped animals.
557 King St., Suite A
Charleston
South Carolina
When the Charleston Museum was founded in 1773, South Carolina was still a British colony. Today, the museum is itself a historical gem, surviving both the American Revolution and Civil War and acquiring an astounding collection of South Carolinian artifacts along the way. Nine permanent exhibits include the Armory, brimming with antique weaponry, and the Lowcountry History Hall, which chronicles the land's metamorphosis from a tribal society into an agricultural empire, telling the story with early trading goods, slave badges, and pottery. Temporary exhibits change regularly, keeping visitors on their toes in the same way changing cell phone numbers every 24 hours does.
The museum extends its history-preserving mission to two area homes: the 19th-century Joseph Manigault House, once home to a wealthy rice plantation owner, and the Heyward-Washington House, where George Washington once stayed during a weeklong visit to the city. Restored rooms, period pieces, and loudly snoring grandfather clocks await guests during scheduled tours.
360 Meeting St.
Charleston
South Carolina
It was February 17, 1864. The USS Housatonic floated in Charleston Harbor atop calm, cold waters. Below the surface, a group of Confederate soldiers sweated bullets as they cranked the propellers of the H. L. Hunley, speeding toward the Union's Housatonic on a historic mission: they would become the first submarine crew ever to sink an enemy ship. A 135-pound torpedo struck the Housatonic's stern, detonating a fiery explosion that sank the vessel within minutes. The Hunley then surfaced just long enough for the crew to flash a blue magnesium light, signaling to fellow forces on the shore that the mission succeeded and the submarine would return. And it did—but not until almost 140 years later, when it was raised from the harbor's sandy bottom on August 8, 2000, after author Clive Cussler discovered the wreck intact.
Today, the leaders of the nonprofit H. L. Hunley Submarine seek to conserve, restore, and ultimately exhibit this historic vessel, as well as solve the mystery of how it completed its mission only to vanish moments later. They welcome visitors to see the submarine in its current condition—within a 90,000-gallon conservation tank—and educate guests on the vessel's many details. Guides walk guests through features such as the manual-propulsion system and automatic moon roof, and illuminate exhibits such as a lifesize model from the TNT movie The Hunley.
1250 Supply St., Building 255
North Charleston
South Carolina
At Island Fitness Studio, bodies learn to defy physics, becoming at once firm and bendable. That's because the instructors specialize in tightening cores and enhancing reach. Their group Pilates, yoga, and Beyond Barre sessions coach muscles in the art of balance, extending limbs upward during hot Vinyasa sequences and leveraging focused, dance-inspired stretches against a ballet barre. Other classes, such as TRX suspension training and spinning, complement these flexing routines with resistance and cardio workouts.
Power Pilates–certified teachers also lead private apparatus sessions. They familiarize clients with the Reformer, Tower, Wunda Chair, and other props, all of which develop patrons' posture and strength more safely than fusing steel beams to their skeletons. Regardless of the number of people involved in a lesson, the guides personalize their approach to suit varying goals and fitness levels. The studio can even furnish advanced students with Power Pilates and Beyond Barre certifications.
186 Seven Farms Dr., Suite D
Charleston
South Carolina
---