Shopping in Christiansburg
---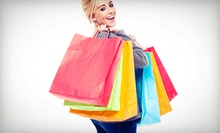 Playful dresses, polo shirts, and jeans from top designers along with jewelry and accessories
---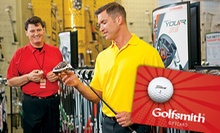 Huge selection of golf clubs, apparel, and accessories from brands such as TaylorMade, Callaway, NikeGolf, MacGregor, and more
---
Recommended Shopping by Groupon Customers
---
Before stepping onto the ice or the baseball diamond, members of the Carolina Hurricanes and the Durham Bulls pay a visit to Drs. Michael Peters and Jason Price of Eye Care Associates, who have provided top-notch eyeglasses, contact lenses, and eye exams for nearly 35 years. The vision specialists help rid blurriness from pucks, balls, and signs held by adoring fans. When they're not gazing into the eyes of athletes, they and their fellow doctors at a network of clinics stay busy correcting the vision of seniors, children, and adults. The company topped Indy Week's 2012 Readers' Choice poll for best optometrists in the area and received a Standing Ovation award as the best eyecare center in the Triangle in 2012 from readers of Metro Magazine.
2835 S Church St.
Burlington
North Carolina
336-584-0505
A partner of Superior Play Systems, Backyard Paradise beckons kids to gallivant across a showroom packed with safety-focused equipment. Laughter spreads throughout the indoor play haven as little ones bound about on wooden play sets, swings, and slides. Sports-focused areas let athletes step onto a putting green or finally dunk their chocolate milk in a Performance basketball hoop. Elsewhere, a trampoline's springy surface helps jumpers evade gravity's grasp.
3123 K Cedar Park Rd.
Greensboro
North Carolina
336-697-3092
For 20 years, Ellen Ashley has pursued and shared her passion for gardening by tending and teaching in her own 10-acre paradise, which houses thousands of plants in nine types of gardens. Ashley's interest in flora ignited when she was a youngster in rural Virginia, where she watched her father grow vegetables and fruit trees while her mother raised flowers and tutored wood nymphs. After retiring from a career in technical sales, Ashley dedicated herself full time to her planting passion, both at home and in the community. Her decade of activity with the Guilford Horticultural Society has included lecturing on subjects such as butterfly gardens, seed saving, and herbs.
8110 Witty Rd.
Summerfield
North Carolina
336-551-5699
Since 1989, Play It Again Sports has been keeping sports green, recycling gently used athletic equipment into new-to-you gear. Products from brands such as Nike, Adidas, and Wilson make up each store's enormous selection of new and recycled gear, which is replenished daily with goods for a wide selection of sports that ranges from baseball and football to snowboarding, skis, and ice skates. Treadmills and exercise bikes equip bodies with muscular suits of armor, and pintsize and adolescent equipment arms youngsters with protective padding until they eat enough bologna to grow muscles of their own. Knowledgeable staffers man the Greensboro and the new Winston-Salem locations, ready to answer questions and arrange gear deliveries or pick-ups. To ensure their stock remains robust, they also encourage athletes to collect their lightly used gear—including bicycles—and bring it into a local store to either sell or trade.
2963 Battleground Ave.
Greensboro
North Carolina
336-282-9910
Sears, the iconic department store and grandfather of Craftsman Tools, revitalizes downtrodden, malfunctioning, and otherwise jankey indoor and outdoor appliances at its in-house service center. Versed in repair techniques for all brands, experienced technicians delve into the inner-workings of their customers' gadgets to replace broken parts, clean out gunk, and reattach dryer doors ripped off by pet robots for whom no amount of attention ever seems to be enough. In the storehouse, thousands of parts titter nervously, awaiting a new appliance home, and when a necessary part is out of stock, staff members order it direct from the manufacturer free of shipping charges.
7607 Boeing Dr.
Greensboro
North Carolina
336-665-2560
Camcor was founded in 1949—one year after commercial programs debuted on television. In the 63 years since, Camcor has flexed and adapted, staying relevant and cutting edge in spite of the technology industry's rapid pace of change. Today, the retailer continues to sell the best gadgets for the home and office.
Communication devices such headsets, microphones, or soup cans attached to strings help clients relay messages loud and clear. Archival technologies, including digital cameras, memory cards, and film, help clients preserve memories. Camcor also supplies equipment for offices, facilitating digital presentations and shadow-puppet shows with multimedia projectors and screens. As an authorized dealer for 112 brands including Canon, Maxwell, Panasonic, and Zenith, Camcor has access to trainings and information directly from vendors. Camcor backs its products with full warranties.
2273 S Church St.
Burlington
North Carolina
---