Restaurants in Des Moines
---
Recommended Restaurants by Groupon Customers
---
There's a dish to satisfy every taste at Spaghetti Works, where diners can customize meals to their hearts' and mouths' content. Plates of fettuccini or whole-wheat mostaccioli can be enjoyed with sweet italian sausage, beer-cheese sauce, and a wide variety of other toppings. Meanwhile, the restaurant's cooks also prepare classic Italian dishes, such as homemade lasagna and shrimp scampi, and craft gluten-free pizzas and pasta bowls. Diners can cap meals with beer, wine, a cocktail, or more than 20 flavors of Italian sodas.
Known as a family-friendly establishment, Spaghetti Works delights both children and adults with its quirky decor. All three locations feature red-checkered tablecloths and vintage model T trucks, the backs of which hold salad bars with all the fixings. And at all three locations, guests can admire the setting sun from an outdoor patio—a sight almost as beautiful as that of a kitten hatching from its shell.
310 Court Ave.
Des Moines
Iowa
It's usually Mullets' mascot that first catches guests' eyes, flashing its gill-to-gill grin from its post-top perch. Then there's the big neon sign, which further befits the establishment's roadhouse atmosphere. Situated at the confluence of the Raccoon and Des Moines Rivers, Mullets draws in patrons with pub staples such as burgers, sandwiches, and pizzas as well as plentiful seafood options that include catfish, bluegill, crawfish, and frog legs. Servers can bring these dishes out to the wood-paneled dining room or up the stairs to the two-level outdoor patio, where banners for the Chicago Cubs and Boulevard Brewing Company ripple in the wind like the tongue of a skydiving dog. The staff encourages patrons to make their own marks on the pub's playful atmosphere by posting photos of their mullets—whether haircuts or state-fair-winning fish—to the Mulletin board.
1300 SE 1st St.
Des Moines
Iowa
The chefs inside Godfather's Pizza's kitchen crown Original, Thin, Mozza-Loaded, and gluten-free crusts with fistfuls of more than 15 meat and veggie toppings. Predesigned pies simulate the flavors of other foods in configurations such as the Bacon-Cheeseburger Pizza with beef, bacon, cheddar, pickles, and onions. Sandwiches and hot wings round out feasts. In the dining room at some locations, ice clatters cheerily from Coca-Cola Freestyle machines, which dispense more than 100 flavors of soda as well as resumé advice for robot bartenders. Delivery drivers bustle past, filling orders or toting catered fare, and Godfather's Pizza brims with happy chatter during field trips that introduce students to the pizza-creation process.
4119 University Ave.
Des Moines
Iowa
515-277-6344
Chefs flex their culinary skills in Cosi Cucina Italian Grill's kitchen, churning out piping-hot pizzas, sizzling steaks, and pastas drenched in sauce alongside a wealth of vegetarian and gluten-free dishes. The romantic enclave boasts a menu of more than 36 wines available by the glass, letting diners find the perfect harmony for their meal's delicate flavors and pitchy singing voice. Outside of its amorous atmosphere, Cosi Cucina Italian Grill shares its house-made dishes with the masses, catering salads, pastas, and saucy chicken entrees for all manner of peckish partygoer.
1975 NW 86th St.
Clive
Iowa
515-278-8148
Incredible Pizza Company entertains young revelers with more than 100 games, more than 100 homestyle-buffet offerings, and four themed dining areas: a '50s–style diner, a drive-in movie theater, a family room, and a gymnasium. Guests can drive bumper cars, play laser tag, or enjoy myriad arcade games, earning tickets that can be exchanged for toys and prizes. Between games, plates are graced with 8–10 varieties of pizza, as well as baked potatoes that can be dressed with custom toppings before being loaded into potato guns. Incredible Pizza Company also offers a variety of birthday packages, which include access to private rooms, food, a prize-wheel spin, and invitations.
3799 NW 86th St.
Urbandale
Iowa
515-276-1472
Even though their eatery isn't housed within a library, the cooks at Chuck's Restaurant shush on a regular basis. In fact, their loud "shh" has guarded the Bisignano family's most treasured recipes since 1956. The kitchen staffers speckle each of their signature thin-crust pizza pies with Old-World ingredients such as housemade italian sausage, imported mozzarella, and ripe red tomatoes, transmitting the Bisignanos' rich history of top-secret flavors and culinary craftsmanship. Also known for prepping a nonspherical dish or two, they sizzle up different cuts of steak alongside a mélange of pastas, including spinach ravioli and housemade cavatelli, as bartenders furnish glasses, carafes, and hijacked Stanley Cups with Italian wines. Musicians perform live jazz and blues nightly Thursday–Saturday.
3610 6th Ave.
Des Moines
Iowa
515-244-4104
---
---
Restaurant Deals - Recently Expired
---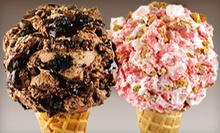 Chef-created ice cream, frozen yogurt and sorbets made onsite using chef-inspired recipes that are hand-mixed with candies, nuts, and fruits
---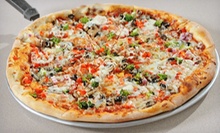 Restaurant inspired by New York–style pizzerias; dough made fresh daily for hand-tossed, thin-crust pizzas and mozzarella-stuffed calzones
---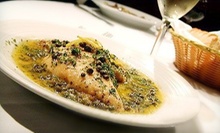 Lasagna and cannelloni share tables with Old-World standbys, such as tortelloni modenese with peas, prosciutto, and mushrooms
---
---