Things to Do in El Paso
---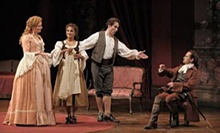 Guest performer from New York City Opera helps present director David Grabarkewitz's rendition of Mozart's opera presented in Italian
---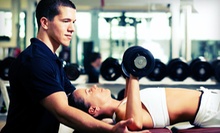 16 strength-and-endurance classes incorporate plyometric and agility drills with nutritional advice to help sculpt lean, toned muscles
---
Recommended Things to Do by Groupon Customers
---
Guided by illuminated handholds equipped with sensors that respond to climber movement, youngsters scale FuntastiCo. Pizza & Games's DigiWall, which combines rock-climbing panels with computer-game technology for interactive versions of Pong and Follow the Leader. A nearby rock-climbing wall accommodates three participants with a more traditional ascent, and whippersnappers clad in a Velcro suit can leap off a trampoline-like inflatable and stick onto a Velcro wall. Elsewhere, wiggle cars, powered by drivers twisting their steering wheels from side to side, reunite guests with the ground's tight turns, and the Tot Tree enthralls tykes aged 2 and younger with blooming flowers and squeaking ladybugs. Along with games, a full-service restaurant reenergizes guests with an extensive menu of treats, and the Performance Playhouse plays home to kids who can rest, socialize, or discuss the latest stock-market trends.
2270 Joe Battle Blvd.
El Paso
Texas
915-855-2386
The sight of foam balls raining from the sky would be unusual at any place but Jungle Jaks' Foam Factory, where they're part of a brightly decorated playground that kids aged 3 to 12 can roam to their hearts' content. Young ones of all dispositions can find something entertaining among Jungle Jaks' range of athletic and artistic attractions, such as a mini soccer field for pickup games and a well-stocked arts and craft studio where masterpieces can be created. Excess energy burns away in the disco area as danceable pop hits play, while the Wii room, equipped with numerous Nintendo games and a flat-screen television, keeps arms and legs engaged as players search for Princess Peach's lost contact lens. Elsewhere, a toddler play area engages tots with age-appropriate slides and toys, and a snack bar reenergizes guests before they collide with fellow riders on indoor bumper boat and bumper car rinks.
1700 Zaragoza Rd., Suite 145
El Paso
Texas
915-856-3763
Raekwon, whose quest for hip-hop immortality led him on sonic adventures with the legendary Wu-Tang Clan, headlines the 2012 edition of the St. Patrick's Day Block Party at Robinson Street. His rhymes mingle with sounds from the party's other musical guests, which include Pitchfork darling Cults, Supernatural, and JD Era. As their ears take in the amplified sounds emanating from three outdoor performance spaces, guests can fill mouths with snacks from food trucks such as Tacoholics instead of showing St. Patrick's pride by eating a bag full of grass clippings.
111 Robinson Ave.
El Paso
Texas
915-920-9180
Author and radio host Ken Hudnall leads groups on an informative trek through El Paso's famed, and oftentimes spooky, past during the Downtown History and Mystery Tour. Each traipse through time begins at the Camino Real Hotel, where ominous tales of a distressed bride and the lingering presence of Pancho Villa cast a spectral tone upon the outing's onset. Winding through city streets, Ken and crew stop at the Cortez Building, the Plaza Hotel, and the very first Hilton Hotel, which has hosted several celebrity weddings. As night falls and shadows begin to dance and pants unsuspecting patrons, a stop at the Mills Building—constructed on the site of a hotel that burned to the ground—rounds out the tour's itinerary.
101 S El Paso St.
El Paso
Texas
US
915-219-4210
At Ricky's Paintball, the desert field's design incorporates both constructed and natural obstacles, such as wooden structures and shade-bearing trees, where combatants try to blend in before opening fire on opponents. Before play begins, referees acquaint beginners with the basics, then clarify safety rules so players of all experience levels feel comfortable stepping onto the field. Teams commence shooting at one another in a hailstorm of color, picking out their opponents from their teammates as they target from behind obstacles and duck around corners incognito. Once the shots have ceased, teammates engage with one another in a picnic area fortified with cold refreshments and materials for building a Trojan horse before the next game. Outside the playing field, Ricky's Paintball also encompasses a pro shop, and on select occasions, hosts Airsoft play to gunmen who have their own gear and use only biodegradable ammo.
1773 Pali Dr.
El Paso
Texas
915-855-7474
Guided by the philosophy of revolutionary educator Maria Montessori, who said, "Free the child's potential, and you will transform him into the world," Julie Smith guides young minds at Casa De Colores Montessori School. Julie, a NCME-certified teacher, draws on more than two decades of experience with teaching in public, private, and Montessori schools as she encourages children to grow into responsible, engaged human beings. She shepherds her pupils along a path of self-motivated education, rather than falling back on the juice-box bribery and teddy-bear-deprivation cycle that binds the traditional educational system.
1035 Belvidere St.
El Paso
Texas
915-471-9171
---