Restaurants in Eugene
---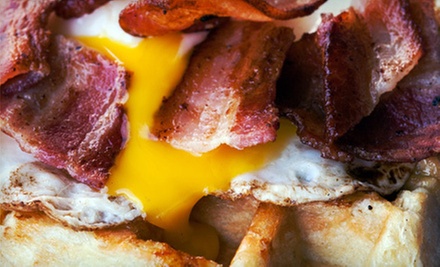 ---
Recommended Restaurants by Groupon Customers
---
At Cozmic Pizza, the culinary team kneads organic flour made from local Willamette Valley wheat into crusts that are brushed with buttery extra-virgin olive oil. Then, they pile on toppings and set the pies to bake on 600-degree stones. The list of toppings—many of which are also organic, such as the apples and cilantro—breaks traditional pizza boundaries by including unique options such as smoked oysters, kale, and vegetarian meats, which offer an alternative to the eatery's local sausage, smoked pork, and pepperoni.
These Jersey-Eugene-style fusion pies are the brainchild of Kirk Giudici, also the founder of Rising Moon Organics. When Kirk decided to embark on a second organic foods endeavor by opening a pizzeria, he found himself drawn to a vintage 1945 building that was an Edsel car dealership back when man didn't travel only by hovercraft. While renovating the 4,000-square-foot auto display room, the same environmental principles that led Kirk to organics undergirded his decorating approach of using only recycled and repurposed materials. As a result, diners sip their homemade fountain sodas and Oregonian microbrews while perched at a bar made from a shuffleboard and lit with dryer-drum light fixtures from Kirk's Laundromat.
The restaurant space, massive enough to have once housed a fleet of automobiles, enabled Kirk and his partner Alec to create a stage dubbed The Edsel, which has attracted national acts such as Michelle Shocked, The Be Good Tanyas, and eight-time Grammy Award winner Marcia Ball. In addition to musical acts, the pizzeria's calendar is full of events such as Science Pub, when tipplers learn about topics such as why it's impossible to teleport your clothes along with your body. Cozmic Pizza also engages in regular charity efforts such as a fundraiser for Greenhill Humane Society that caught the attention of KMTR.
199 W 8th Ave.
Eugene
Oregon
541-338-9333
Pier Sushi's expert sushi chef coils up 23 specialty rolls and an assemblage of Asian entrees, festooning plates with artistic arrays. With no MSG, masago, peanuts, or peanut oil in any of its platters, Pier's menu offerings draw instead upon sesame and soybean oils. Sake and Japanese beers complement meals, cooling down throats more effectively than bowties sculpted from ice.
720 S A St.
Springfield
Oregon
541-653-9469
Within the 153-room Holiday Inn, Amici envelops diners in salmon-hued walls as they feast on freshly cut pastas and overflowing paninis. Rob Sigmund of Wild Duck Catering mans the helm of the spacious dining room, where upholstered banquettes, dark woods, and modern lighting fixtures create an atmosphere of contemporary comfort. After excavating a savory strata of lasagna, patrons can search for a wine finale on the outdoor patio or for mermen in the hotel's swimming pool.
919 Kruse Way
Springfield
Oregon
541-284-0707
Baristas brew up coffee, espresso, tea, and blended drinks at Global Delights, a quaint, locally owned drive thru that infuses its drinks with worldly flavors. The shop recently began roasting its own, certified organic coffee, adding to a menu that already includes pastries as well as gluten-free and vegan options from Holy Donuts. More than just an energy boost for its customers, Global Delights also demonstrates a passion for improving the community, both by supporting other local businesses and working with Eugene charities.
1038 River Rd.
Eugene
Oregon
In 1968—the same year that Richard Nixon was elected president and the Beatles released their _White Album_—the meat buffs at H&H BBQ slow cooked their inaugural batch of southern barbecue. Though the world has changed radically in the decades since its opening, H&H has continued to earn a devoted following thanks to the staff's dedication to forging homestyle barbecued meats and comforting side dishes. Amidst the buzzing kitchen, chefs whip up fall-off-the-bone ribs, beef brisket, and pulled pork, all of which are tender enough to dive into without a fork, knife, or modified oboe.:m]]
575 Hwy. 99 N
Eugene
Oregon
541-688-3333
Prime Time Diner works with local vendors to stock its menu with fresh, house-made comfort fare. A selection of omelets, eggs, and traditional breakfast fare kick-starts mornings until 11 a.m. on weekdays and until noon on weekends. Broasted chicken, hearty burgers, and stacked sandwiches vie for attention from the menu, which, like newspapers and even the smallest cereal box lettering, is read every day by many different people. The neighborhood diner is open seven days a week and entertains visitors with lottery games and lessons on how to build indestructible towers of pocket creamers.
40 River Loop 2, Suite A
Eugene
Oregon
541-505-8314
---
---
Restaurant Deals - Recently Expired
---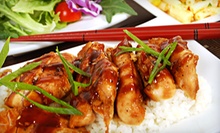 Flame-broiled chicken teriyaki, Kalua pulled pork, Mauna Loa plates & burgers made from Oregon Natural Meats beef; most plates gluten-free
---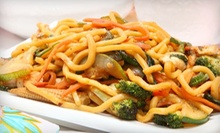 Buffet full of vegetables, meats, noodles, and various sauces summons guests to build their own bottomless plates of Mongolian stir-fry
---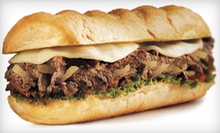 Grilled cheesesteaks, chicken subs, and deli sandwiches set alongside gourmet fries with cheddar, bacon, and ranch
---
---