Things to Do in Fayetteville
---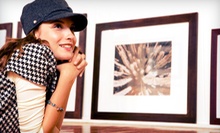 On-site custom framing with hundreds of mats & Larson-Juhl mouldings, including advice on matching frames with decor
Use Wednesday 10:00am - 3:00pm
---
Recommended Things to Do by Groupon Customers
---
Balls hurtle toward pins on 24 well-oiled bowling boulevards at B&B Lanes, where groups, teams, and individuals hone gutter-hugging techniques seven days each week. Each lane hosts up to six bowlers at a time and features a lounge area with ample room for groups to stretch their bowling legs between frames. The alley also hosts an onsite kitchen with quick and hearty snacks that hungry players can slide across the butter-soaked lanes for extra flavor. The seven-day bowling schedule includes extended hours on weekends, along with glow-in-the-dark bowling hours that provide an experience similar to bowling in bioluminescent reefs.
3003 Fort Bragg Rd.
Fayetteville
North Carolina
910-484-5178
Triad Lanes offers bowlers of all levels recreational and competitive atmospheres. Beyond the well-oiled boards and gutters, it features onsite amenities, as well as youth bowling and birthday parties. In addition to open hours, the alley hosts special events, such as cosmic bowling on Friday and Saturday nights from 10 p.m. to 2 a.m., when they lift all rules concerning gravity and primate-assisted space exploration.
2617 N Main St.
High Point
North Carolina
336-869-7189
Scampering through Lazer FX–Lazer Tag's 7,500-square-foot labyrinth, combatants volley photons in exhilarating 20-minute skirmishes. Laser soldiers don luminescent vests and DayGlo bowties before entering the arena, where a mix of 30-odd friends and foes dodge blasts while darting from refuge to refuge. For groups of four, the battle extends out of the arena and onto the 8,000-square-foot arcade floor. Here, more than 120 games—including pool tables, skee-ball lanes, driving simulators, and air hockey—promote hand-eye coordination more effectively than soccer.
510 N McPherson Church Rd.
Fayetteville
North Carolina
910-630-2229
Cleaved into the rolling bluffs of the Carolina countryside, The Country Club of Johnston County's 18-hole, Ellis Maples–designed course encompasses 6,573 yards of well-groomed fairways and greens. Dense tree lines guide clubbers across the picturesque par 72, obstructing shots as players attempt to keep orbs on fairways that dog-leg and kitty-purr their way toward distant greens. Ponds dot the emerald landscape on four different holes, threatening ill-struck orbs and foreshadowing eventual retreats to the Club's outdoor pool. The stately complex keeps guests energized with a menu of savory grill fare, while outdoor tennis courts sate appetites for loose yellow fuzz. A dazzling banquet hall stands at the Club's epicenter, where reunited friends and wedding parties can enjoy a warmly lit ballroom, dance floor, and bar.
Course at a Glance:
Designed by Ellis Maples
18-hole, par-72 course
Length of 6,573 yards from the farthest tees
Course rating of 71.9 from the farthest tees
Slope rating of 132 from the farthest tees
Four tee options
694 Country Club Road
Smithfield
North Carolina
919-934-4166
Deborah Reavis, the resident artist at Wine, Paint & Canvas, has nearly two decades of teaching art under her belt, making her an excellent tutor for classrooms full of fledgling painters of all ages. Seated in front of rows of provided easels and surrounded by the works of past classes, students follow their instructors' directions to produce the evening's piece. Though everyone works from the same template, each student has the chance to stylistically personalize their work by mixing colors or painting only the coolest facial hair on self-portraits. Before brush touches canvas, guests can mingle over glasses of BYO wine and bottles of beer, with soda available for purchase.
3350 Footbridge Ln.
Hope Mills
North Carolina
910-223-0589
"I'm too scared to do a hot yoga class" is a phrase that's all too familiar to Sherry Carpenter. The owner of The Funky Buddha Hot Yoga Studio and instructor recognizes that the balmy temperatures and 26 plus poses of hot yoga can intimidate those who have never taken a class before. That's why she offers a beginners class that teaches students the poses used in hot yoga and prepares them for entry into one of the studio's hot or warm yoga classes.
Sherry Carpenter trained under Arianna Gallagher of Chesapeake Hot Yoga, who was in turn trained by Bikram Choudhury—the founder of Bikram yoga—as well as B.K.S. Iyengar. In addition to her yoga classes, Sherry also offers Russian medical massage, which she learned while studying at the American & European Massage School. She teaches students inside a pale-green studio with mirrors and smooth hardwood floors. The studio also features curtained changing rooms, where post-yoga students can trade their sweaty asanas for clean ones.
3059 N Main St., #16
Hope Mills
North Carolina
US
910-229-2435
---