Things to Do in Fremont
---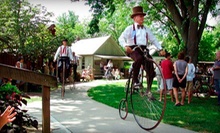 Costumed reenactors, hands-on exhibits, & master craftspeople guide guests of all ages through travails & daily life of 19th-century Ohio
---
Recommended Things to Do by Groupon Customers
---
Uncork The Artist puts its mission right in its name, scheduling classes that help coax the creative energies out of every person who walks through the door. Provided snacks and sips of BYOB wine stimulate inner inspiration as patrons reproduce masterpieces with the studio's paints and brushes and guidance from local artists. Studio sessions can be modified to suit bachelorette parties, sorority functions, and date nights, or rendered alcohol-free to teach kids the joys of painting with something other than food.
5228 Monroe St.
Toledo
Ohio
419-283-4666
North Coast Parasail lofts guests high above the freshwater majesty of Lake Erie with gravity-defying parasailing excursions. Drift kite-like through the atmosphere during a 10-minute parasailing experience, which safely suspends adventurers at the end of an 800-foot towline. Breeze cruises deliver picturesque panoramas of Sandusky, Cedar Point, and the rarely seen tops of tall beachgoers' heads. Participants snag a complimentary T-shirt as well as a disposable camera good for capturing images of your feet dangling several hundred feet above the water.
1 Cedar Point Dr.
Sandusky
Ohio
In 1906, Joseph Fleitz purchased a tract of land along Seaman Road. Though he immediately started to farm, it would be another 85 years before his great-grandson, Paul, planted the first pumpkin patch, officially christening Fleitz Pumpkin Farm. Since then, the family has built other attractions, and the wind raises a thrumming whisper from the stalks of a 5-acre corn maze capable of stumping even Ivy League–educated scarecrows. Tractors pull hay carts full of chattering riders, and other amenities include a free tricycle zone and an area to feed goats and chickens. During the fall, when the air grows crisp and cornucopias hang heavy on the trees, row upon row of sunset-hued pumpkins line the periphery of the farm. The scents of cinnamon drifts from a snack shack serving freshly made doughnuts and hot cider.
7133 Seaman Rd.
Oregon
Ohio
419-836-7613
A skydiver descends toward the earth, his red-and-white parachute contrasting against a picturesque scene of azure sky and the springtime grass. It's just another day at Skydive Tecumseh, where instructors have been taking first-time jumpers and experienced skydivers on exhilarating freefalls for nearly 50 years. Manning aircrafts such as a Quest Kodiak and a Cessna 182, Skydive Tecumseh's flight team ushers parties 7,500 feet into the clouds for tandem and solo jumps that reach speeds of up to 120 miles per hour, much like a cheetah on roller skates. A drop zone with three separate landing areas awaits skydivers on the ground, and a picnic area allows visitors to watch their friends glide safely back to earth. In addition to organizing jumps, the instructors—all certified through the United States Parachuting Association—operate a ground school, where they help clients earn skydiving licenses.
9305 Tecumseh-Clinton Hwy.
Tecumseh
Michigan
---