Restaurants in Gladstone
---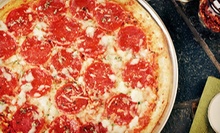 Amid sports memorabilia that pays homage to pizzeria founder and pro baseball player Bill Kelso, guests nosh pizzas, sandwiches, and wraps
Use Monday 5:00pm - 8:30pm
---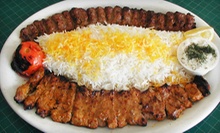 Use Today 3:00pm - 10:00pm
---
Recommended Restaurants by Groupon Customers
---
As young girls, sisters Suzanne and Stephanie dreamed of opening their own deli. As adults, they joined forces to open Sorella's—Italian for _sister_—where they create a spread of sandwiches with Boar's Head meats and cheeses and a hefty smattering of vegetables. The shop's meatball sub is made from scratch with 100% ground beef, and the muffaletta encompasses black forest ham, salami, melted provolone, and Sorella's own green-olive spread.
A choice of 12 meats, 8 cheeses, and 14 dressings and veggies provides diners with a multitude of options to stuff inside bread or a foam hand. Sorella's also supplies sandwiches to parties and holds a monthly wine tasting where patrons can expand their wine vocabulary.
7 N Missouri Street
Liberty
Missouri
US
816-781-1200
Windows covering the wall let floods of natural light pour across servers who bear trays of pastas and pizzas through Sutera's Italian Restaurant, which has been in business for three decades. As night falls, domed hanging lights glow overhead like hovering spacecraft, illuminating a weathered wooden bar where wall compartments backed in vibrant red contain ranks of bottled wines. At tables, patrons tear into meatball subs and burgers with italian seasoning, causing traders in napkin futures to pull out their cell phones.
4730 Rainbow Blvd.
Westwood
Kansas
US
913-262-7883
Earthy aromas from fresh-brewed beverages greet guests at the door of Le Peep, hinting at the espresso-based creations that await inside—Colombian house coffee, specialty blends, or the flavor of the day. Beyond coffee, the staff also sweetens cups with fruit smoothies. These handcrafted drinks accompany a menu of breakfast and lunch fare dominated by omelets and sandwiches. Whipped eggs arrive studded with fresh veggies or chorizo sausage, and half-pound burgers come layered with Cajun bacon, weighing down tables so that they don't have to be anchored in place by linens made of iron.
7936 Quivira Rd.
Lenexa
Kansas
US
913-492-6644
Located inside Hikari Japanese Steakhouse, Joy Luck Chinese Restaurant's chefs look across the East China Sea for inspiration in crafting a menu of Chinese cuisine. Entrees include seafood dishes such as cashew shrimp and a seafood bird nest, mixed in with fusion meals including teriyaki filet mignon. Nodding to their host, the chefs whip up sushi rolls, including the Spider Roll—which wraps up tempura soft-shell crab—and the Yummy Roll—which pairs tempura shrimp with crabmeat, drizzled in eel sauce. The restaurant also feeds large groups with catering services, which churn out platters to accommodate company gatherings, family reunions, or pandas' first dates.
9058 Metcalf Ave., Suite A
Overland Park
Kansas
913-894-2888
Born in Mexico City and raised in Yucatán, Chef Tito has led a more-than 30-year culinary career that's taken him through every position, from bartender to executive chef to tableside magician. He has cooked for celebrities as varied as Hilary Clinton, Sean Connery, and Norway's King Olaf. With his bold mustache and even bolder personality, some of his dinner guests, such as The Pitch's Charles Feruzza, have claimed he could be a movie star. At his flagship restaurant Latin Bistro, he very nearly is.
In Latin Bistro's dining room, patrons are serenaded by Latin music as well as a symphony of shouts, bellows, and laughter. At the center of the room stands Chef Tito's open exhibition kitchen, where he and his chefs dash to and fro in a complicated dance, fashioning vibrant meals that draw from the regional recipes of Mexico, the Mayans, and more than 60 Latin countries in South America and Europe. With each dish, Tito balances three properties—texture, color, and flavor—and his most prized recipes come with extra flourish. He grills and braises pescado a la Veracruzana in white-wine rum sauce and Spanish spices, and tosses in green olives, onions, capers, and raisins. He conjures Mayan cochinita pibil after slow-roasting banana-leaf-wrapped pork in a pit with spices for up to eight hours. His crew drapes chile rellenos en nogada—ground beef-stuffed poblano peppers—in dried fruits, pine nuts, and creamy pecan sauce.
A smaller outpost of this Latin performance kitchen, Latin Bistro Express whips up batches of Mexican, Spanish, and Latin food for carryout orders. Its small but hearty menu features Mexican favorites such as chicken burritos, pork and beef tamales, and guacamole served alongside american chicken salad and waldorf wraps.
6924 N Oak Trfy.
Gladstone
Missouri
816-420-9333
Crave's cart of satisfying comfort food, stationed on the patio behind The Union bar every day of the week until 3 a.m., provides sustenance for night owls and bar-goers. Chef PJ Ngelale turns out carnival-style appetizers such as onion rings, chicken strips, mozzarella sticks, and deep-fried beanbags, all served with dipping containers of marinara, barbecue sauce, or honey mustard. Hamburgers, cheeseburgers, and hot dogs satiate protein cravings, whereas funnel cakes' crispy outsides, topped with fresh strawberries or apple slices, give way to a toothsome, moist interior.:m]]
421 Westport Rd.
Kansas City
Missouri
---