Things to Do in Glen Allen
---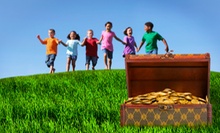 Groups of kids follow secret messages using an antique compass to hunt for treasure chests in birthday celebrations
---
Recommended Things to Do by Groupon Customers
---
Steve Wendt brings nearly 40 years of experience soaring the skies to his lessons at Blue Sky Virginia Hang Gliding's flight park, where he instructs gliders of all experience levels in launch methods ranging from training-hill foot launches to towing. Through personalized instruction in classes certified by the U.S. Hang Gliding and Paragliding Association, he hones flyers' skills in solo and tandem hang-gliding and in piloting trikes and paragliders against elite racing pigeons. Using aero-towing, park staff members can tow pilots to heights of more than 2,000 feet, or get them airborne with platform and scooter towing.
Staff also outfit certified pilots and enthusiasts with a fleet of gliders from brands such as Aeros, Icaro 2000, Moyes, and North Wing, each made from aircraft-grade aluminum and Dacron sailcloth. In the event of regular wear and tear or run-ins with jealous paper airplanes, they can also sew sails, repair harnesses, and bend frames back into shape in a repair facility.
1896 Dabneys Mill Rd.
Manquin
Virginia
804-241-4324
The White House of the Confederacy constituted the social, political, and military headquarters of Confederate States of America President Jefferson Davis during the Civil War. Later named a National Historic Landmark, the building still stands today. Daily guided tours lead guests through the grand 19th-century structure, which houses more than half its original wartime furnishings.
The White House is only steps away from The Museum of the Confederacy's Richmond location, where a core exhibit chronicles the Confederacy from its beginnings to General Robert E. Lee's surrender at Appomattox. Opened 25 years after that fateful event, the nonprofit museum displays artifacts from a collection of more than 15,000 items. They include Stonewall Jackson's sword, a letter from Pope Pius IX, and all the pennies Jefferson Davis etched his face onto in his spare time.
Meanwhile, another 400 artifacts adorn the permanent exhibit at the museum's Appomattox location. Here, a dozen audiovisual stations, parole lists, and the uniform coat worn by Lee illustrate the event that brought the Civil War to a close.
1201 E Clay St.
Richmond
Virginia
The first Funny Bone location opened in 1982 and has spread infectious laughter ever since. Established stars such as Drew Carey and Jerry Seinfeld have graced the stage, as well as up-and-coming talents with fresh faces, fresh routines, and that fresh pine scent. The venue also plays host to a full-service bar, where patrons may steep their sorrows in calming brews then ingest them triumphantly.
11800 W Broad St.
Richmond
Virginia
804-521-8900
Romp n' Roll's energetic instructors inspire parents and children alike to get on their feet and learn in structured play-based educational classes. In small groups, kiddies engage with their peers and their environment during interactive lessons, such as dancing sessions or art explorations, which nurture their physical and mental development. Instructors keep their lessons lively by infusing play into each assignment. Outside the classroom, the staff hosts indoor play time to give kids a place to safely unleash any remaining energy. Parents can attend classes with their kids to spend quality time with their offspring and finger-paint something other than office budget reports.
9677 W Broad St.
Glen Allen
Virginia
804-249-5001
In 2011, readers of Richmond magazine voted Rigby's Jig Dance Studio the Best Place to Learn How to Dance for Your Wedding, citing instructors that will help choose music and can choreograph routines to classic torch songs and pop tunes. With a lifetime's worth of experience—starting at the age of 3 and including a bachelor's in Theater and Dance from George Washington University—owner Eleanor Robertson heads an enthusiastic faculty.
Robertson's favorite dances include West Coast swing and the cha-cha, both of which are among the 19 ballroom dances taught to any adult within the bright confines of the citrus-colored studio. Argentine tango milongas and dance parties take over in the evenings, allowing students to try out new steps with members of the broader dance community. The spacious studio seats 100 across its gleaming hardwood floors, and rows of mirrors enable those in movement classes⎯yoga and cardio dance are also on the schedule⎯to work on the balance and alignment of their vestigial tails.
5470 W Broad St.
Richmond
Virginia
Valentine Richmond History Center has inspired visitors to explore Virginia's yesteryears for more than a century, employing exhibitions, tours, research, special events, and educational programs. More than 1.7 million household items, industrial artifacts, and pieces of artwork adorn permanent and changing exhibitions to expound on past lifestyles. Guests enjoy entry to the Wickham House, a National Historic Landmark peppered with artifacts from its prominent former inhabitants and having a basement level that sheds light on the lives and private spaces of slaves. The renovated Edward V. Valentine Sculpture Studio details Valentine's artistic maturation and evolution beyond macaroni portraits by displaying his original works and tools. The museum also invites budding scholars to survey the historic Court End neighborhood as they exhaustively research Richmond's 400-year-old history and determine whether the city was settled by aliens.
1015 E Clay St.
Richmond
Virginia
804-649-0711 x301
---