Restaurants in Harrisburg
---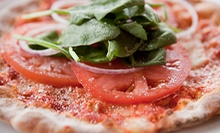 Lasagna with garlic bread, gooey stromboli, and hot meatball and veal-parmesan subs; pizza toppings include bacon, eggplant, and broccoli
---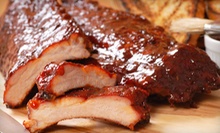 National Barbecue Association award-winning sauces are glazed on slow-smoked Texas beef brisket, pulled pork, and St. Louis ribs
---
Recommended Restaurants by Groupon Customers
---
Award-winning Caesar salad, wings and chili grace the menu at The American House Hotel, whose chef weaves French, Italian and American influences into an eclectic culinary tapestry. The eatery's signature appetizer, roasted, horseradish-stuffed shrimp wrapped in bacon, entices diners alongside hearty Black Angus chili. Diverse entrees include the charred 14-ounce T-Bone, pecan-encrusted mahi mahi, and a 12-ounce rib eye steak with jumbo lump crabmeat. Wines by the bottle or glass round out the dinner options. Saturday night diners can return with another rotation of the clock for breakfast served on the first Sunday of every month, which showcases morning classics such as stuffed french toast and eggs benedict. Diners feast in a Victorian-era dining room, whose tin ceilings anchor chandeliers that evoke a time when everyone wore wooden clogs.
2 N 4th St.
Hamburg
Pennsylvania
610-562-4683
Sakura Japanese Restaurant's chefs forge sushi and Japanese dishes, which emerge into a dining room filled with art and racks of katanas. Smaller knives hew fresh fish into specialty rolls at the sushi bar, and tableside hibachi grills sizzle meats, seafood, and vegetables before audiences of captivated diners and concerned piles of dry straw. An all-you-can-eat menu replenishes plates with unlimited sushi and tempura, and the restaurant's BYOB policy allows guests to bring along their own bottles of wine.
6499 Carlisle Pike
Mechanicsburg
Pennsylvania
717-697-6000
A simple, homey sign and no-frills brick façade welcome visitors to the laid-back environs of The Hampstead Diner, where laminated menus elicit stomach rumbles with a seemingly endless supply of homemade eats. At breakfast, peppers, potatoes, onions, and eggs sink into skillets and scrambles, and plates of belgian waffles crowned with cutlets of fried chicken forge a delicious truce betwixt the worlds of sweet and savory. Diners perched upon wooden park benches happily chow down on morning or midday meals, which include Reuben sandwiches, chili-topped dogs, and freshly ground, hand-pattied burgers.
1365 N Main St.
Hampstead
Maryland
410-374-3775
The chefs at Ciabatta stay up through the night, hand shaping and scoring dozens of loaves of airy bread until each perfectly resembles its namesake, which means slipper in Italian. Inside the flaky crust, the restaurant's sandwich smiths bury caches of oven-roasted turkey or parmesan pesto ham. They also toss the flavors of their Italian heritage into fresh salads and personal-sized pizzas. To complement their Italian eats, the staff at Ciabatta invites their guests to bring along their favorite wine, beer, or fizzy lifting drink at no corkage fee.
2224 State Hill Rd.
Reading
Pennsylvania
US
484-220-0579
The chefs at Griff's Landing scour docks for freshly caught seafood to stuff plump crab cakes into massive, thick sandwiches and fry shrimp, clams, and scallops in flaky batter. Servers bear platters through the dining room's lime-green walls and tropical murals to tabletops covered with white cloths. Ornamental lights beam down from the tiki bar, where bartenders dole out beer, wine, and specialty cocktails. Outside, a wooden deck stretches out over a cheerful front patio to protect diners from sun, rain, and clouds that aren't fully nailed to the sky. Throughout the week, the restaurant hosts special events ranging from Wednesday-night trivia contests to Friday-night dance parties.
43 S Market St.
Frederick
Maryland
US
301-694-8696
---