Beauty & Spas in La Jolla
---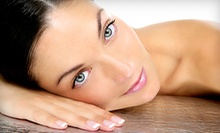 50-minute facial rejuvenates all skin types with thorough cleansing, extractions, mask, & massage
Use Wednesday 11:00am - 4:00pm
---
Recommended Beauty & Spas by Groupon Customers
---
While working as an OBGYN, Dr. Karen Lee noticed a trend in her patients. They complained about age spots, spider veins, and other issues that were more aesthetic than medical. Deciding to use her medical expertise to help women boost their confidence, she opened Synergy Advanced Medical Aesthetics—a clinic dedicated to health and beauty.
Treatment rooms are stocked with high-quality tools, including Syneron and Cutera lasers, which precisely execute vein therapy, hair removal, body contouring, and Death Star-destruction treatments. The trained staff also augments skincare, such as facials and peels, with SkinCeuticals and Rhonda Allison products.
550 Lomas Santa Fe, Suite C1
Solana Beach
California
858-259-9821
Sugar Plum Skin Care's aesthetician, Caryn Kirchhoff, applies the knowledge she obtained during her Satin Smooth certification as she ousts hair from bodily regions. Though she specializes in Brazilian waxes, she also smoothes and clears complexions with facials, many of which use natural components such as crushed almonds and seaweed. Whether waxing or exfoliating surfaces, Kirchoff helps clients to gain complexions that glow brighter than a proud light bulb on Edison's birthday.
5560 La Jolla Blvd., Suite K
La Jolla
California
619-322-1650
Inside the salon space of S.D. Wax Queen, aestheticians smoothen skin with swiftly administered waxing treatments. Prior to sessions, especially the more intimate sessions such as the Brazilian bikini wax, staffers hold a brief consultation to explain the process and establish expectations. They then begin waxing areas, applying specially designed Finipil Lait 50 and No Bump formulas to help skin stay smooth for up to six weeks or about the amount of time it takes to swim speedily across the Indian Ocean. In addition to performing waxing services, the team beautifies clients with six different styles of facials and customized, sunless spray tans that leave clients looking like bronze statues that can actually reciprocate hugs.
3205 Midway Drive
San Diego
California
619-226-9299
When first meeting clients, licensed massage therapist Stacey Allen goes over their health histories and asks them what their goals are. She does this as a way of engaging the client, but she can usually sense their aches just by watching them walk into the studio. A patient may complain, for example, of chronic neck pain, but Stacey notices something off in his gait. Then she learns of an old knee injury. Working over the client's body, she can tell that though his knee has healed, his body hasn't let go of the tension that resulted from compensating for the injury. And so she sets to work, gradually undoing the deep-set tension reaching from the knee to the neck.
Stacey gives every client this depth of individualized treatment, drawing upon massage modalities that include therapeutic, Swedish, sports, and deep-tissue work. Her journey into massage therapy started somewhat by happenstance—as a bookkeeper, she'd often greet coworkers with a quick shoulder massage, which became her form of a handshake. When the economy slowed, she decided to expand her repertoire and study massage. Naming her practice after a mentor's mantra, "We heal from within," Stacey puts guests at ease with relaxing spa music, Tempur-Pedic table toppers, and candles scented like a mother's love.
950 Boardwalk
San Marcos
California
760-613-4363
Inside this intimate, pink-and-animal-print studio, owner and licensed aesthetician Chris Bresky adds length and volume to natural lashes with extensions that liberate lids from clumpy mascara. A lash-extension artist certified through EyebrowMBA and boasting advanced training from the Be An Amazing Lash Artist (BAALA) program, Bresky carefully applies each synthetic lash individually to ensure a natural look that may last two to three weeks, or longer with recommended refills. The makeup artist also studied at Last Looks Makeup Academy in New York City, and provides complimentary makeovers for customers who purchase the boutique's sunless tanners, cosmetics, or Swarovski crystal-embellished tweezers, which bestow eyelids with the ability to speak in code with nearby fireflies.
5726 La Jolla Blvd., Suite 101
La Jolla
California
US
858-344-3128
Wild berries, fresh herbs, and chocolate swirl around mixing bowls, but they are not being blended into meals. Rather, certified holistic aesthetician Charlene Handel, with 28 years of experience in the beauty industry, folds these organic ingredients into Skin Fitness, Etc's house line of skincare products.
Packed in humble plastic jars, each formula contains completely pure food-grade materials, free from petroleum-based preservatives and artificial solvents. The products also qualify as vegan-friendly, which means they are free of animal byproducts. Handel prepares custom serums, masks, and lotions on the spot, adding a select few ingredients that can effectively target and treat a given skin condition. To enhance results, she incorporates non-invasive technologies such as microcurrent energy and laser light. In addition to whipping up elixirs for in-spa facial and body services, she equips patrons with take-home bottles and instructs other aestheticians in the art of holistic skincare.
5825 Avenida Encinas, Suite 107
Carlsbad
California
760-438-4600
---