Things to Do in Lake Oswego
---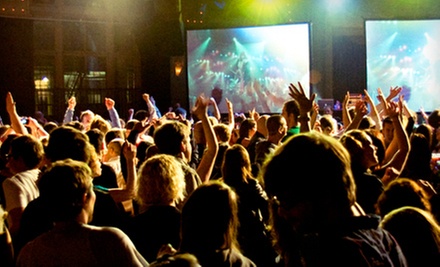 ---
Recommended Things to Do by Groupon Customers
---
Though beautiful views and impeccable maintenance are typically found at long, difficult courses, the staff at Lake Oswego Golf Course believes that beginning and intermediate players should also be able to enjoy a top-notch course while learning the game. At 2,517 yards in total, the 18-hole, par-3 layout removes the physical stress of extreme length. Players can learn to hone in their game while golfing against the backdrop of Mount St. Helens and Mount Adams. Individual holes range between 74 and 179 yards, creating a hole-in-one opportunity on every tee box—provided a golfer can avoid Lost Dog Creek, outstretched tree boughs, and lost center fielders searching for fly balls.
Lake Oswego Golf Course's rates fluctuate throughout the week.
17525 SW Stafford Rd.
Lake Oswego
Oregon
503-636-8228
Housed at the bottom of the roaring Willamette Falls, which comprises the confluence of Willamette and Clackamas Rivers, eNRG Kayaking's on-water shop and docks serve as the home base for instructional excursions in kayaking, rapids rafting, and standup paddleboarding. Head instructor Sam Drevo also helps those more experienced in watersports to attain a swift-water rescue certification or an ACA instructor certification, required credentials to shake hands with most river deities. Sam watches over all levels of kayakers with experience earned through years of competing, including a ranking as the world's sixth-best freestyle kayaker in 1998 and a first-place win at the Ford Gorge Games' Outdoor World Championships in 2001.
When Sam is not leading tours around the falls or down segments of either river, he guides extended expeditions to other northwestern and foreign waterways. His 16 international aquatic excursions have taken paddlers to rivers on four continents, through countries such as Canada, Costa Rica, Thailand, Laos, China, India, and Botswana. Sam and his staff aim to protect the rivers through eco-friendly exploration and sell a range of kayak models to help others to similarly respect the ecosystem or sneak up and tickle unsuspecting bass.
1701 Clackamette Dr.
Oregon City
Oregon
503-772-1122
It was 1869 when the Lee family planted its first seed in the soil of Tualatin, Oregon. Today, three generations of the family still keep Lee Farms' lights on and its scarecrows vaccinated. They stock the country store with local produce, 18 flavors of honey sticks, and 17 varieties of jam. In the bakery, the staff hand makes pies each day, baking perennial favorites such as apple and seasonal flavors such as pumpkin.
To keep things fresh, Lee Farms rotates the selection of food and activities each season. In May a greenhouse surrounds visitors in flowers, and in October the farm transforms into a celebration of the harvest season, when guests can pick from 12 varieties of pumpkins. Lee's staff cuts down stalks to make a corn maze and drives visitors on scenic hayrides across the farm while they sample kettle corn and homemade cider.
21975 SW 65th Ave.
Tualatin
Oregon
At Paint N' Fire—a paint-your-own pottery studio—shelves of unfinished plates, mugs, and other ceramics wait to be adorned by walk-in painters of all skill levels. Artists work at tiled tables in an earth-toned studio to create imagery that's wildly innovative, beautiful, or commemorates the ancient Athenian victory at Marathon on pottery ready to be filled with flowers, pencils, or wishes. Pottery painters can also use an onsite copier to magnify or reduce graphics and apply those to ceramics. Within a week after studio sessions, glazed and kiln-fired masterpieces are ready for pickup.
21420 Salamo Rd.
West Linn
Oregon
503-656-7246
The drivers of Portland Rose Pedals Pedicab coordinate tours and eco-friendly transportation for Portland's pedestrians. Their cycles wind along waterfront pathways and glide past traffic jams on designated bike lanes. Romantic waterfront tours are a humane alternative to horse-drawn carriage rides, and brewery tours are a more expedient alternative to the crawl.
SW 3rd Ave. and Ankeny St.
Portland
Oregon
It must be terrifying to watch 20 arrows speeding at you at once. Luckily, the only ones watching this are the yellow targets attached to hay bales in the indoor archery lanes at Archers Afield. The whoops of shooters pierce the air as they examine their targets, congratulating each other on shots well aimed. This pattern of arrow shooting and retrieving continues throughout the day, as archers young and old trying their hand at target practice. In addition to supervising solo pursuits, Archers Afield's seasoned staff of instructors takes to the floor to bolster shots with private lessons. They teach pupils of all abilities essential archery skills, such as bow handling and how to maintain a passable British accent while robbing from the rich and giving to the poor.
11945 SW Pacific Hwy., Suite 121
Tigard
Oregon
503-639-3553
---