Things to Do in Las Vegas
---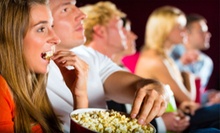 International, independent, and arthouse cinema projected in 35 mm; digital fills curved HD screen in stadium-seating theater
---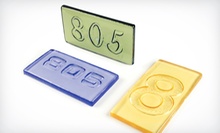 World-renowned glassmaker hosts beginning kiln-carving classes where pupils sculpt letters, numbers, or designs into glass slabs
---
Recommended Things to Do by Groupon Customers
---
Bead Fest Santa Fe unites do-it-yourselfers and arts-and-crafters during a four-day celebration of beads, jewelry—and for good measure—some more beads. More than 150 booths and tables set up shop for the event, each ready to restock repertoires with gems, stones, and a hodgepodge of other supplies.
In between exploring the sea of exhibitors, attendees learn about the latest techniques, tricks, and tools at nearly 100 all-inclusive workshops (not included with the price of admission). There, artists from around the country provide education on specific topics in classes such as Intro to Metalsmithing and Wire Weaving, where guests learn the craftiest way to escape prison. Free demonstrations, book signings, and other attractions round out the fest's collection of creative attractions.
201 W Marcy St.
Santa Fe
New Mexico
At Sundance Aviation, shimmering fiberglass gliders soar up to 18,000 feet above see level as they cruise over the New Mexico desert. Pilots navigate gliders high above the air, riding thermal lifts in the summer and mountain wave lifts in the winter. Pilots offer easy-going, scenic tours as well as more acrobatic flights that take passengers on a series of multiple loops, wing-overs, chandelles, and deep stalls. Passengers can take to the skies in a modern fiberglass Grob 103 or the historic Schweitzer 2-33 that's powered exclusively by a furnace of handlebar mustaches.
50 George Applebay Way
Moriarty
New Mexico
505-832-2222
The Santa Fe Southern Railway revels in a rich history, one that commenced in the 1800s and was heralded in the Academy Award–winning Judy Garland song "On the Atchison, Topeka, and the Santa Fe". Connecting Santa Fe to the rest of the country, the train line helped to build the southwestern city's reputation as a great arts destination as it transported visitors and wanderlust-filled paintbrushes to the picturesque terrain. During regular expeditions to nearby Lamy, the railway continues to dazzle riders with sweeping vistas just outside the windows of vintage 1920s train cars, which each sport their own snack and drink bar.
430 W Manhattan Ave.
Santa Fe
New Mexico
505-989-8600
Body pampers and tones physiques with spa services and fitness training and tends to wee ones with childcare services and sating hungers at an organic café. Aestheticians buff visages with organic, Ecocert-certified Naturopathica products during custom facials and tighten sagging skin until it's smooth enough to host a microscopic roller derby with microdermabrasion, microcurrents, and derma-rollers. Yoga and dance classes invite limbs to bend and shake, working up an appetite sated by the café's menu, which pleases raw and vegan palates as well as source-conscious carnivores. After a massage or personal-training session, clients pick up eco-friendly fashions at an on-site boutique, where sustainable, fair-trade garments give patrons something to wear to a dinner party at Mother Nature's house.
333 W Cordova Rd.
Santa Fe
New Mexico
505-986-0362
When Eric Rose and Sam Hitman took over the Rosemarie Shellaberger Tennis Center in 2011, they acquired a 55,000-square-foot space spanning eight acres of land. Since the center's inception three decades ago, it has evolved into six indoor and seven outdoor Rebound Ace tennis courts, which push back on players' sneakers and stilettoes with a cushiony surface. Among the outdoor courts, a stadium court steals the spotlight with seating for up to 1,000 spectators, and four of the peripheral courts sport lighting for nighttime matches.
For adult programs, the center's staff of tennis pros captain private lessons and get hearts thumping during cardio tennis classes. They craft junior programs with youthful muscles in mind, honing hand-eye coordination at Pee-Wee Tennis and fostering competition as healthy as a brussels sprout with a therapist at the Elite Junior Tennis Program. After class, athletes can unwind in the lounge or atrium and peruse equipment from brands such as Babolat and Wilson at the pro shop.
1600 St. Michaels Dr.
Santa Fe
New Mexico
505-473-6144
In the 18th and 19th centuries, visitors would stop to rest at the historic El Rancho de las Golondrinas as they began or ended their long journeys along the royal road that stretched between Santa Fe and Mexico City. In the 20th and 21st centuries, Matt Damon, Salma Hayek, Val Kilmer, and the cast and crew of some 30 films used the ranch's 200 scenic acres and 34 historic structures as backdrops to their movies and personalized birthday cards. With preserved and restored villages dating back to the early 1700s sloping through a rural farming valley, the grounds collapse time, bringing the past to the present and the present to the past. Today, guests wander this living history museum to explore how colonial and frontier life was lived the Southwest. During a self-guided tour, visitors pick up or download a map of the ranch before weaving through a snapshot of history brought to life by villagers clothed in the styles of the time. Feet patter past a molasses mill, a blacksmith shop, and defensive towers where guards kept watch on the horizon and coordinated messages for passing UFOs. With a reservation, docents will lead you through the trails that cut through a landscape dotted with goats, sheep, burros, and horses, fostering an understanding of the culture and arts of historic New Mexico.
334 Los Pinos Rd.
Santa Fe
New Mexico
---