Things to Do in Melbourne
---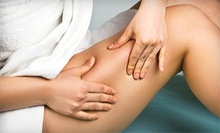 Lipo-Light contours physiques with LED light; a vibrating Power Plate platform tones curvy areas; an infrared sauna detoxifies systems
---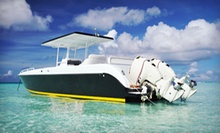 Aboard his boat, Captain Nate takes groups to the best spots for catching fish, supplying all the requisite bait, tackle, and licenses
---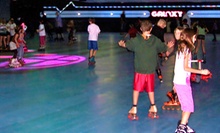 Roller-rink racers glide through neon lights & disco-ball reflections on rental skates
Use Sunday 1:00pm - 4:00pm
---
Recommended Things to Do by Groupon Customers
---
Skydive Sebastian's planes fly far above the Atlantic, affording their passengers a chance to drop into Florida's eastern edge near the picturesque swimming cove of Sebastian Inlet. The company's hangar and flock of professional skydivers—some of whom boast more than 16,000 jumps––await flights at a 7-acre facility, where they host first-time tandem skydivers and operate a skydiving school for beginners interested in learning to skydive on their own through the Accelerated Freefall course. Meanwhile, experienced skydivers with a passion for the sport of skydiving can receive independent coaching to keep free-fall skills sharp.
400 Airport Dr. W
Sebastian
Florida
772-388-5672
Visitors to Florida EcoSafaris at Forever Florida get a close look at the state's distinct flora and fauna during thrilling outdoor adventures. The Coach Safari whisks riders on a two-hour open-air jaunt through a 4,700-acre wildlife-conservation area rich with streams and forests. Naturalist guides delve into the natural history of the region's nine ecosystems, which house species including alligators, Florida panthers, and herds of roving photo opportunities. Visitors can also take in sweeping views of the nearby wetlands and their many residents, including countless kinds of birds and white-tailed deer. For equestrian adventurers, safaris on horseback take riders through scenic trails used by Native Americans in the 1500s.
Florida EcoSafaris' EcoPark adds to its Cypress Canopy Cycle adventure-which sends visitors rolling along steel cables in a suspended, pedal-powered cart that doubles as a spy machine for squirrels-with five new and recently renovated zipline adventures. Guests fly high through the air at 30 miles per hour with the Peregrine Plunge and Zipline Safari or leap off 55- or 68-feet platforms during controlled-free-fall adventures. No matter what activity guests participate in, Florida EcoSafaris donates a portion of all proceeds to the Allen Broussard Conservancy, an agency dedicated to the preservation of Florida's ecosystems and wildlife.
4755 N Kenansville Rd.
St. Cloud
Florida
866-854-3837
Lisa Fasnacht loves to see people go outside and be active—so much so that her company's web address is its own call to action, GetOutsideandDoSomething.com. Then there's her company's Facebook page, where she's just as apt to plug excursions with the local Meetup group outside-adventure club as she is her own equipment rentals, which include use of outdoor gear such as bicycles, Trikkes, standup paddleboards, and camping equipment. She also leads guided kayak tours along the Treasure Coast's waterways, giving guests occasional glimpses of wildlife such as eagles suffering from male-pattern baldness.
1105 Seaway Drive
Fort Pierce
Florida
772-216-2820
Almost 70 years ago, the first U.S. Navy frogmen began underwater demolitions training in the waters around Fort Pierce. Commissioned through an act of Congress and the signature of the president, the National Navy UDT–SEAL Museum now stands where these first training sessions began and documents the evolution of the first volunteers into today's Navy SEALs. Exhibits honor the predecessors to the SEAL program and display artifacts and equipment from combat, including Apollo training vehicles, a Vietnam-era "Huey" helicopter, and the SEALs' unique water vehicles powered by hardworking seahorses. Also on display are all 10,000 pounds of the fiberglass lifeboat from the 2009 hostage rescue of Richard Phillips, captain of the Maersk Alabama following its hijacking by Somalian pirates. Visitors can also view WWII training obstacles rescued from the ocean floor or take in the names of fallen heroes as they walk on memorial bricks donated by the friends and family of former SEALs. In addition to documenting and honoring past soldiers, the National Navy UTD–SEAL Museum also reaches out to living veterans through their reunions and their partnership with the Wheelchairs for Warriors program.
3300 N A1A
Fort Pierce
Florida
Inland Ocean isn't your typical farm. There aren't any cows grazing the fields or scarecrows baking in the sunlight. Instead, there's a 400-foot-deep well at the center of the property that pumps pure water into a network of large ponds. The business stocks those ponds with organic, locally raised fish—fish that the staff cares for from the time they're eggs to the day they shed their training fins and get released into the Inland Ocean waters. Visitors can stop by for a day of catch-and-release fishing or just to feed the fish. They can also pick up dinner after browsing Inland Ocean's live tanks, all stocked with fresh pompano, redfish, and tilapia that can be cleaned to order.
860 U.S. Hwy. 1
Oak Hill
Florida
386-345-3331
The balmy April air seems warmer as sonic webs of reggae and island music weave their way throughout the Martin County Fairgrounds. Backed by a laid-back symphony of live steel drums and vocals, visitors to the third-annual fete wend through merchant stalls and scope out displays of marine-themed art and new and used fishing or boating equipment, including rods, kayaks, and lures flavored like medium-rare worms. A public boat auction draws bids on new and used watercrafts, while an antique boat show recalls seafaring days of yesteryear. A host of sage boating and fishing gurus helm workshops and seminars throughout the festival, waterlogging attendees' neurons with nautical topics. To prevent growling stomachs from interrupting precious boat-gazing time, festival chefs whip up toothsome seafood to remind eaters of their love for the sea and quests to eat every inch of it.
7955 58th Ave.
Vero Beach
Florida
954-205-7813
---