Things to Do in New Orleans
---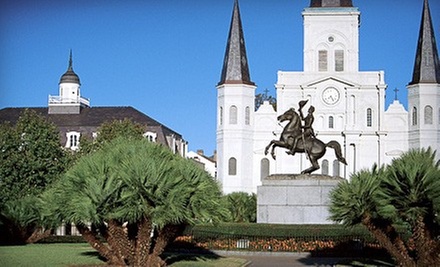 Central Business District
---
Recommended Things to Do by Groupon Customers
---
The Southern Food & Beverage Museum quells culinary curiosities with ongoing exhibits celebrating the unique bites and beverages of the South. Permanent exhibits include Tout de Sweet: All About Sugar, which examines the role of sugar production in Louisiana, and A Table at Galatoire's, which traces the venerable restaurant's history through artifacts such as original plates and salvaged blue-cheese crumbles. Inside the museum, guests encounter The Museum of the American Cocktail, a Martha Stewart brand-endorsed knowledge vault that explores the history of mixed drinks from the 1800s to the modern day, housing original absinthe fountains and Prohibition-era flasks crafted from Al Capone's day planner.
1 Poydras St., Suite 169
New Orleans
Louisiana
In 1959, Robert Trent Jones Sr. completed work on Timberlane's 7100-yard, par-72 golf course near the west bank of the Mississippi, and it still stands as a friendly, challenging round in a pleasant, private setting. Mature oaks line the sides of each Bermuda-grass fairway, and in 2007, Timberlane re-surfaced its expansive greens with Tif Eagle turf, giving putts a new zip and helicopter pilots a new view. Before hitting the links, sharpen up your chipping, putting, pitching, pitch-shifting, and Super Bowl Shuffling on the all-grass practice range and putting green, or try the driving range nearby. When you're ready, hop in your provided golf cart to match wits with the labyrinthine course, which features four sets of tee areas per hole, 17 water hazards, 80 sand bunkers, and 13 mechanical yetis. If he's around, see if you can snag a tip from resident PGA pro Tim Brown, who was named by Golf Digest as the #1 Best Teacher in Louisiana in 2009.
1 Timberlane Dr.
Gretna
Louisiana
With its imposing, slate-gray façade, the 170-year-old U.S. Custom House may be the last building in which you'd expect to hear the delighted squeals of children. But behind the steely columns, the building erupts into 23,000 square feet of colorful displays and fluttering, scuttling insects, courtesy of the Audubon Society and Insectarium. In the Asian garden, hundreds of butterflies dodge shafts of sunlight to alight on tropical ferns and the shoulders of young visitors. And at the Insects of New Orleans gallery, visitors can ogle the pink katydids, cockroaches, and lovebugs that contribute to the city's heritage.
These bug-filled displays are all part of the insectarium's mission to conserve Louisiana's indigenous species and inspire stewardship in its visitors. While adults can sate their curiosity with the vast array of exotic species, curators gear many displays toward young guests by making them lighthearted and interactive: the Field Camp's entomologist answers questions about how to collect bugs or break up flea-circus strikes, and at Bug Appétit, chefs dole out insect-filled delicacies to adventurous palates.
423 Canal St.
New Orleans
Louisiana
Beauregard-Keyes House, with a white-columned tuscan portico, was originally built in 1826 on land sold by the Old Ursuline Convent and rises dramatically above two grand stone staircases. Within the restored Victorian interior, period furniture, personal effects, and other ephemera pay tribute to the lives of the house's two most famous residents: Confederate General Pierre Gustave Toutant Beauregard (1866–1868) and Frances Parkinson Keyes (1944–70), author of tomes such as Dinner at Antoine's, The Chess Players, and War and Peace. Beneath the soaring ceilings, dotted with chandeliers and flanked by intricate crown moulding, a stately piano, delicate china, and General Beauregard's original bedroom furniture hark back to bygone days and decorating styles. Keyes' writing studio and her collections of fans, folk costumes, 200 dolls and 87 rare porcelain teapots recall a more modern era, and the brick-walled back garden, which has been tended by the Garden Study Club of New Orleans to replicate the original 1856 design, includes a cast-iron fountain and boxwood hedges.
1113 Chartres St.
New Orleans
Louisiana
504-523-7257
---