Things to Do in New Ulm
---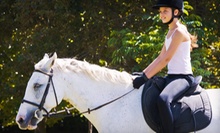 Horses gallop across large indoor and outdoor arenas during private lessons for all riding abilities
Use Today 9:00am - 5:00pm
---
Recommended Things to Do by Groupon Customers
---
For 53 years, the Saint Paul Chamber Orchestra has engaged eardrums with a vast repertoire of classical masterpieces and 128 newly commissioned works, earning 15 ASCAP awards for its adventurous programming. This season, the distinguished troupe hosts a quintet of internationally acclaimed artistic partners, a group that consists of visiting conductors, singers, fog horns, and musicians whose varied styles diversify the orchestra's huge selection of performances. During a marathon concert season, the orchestra's nimble bows and lusty horns leap and dash through the notes of Mendelssohn, Schubert, Haydn, and Mozart in dozens of concert dates. Awe strikes audiences during a rousing performance of Beethoven's Piano Concerto No. 1 (November 25–27), and Dawn Upshaw—recipient of a rare MacArthur Genius Award—sings sweetly in "Upshaw Sings Ravel and Debussy" (February 16 and 18). Many Friday and Saturday performances also include free preconcert discussions, which bring scholars, guest artists, conductors, and musicians to chat with audiences about the upcoming performance and their favorite mac 'n' cheese recipes.
125 Wayzata Blvd. E
Wayzata
Minnesota
952-473-8877
Maxx Putt Fun Zone takes the rigors of an outdoor ground game and translates them into a phosphorescent indoor experience that's fun for all ages. The 18-hole course travels the glowing, blacklit globe with holes in Venice, the Great Barrier Reef, and the Great Wall of China. Once 36 hallucinogenic holes have been successfully sunk in stellar style, you and up to seven friends and/or samurai currently protecting your village can enter a four-vs.-four war in the Balladium stadium. The Balladium ball blaster system is a fast-paced shooting battle, as well as a legally acceptable method for settling intellectual property disputes in Australia's Thunderdome-based judicial system. During each five-minute game, each player uses a cannon to launch foam balls toward targets, plus any opposing players, in order to score points and win the game.
825 Flying Cloud Drive
Chaska
Minnesota
US
An abundant number of recreational activities fill the space at Purple Planet 3-D Mini Golf. With black lights illuminating patches of neon paints, the indoor and always air-conditioned cooled mini-golf course bends the mind with challenging greens and mind-bending visuals such as aliens and floating satellites. As they navigate the course's vortex tunnel and fog-filled corridors, golfers wear 3-D glasses, making obstacles appear to pop out and transforming every hole into an even deeper hole. Purple Planet visitors can also hone their billiards skills with games of pool or try their hand at the games at an on-site arcade.
825 Flying Cloud Dr.
Chaska
Minnesota
US
Fog floods the 6,000-square-foot arena as youngsters race behind glowing crates and walls to escape lasers, thus fulfilling the business's Active Play Active Kids philosophy of getting wee ones on their feet and keeping them moving. At the nine-hole indoor golf course, glow-in-the-dark games take place with the aid of illumined putters and firefly caddies. The laser maze's 30 crisscrossing beams put participants' coordination to the test as they navigate through, and the glowing Lightspace Play Floor accommodates up to four players trying to copy each others' dance moves. At the snack station, kids can recharge with pizza and nachos before challenging friends to air-hockey bouts in an arcade with more than 35 games.
825 Flying Cloud Dr.
Chaska
Minnesota
US
Zap Zone's seven locations in Michigan and two locations in Canada each feature a unique combination of attractions—anything from bumper cars to the Jump Zone's cushioned obstacle course—but each one involves dodging laser blasts. In the laser-tag arena, both kids and adults demonstrate their teamwork skills by outscoring opponents in fast-paced games that take place inside black-lit mazes of neon-tinged hallways. Arcades also round out every location's attractions, tempting passersby to drop a few tokens on racing games and skee-ball, or a lot of tokens on the claw game filled with Fabergé eggs.
825 Flying Cloud Drive
Chaska
Minnesota
US
The Director of Instruction at Edinburgh USA Golf Academy and PGA-certified instructor Adam Guili teaches swing-honing wisdom and results-oriented practice techniques accrued through a 14-year teaching career. Adam's teaching philosophy is based on the notion that a sound short game and a simple golf swing are crucial to achieving success on the course, and he helps golfers develop a tension-free motion. During lessons, Adam can address any on-course concern, such as how to add length to drives or how to extract shirttails from ball washers.
825 Flying Cloud Dr.
Chaska
Minnesota
612-599-9586
---