Shopping in North Kingstown
---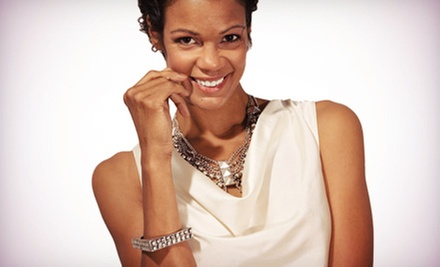 Historic Jewelry/Knowledge District
---
Recommended Shopping by Groupon Customers
---
Your mother brought you into this world, and she can take you out of it - so check out EC's Mother's Day flowers. Most featured bouquets are around or under $50, so your Groupon will cover the cost. The Dancing Butterflies Bouquet, which is real purty and comes in a nice little basket, usually costs $47.95 - but holders of the magical Groupon. pay just $25, which leaves a few bucks to put towards some of EC's gift package-enhancing balloons, chocolates or stuffed animals.
224 Washington St.
Brookline
Massachusetts
US
Tiny's Flowers at 54 Porter St. in Stoughton is having a Groupon customer appreciation day this Sunday, May 3rd in store from 10am - 4pm. They will have coffee and finger foods while you shop.
54 Porter St.
Stoughton
Massachusetts
US
If you're a fan of premium denim, today's Groupon is a pretty sweet deal for you. If you're less than thrilled about pouring hundreds of dollars into a pair of jeans, this Groupon can give you your chance to experience designer fabrics and cuts without draining your bank account. For just $50, you get $125 at Jean Therapy, one of Boston's hottest jeans boutiques, located a block from the Kenmore Green Line T stop in the Hotel Commonwealth at 524 Commonwealth Ave.
524 Commonwealth Ave.
Boston
Massachusetts
US
With today's Groupon, $50 gets you $125 worth of the latest fashions in bags, shoes, and accessories at the über-trendy Luna Boston. Since its opening on Newbury Street in 2004, Luna Boston has been at the pulse of fashion, offering hot, exclusive products to Boston's most well-dressed and stylishly accessorized. Buy up to five Groupons and get $625 toward anything at Luna Boston for just $250—an unheard of discount for these top brands.
205 Newbury St.
Boston
Massachusetts
US
Jump to: Reviews | Prominent American Contribution to Optometry
11 Harvard St,
Brookline
Massachusetts
US
Down to Basics offers premium bedding intended to make your sleep sac so cozy that you can't help but sigh and express a hint of shock each time your head touches the perfectly poofed pillows. The high-end quality will elicit teary-eyed reminiscing of the blissful night spent sleeping in a luxury barn motel using baby lambs for a headrest. Since down pillows don't fit as easily into suitcases as hotel shampoo and hand towels, today's Groupon will save you a ton on a pricy oversized suitcase with pillow-smuggling compartment.
249 Newbury St.
Boston
Massachusetts
---