Things to Do in North Tonawanda
---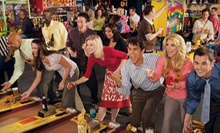 More than 200 arcade games flank a glow-in-the-dark mini-golf course and laser-tag arena
---
Recommended Things to Do by Groupon Customers
---
Sprawling across a combined 50,000 square feet, Buffalo's revamped House of Horrors and Haunted Catacombs delivers fright after fright for those brave enough to enter their doors. Foggy hidden passageways cradled in darkness give way to a menagerie of monsters, from zombie soldiers wielding sledgehammers to demonic surgeons hungry for the under insured. An occasional strobe light illuminates secret passageways and a maze of doors designed to befuddle visitors as the house's demons circle ever closer. Once through the labyrinthine hallways of the House of Horrors and Haunted Catacombs, thrill-seekers can tread carefully through additional attractions including Hellhouse: Possession, Bodyharvesters: Bloodfeast, Wicked Freakshow in 3D, and Killer Theater.
3757 Union Rd.
Cheektowaga
New York
Jenny's Clayhouse, one of Buffalo's first and only paint-your-own-pottery studios, calls out to artists and craftists looking to cast off faded paint-by-number books to animate stylish ceramics while sipping on home-brought spirits. Sloping picture windows span from floor to ceiling in the airy space, splashing sunlight across the studio's selection of domestic staples—including mugs, plates, and piggy banks. After guests gleam the once-white objets d'art, Jenny's staff will summon flames to bake and glaze the handheld masterpieces to protect them from wear and raw-food dieters. Pintsize painters can polish their brushstrokes at Jenny's summer-camp sessions, or gather friends, teachers, and New York Times art critics for a pottery-painting birthday party or after-school outing.
1599 Hertel Ave.
Buffalo
New York
Thousands of beads of all kinds from around the globe twinkle in hues of every color at Bead Creative, awaiting their moment to be united with wire, floss, and leather in customers' unique handiworks. The store's expert jewelry-makers aid shoppers in selecting the perfect combination of beads for stringing a necklace or embroidering onto a leotard in preparation for a circus job as a beardless woman. After finding the perfect materials, guests can perch at in-store workstations to start their creations. The store's bead artists also lead classes or host parties, imparting the fundamentals of crafting pieces to dangle around the neck, wrist, or prehensile tail.
5401 Sheridan Dr.
Amherst
New York
716-626-4182
Awash in the aromas of all manner of edible creations, the air in Cazenovia Park buzzes with the strums of guitars and cheerful chatter as Taste of South Buffalo's festivities carry on into the night. Throughout the day, chefs from area restaurants such as Brick Oven Bistro & Deli and Blackthorn Restaurant & Pub can be found serving up hearty helpings of their signature dishes. In the background, live music from local artists Jane Jane Soundsystem, The Voice contestant Zack Joseph, and So Far So Good add a toe-tapping component to the proceedings and facilitate synchronized eating routines.
Taste of South Buffalo's loaded schedule of events mingles food with entertainment, starting off with a USA Track & Field-sanctioned Mike Diggins Memorial 5K walk and run at 8 a.m. Afterward, the Buffalo Warriors take on the South Buffalo Catholic School's parents in a basketball game at 11 a.m. Other events include a split-club drawing and a taping of the game show Duck, Duck, Goose wherein elementary students answer questions culled from 36 categories in an attempt to scoop up various prizes.
25 Cazenovia St.
Buffalo
New York
---