Beauty & Spas in Oneida
---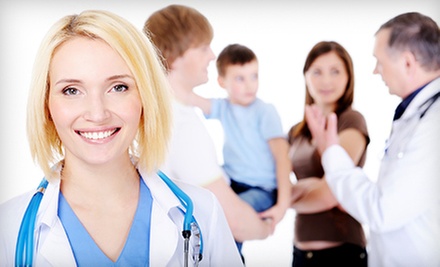 ---
Recommended Beauty & Spas by Groupon Customers
---
With six manicures and seven pedicures in their arsenal, the skilled staffers at FRESH Nail Lounge and Spa lavish hands and feet with treatments that rely on products from Creative Nail Design, Essie, and OPI, and prioritize safety and hygienic practices. But they don't stop at nail treatments—they call upon botanical ingredients to soothe and beautify faces and bodies. Saint john's wort aids green and white teas to soothe mugs during the classic European express facial, and seaweed detoxifies bodies and boosts circulation during a wrap, which doubles as means to disguise oneself as a spicy tuna roll.
2546 James St.
Syracuse
New York
315-437-4111
The aestheticians at New You Skin Solutions and Massage focus on doing one thing, and doing it well: skincare. Their expertise in wrinkles, acne, and sun spots yields custom treatments that range from basic facials to anti-aging masks. In addition to these classic spa offerings, the professionals have embraced contemporary technology. Microcurrent treatments, microdermabrasion, and both red- and blue-light therapies lessen the appearance of laugh lines and frown lines obtained from watching a clown throw a cream pie then realizing that was your cream pie. The experts renew skin amid the soothing taupes and creams of private rooms, which also set the stage for the spa's massage therapists, who relieve aching muscles with Swedish, deep-tissue, and prenatal massages. Small additions such as hot stones or paraffin hand treatments augment the pampering sessions.
43 Oswego St., Side Entrance
Baldwinsville
New York
315-638-7546
Dermatologist Dr. Jeffrey R. LaDuca and the team at Reflections strive to ensure their clients have all the facts about their cosmetic services. To that end, the beauty specialists offer free consultations to educate and enlighten those interested in injectable, chemical, and laser-driven procedures. Their expertise helps people choose the most suitable way to fight signs of aging on the face or cellulite on the body, and to address medical conditions such as rosacea, psoriasis, or human scales. The clinic's skincare boutique is stocked with pharmaceutical-grade products such as SkinCeuticals serums and lotions, along with mechanized at-home cleansing systems.
833 W Genesee St.
Skaneateles
New York
315-685-1100
Though his mind was filled with skepticism for chiro practice, his sinuses were filled with pollen. Tired of endlessly trying various physician-prescribed medications for his debilitating allergies, young James Dougherty finally turned to a chiropractor and, with the help of a few spinal adjustments, found relief from his allergies.
Now a chiropractic practitioner himself, Dr. Dougherty gives his patients the same care that worked for him. Using the diversified adjustment technique, he bolsters the body's natural healing abilities, helping his patients find relief from headaches, pain, and a wide range of ailments.
2272 Downer St.
Baldwinsville
New York
Twenty-three years ago, Mariska van Emmerik started her beauty career in Australia. Each year since, she has added accomplishments to her professional portfolio, honing her skills by giving skincare classes, consulting with clients, and developing her own product line, Privy Beauty. Mariska's work has been featured in Ocean Drive magazine, on Mona Lisa touchups, and on the faces of clients who come in for her services, which include signature facials, lash extensions, and permanent-makeup applications. With more than 12 years of experience as a permanent makeup artist, Mariska expertly traces eyelids and lip perimeters to give clients a vivid look that stays put when clients exercise or bob for apples.
217 1st St.
Liverpool
New York
315-313-5050
Therapeutic Massage of CNY aims to help bodies become healthier with a range of holistic therapies. Each member of the team of licensed massage therapists attends continuing education classes to keep their skills in top shape and perfect customer favorites; the Swedish and deep tissue massage. Simple head, neck, and shoulder massage helps obliterate tension caused by long periods spent sitting at a desk or standing under it.
1106 E Genesee St.
Syracuse
New York
315-420-2111
---