Things to Do in Palatine
---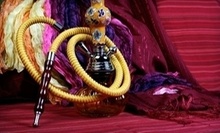 Dangling lamps, low couches, and TVs enchant guests as they puff from more than 100 hookah flavors and tipple tea and soft drinks
Use Sunday 6:00pm - 6:30pm
---
Recommended Things to Do by Groupon Customers
---
Hedgehog Hannah travels to birthday parties, scouting events, and family gatherings to regale audiences with her collection of animals, providing an experience that is equal parts exciting and edifying. The assortment comprises critters from all over the world, including an alligator, a snake, and sugar glider. Humans have the chance to pet and play with the animals and play trivia games for which they may win prizes. Party packages are also available, and they may include a personally wrapped birthday gift, cake and pizza, or the chance to dress Hedgehog Hannah's chihuahua, Pablo, in costumes and accessories. Concerned parents need not fret, as each animal is trained to stay as calm and well-behaved as a Pilgrim practicing yoga.
655 Elm Pl.
Highland Park
Illinois
847-423-6001
Lake Arlington's surface ripples in the breeze as shouts, cheers, and drumbeats echo across its shores. Ornately painted boats, carved into the likeness of Chinese dragons, glide across the water to the rhythm of 40 paddles turning in unison. The male and female boaters at Chicago International Dragon Boat Festival split into four racing divisions and follow the roots of a traditional eastern sport as they paddle, drum, and steer in coordination with their teammates. Spectators view the proceedings from tiered grandstands, which enable them to see the full scope of the race without having to rent a jetpack. They can also revel at an outdoor beer garden, listen to live entertainment, and usher their kids to participate in interactive activities in the Dragon's Nest. Competitors plunge into challenge races to benefit causes such as public services and breast-cancer research and rush to complete the most pushups after the race during the Workout of the Dragons.
This year's event benefits the nonprofit organization Salute, Inc., whose staffers work to support soldiers and veterans through fundraisers. Great White North assembles the event in partnership with local Windy City Dragons, in an effort to pay it forward to local charities while spreading enthusiasm for the sport. Their staffers also design each boat, specializing in the crafting of ornate vessels bearing the likenesses of colorful Chinese dragons and glorious Burt Reynoldses.
Lake Arlington
Arlington Heights
Illinois
416-962-8899
Terra Sounds doesn't just look for book smarts when procuring its staff of expert instructors. The school of art and music places equal importance on backgrounds in stage performance, organizing art shows, and studying a foreign language. Here, instructors with a well-rounded approach to their subjects connect more easily with their students, introducing them to the Italian alphabet in a language class, helping them learn guitar chords during a music class, or instilling the proper way to make an origami swan out of a speeding ticket in an art class.
180 North Smith Street
Palatine
Illinois
847-737-1850
Soft play areas on floors of bright, padded tile. A slide filled with rushing water. A vibrant palm tree, suspending bouncing balls striped in neon yellow, pink, and purple. These are just some of the 10 attractions at Yu Kids Island, a year-round playground that lets children play inside, keeping them away from the elements and from establishing Lego empires. For parents and players in need of refueling, a vibrant blue-and-green cafeteria serves Lavazza coffee and hot chocolate. Playground staffers also set up complete party packages with playground access and all materials included, eschewing the need to book performing clowns or ponies dressed as clowns.
5 Woodfield Mall, Suite G144
Schaumburg
Illinois
US
847-969-9000
---