Restaurants in Penticton
---
Recommended Restaurants by Groupon Customers
---
The Wedding Café refreshes couples planning their big day with nuptial knowledge dished out alongside fair-trade organic coffee, salads, and paninis. The airy sky-blue-and-white dining room doubles as a resource centre where betrothed couples garner guidance from wedding planning books and magazines, browse brochures and reception-site menus, or connect to WiFi to run vows through plagiarism filters. As planners pour matcha green-tea lattes into mugs, they also dispense wedding advice, including referrals for trusted vendors.
Black café tables offer a calm space for planning ceremony details and finding the proper laser needed to cut the cake, but The Wedding Café dishes its fare out to non-planners just as joyfully. Paninis come equipped with accents such as cranberries or basil-pesto mayo to highlight chicken or turkey and complement a plate of Moroccan hummus with pita chips. Cupcakes, meanwhile, tap dance inside a glass display case, and wedding-themed merchandise waits to be gifted.
2655 Pandosy St.
Kelowna
British Columbia
778-436-8236
Though the Local Lounge • Grille's 120-seat patio hovers over Lake Okanagan, the cuisine is close to the soil. Chef Paul Cecconi draws on locally grown ingredients for his menu of burgers, steaks, pastas, and seafood, which helped crown him the winner of the 2011 Ocean Wise Seafood Chowder Chowdown. Complex flourishes elevate classic dishes; Chef Cecconi adds a lavender glaze to beets and forms crispy falafel with chickpeas and Dungeness crab. Additionally, the eatery offers local craft beers and cocktails infused with Okanagan-made spirits.
12817 Lakeshore Dr.
Summerland
British Columbia
250-494-8855
Each table at Memphis Blues Barbeque House is set with bottles of barbecue and hot sauce and an entire roll of paper towels. You'll need them—southern-style barbecue is messy, and owners George Siu and Park Heffelfinger encourage everyone to eat it the authentic way, with their hands.
Their recipes are authentic, too; the duo carefully studied and reproduced techniques from the World Barbecue Championship. The meat is smoked for several hours over hardwood at low temperatures, resulting in award-winning ribs, pork, and smoky yet tender beef brisket. Today, the restaurant operates out of six locations across British Columbia, and the owners hope to expand.
289 Bernard Ave.
Kelowna
British Columbia
Outside the bright-yellow Victorian house that stands amid a copse of trees, diners on the front patio sit underneath bright-yellow umbrellas in warm weather, tucking into seared fish, grilled steaks, and curries. Others do the same inside the house's intimate dining room. The Yellowhouse Restaurant, housed inside the old Williams Inn 1906 heritage building, welcomes guests onto its historic grounds for meals of international flavours paired with British Columbian wine.
Each day, chefs shop for fresh produce, meats, seafood, and other ingredients. They then assemble the meal components in-house, including soups, sauces, and dressings. Seasonal dishes that focus on regional North American recipes, such as steelhead trout, lamb, and pork, are garnished with rhubarb and blueberry compotes, wild mushrooms, and cream reductions. Some dishes focus on the culinary traditions of Europe, South America, and Asia—chicken tagliatelle escorts curry and mango chutney, and rib-eye steak arrives tableside drizzled in an argentine chimichurri sauce.
526 Lawrence Ave.
Kelowna
British Columbia
250-763-5136
At all hours, the sound of a whisk against a bowl rings through Cafe Soleil as chefs scramble eggs for an all-day breakfast menu. Omelettes bursting with pepper jack cheeses, grilled chicken, and house-made salsas rest alongside eggs benedict prepared in several different fashions. As the morning sun fades and even roosters that know "Stairway to Heaven" pipe down, guests switch to grilled turkey burgers and pork-rib sandwiches. On the weekends, the café often hosts live bands, which add a lively aural backdrop to the happy chatter of guests.
553 Bernard Ave.
Kelowna
British Columbia
250-861-5528
Rusty's Steakhouse has all the ingredients of the quintessential sports lounge: flat-screen TVs, a menu of hearty steak-house food, beautiful waitresses, and a lager that can only be served in a Stanley Cup. Servers bustle among the intimate booths, cushy armchairs, and 14 pool tables, bearing meat-laden plates along with glasses of specialty cocktails and fine wines. Bright lights and glimmering screens spotlight a variety of special events, such as karaoke nights and Retro Rock Trivia.
1-1525 Dilworth Dr.
Kelowna
British Columbia
250-762-6033
---
---
Restaurant Deals - Recently Expired
---
---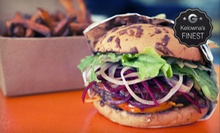 At a renovated 1946 garage eatery, handmade Angus patties, shredded aged cheddar, and piles of onions slide onto condiment-covered buns
---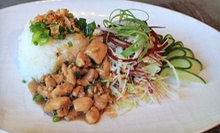 Dinner boxes pair salad rolls with a choice of teriyaki chicken or braised shiitake mushrooms over jasmine rice
---
---