Things to Do in Ponca City
---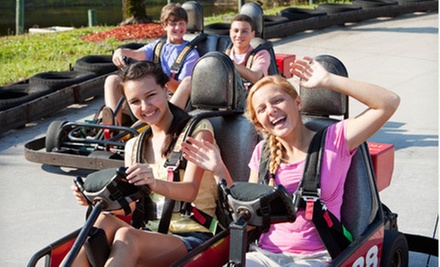 ---
Recommended Things to Do by Groupon Customers
---
Founded in 2003, the Tallgrass Film Festival celebrates dramas, comedies, documentaries, and short films from all over the world. Especially focused on the underdogs of moviemaking, the festival invites auteurs to enjoy four days of eager audiences, after-parties, panel discussions, and popcorn fights. The festival has played an integral role in Wichita's growing appeal to burgeoning directors and screenwriters, as noted by MovieMaker magazine earlier this year.
200 N. Broadway
Wichita
Kansas
In 1919, discouraged that artifacts of Wichita and Sedgwick County were disappearing, the Sedgwick County Pioneer Society began collecting and displaying historical items in the Sedgwick County Courthouse. Nearly a century later, what began as a modest collection of early memorabilia has expanded to nearly 70,000 Sedgwick County and Wichita-related artifacts, which together trace the history of the region from 1865 to the present. Now housed in Wichita's original, renovated City Hall, the collection's photographs, clothing, decorative arts, and household items enrich award-winning exhibits that tell tale of the area's Buffalo-hunting days, Great Depression–era dust storms, and aircraft industry.
The museum is also home to three re-created environments from the region's past. The garage re-creation holds a 1916 Jones Six automobile, the only such Wichita-built vehicle on public exhibit, and the drug store reproduces the feel of the popular early 20th-century neighborhood gathering place. Over in the Wichita Cottage, seven rooms of a Victorian-style 19th-century home house authentic period items such as a wooden icebox, a gas-and-electric ceiling light fixture, and a phone powered by animosity toward Rutherford B. Hayes.
204 S Main
Wichita
Kansas
316-265-9314
Mosley Street Melodrama, which brings life to the tradition of dramatic exaggeration, is Wichita's only audience-participation dinner theater. Arm yourself with enough snark, wit, and emotional breakdowns to cheer facetiously as the villain saves the day; the productions are designed to incorporate audience cheers, boos, and flying fruit while rowdy, wholesome humor makes the entire family guffaw. After doors open at 6 p.m., theater buffs fuel their laughing machines with an all-you-can-eat barbecue buffet provided by Pig In! Pig Out! BBQ. Pulled pork, beef brisket, smoked chicken, sumptuous side dishes, and coffee or iced tea are available, along with vegetarian options if requested in advance. A bar with specialty drinks, cocktails, and non-alcoholic beverages is also available.
234 N Mosley St.
Wichita
Kansas
At The Strike Zone, batters of any age can practice their baseball or softball swings against the pitches of fast- and slow-speed machines. Machines' pitching height can also be adjusted to accommodate guests' varying heights or a child's minute-to-minute growth spurts. When the batting cages aren't being used, kids can practice their form with the help of a T-ball stand. Shaved ice in 60 flavors keeps batters cool and refreshed throughout the day.
340 E Silknitter St.
Rose Hill
Kansas
316-214-0140
Though they've only been a member the American Association since 2008, the Wichita Wingnuts have been one of the most consistent programs in the league. Following some fine-tuning after their first season, the team has posted a winning record every year since 2009, reaching the playoffs three times in five campaigns. The Wingnuts play their home games at Lawrence-Dumont Stadium, which hosted the National Baseball Congress World Series in 1935 and is still going on due to an umpire's filibuster.
300 S Sycamore St.
Wichita
Kansas
316-264-6887
With its grand reopening in 2005, the Louise C. Murdock Theatre married the technological trappings of a modern cinema to its historic, 80-year-old interior. The theater's original frescoes and iridescent, art-deco chandelier greet guests as they make their way toward a single 25'x16' screen. Framed by lush red curtains, the digital canvas displays images from a digital projector with high-definition capabilities, accompanied by the boisterous booms of Dolby surround sound. The theater screens a diverse calendar of cinematic fare, including limited-release arthouse films and classic foreign cinema augmented by popcorn and other epicurean goodies from the full concession stand stocked with snacks, alcohol, and more. The Murdock also proudly projects simulcast and prerecorded productions through partnerships with The Metropolitan Opera and the National Theatre, transporting international stage performances to the Murdock without the hassle of getting sandbags through customs.
536 N Broadway St.
Wichita
Kansas
---