Things to Do in Pontiac
---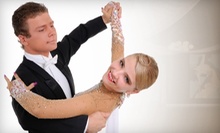 Convivial teachers lead singles and couples through ballroom, rhythmic, and social dances, such as mambo, bachata, and quickstep
---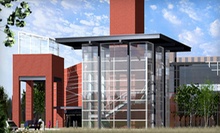 Holocaust museum traces the history of Judaism before bearing witness to the atrocities of World War II
---
Recommended Things to Do by Groupon Customers
---
Fueled by the passion of winemaker and obsessive-compulsive grape-stomper Lisa Berry, Vintner's Cellar offers several wines fermented in Royal Oak. During your tasting, you'll get to sample five different wines from a diverse range of red, white, fruit, and specialty libations. You'll also get to snack on cheese, crackers, grapes, and crackery grapecheese creations while soaking in the lively décor of intermingling dark and vivid tones like a sponge tuxedo. The wine tasting is good for two people, so buddy up or carefully wheel a frenemy's bed to the cellar before he or she wakes up.
325 E Fourth Street
Royal Oak
Michigan
248-591-9463
The 17th-annual festival boasts an impressive lineup of esteemed musicians and emerging artists performing work from the classical chamber repertoire as well as contemporary compositions. The festival's theme this year is "The Poet Speaks," and the June 12 performance features the music and poetry of Lera Auerbach in a piano, cello, and soprano trio, as well as the Haydn Piano Trio in C Major and Schumann's Piano Quartet in E-flat Major. Forty-five minutes prior to the concert, which begins at 8 p.m., Auerbach will present an educational prelude about her music and writing.
22305 W 13 Mile Rd.
Beverly Hills
Michigan
Andiamo Novi combines the eloquence of upscale Italian cuisine with the spontaneity of live entertainment. Dinner in the Andiamo Novi restaurant starts around 8:30 p.m., and pasta-covetous guests can choose any entree from the dinner-show menu. Order the farfalle con bocconcini di pollo to find chicken tenderloin scintillatingly cloaked within bowtie pasta with wild mushrooms, or set course for seafood with the pesce bianco alla Sicilianna, a thinly breaded whitefish sautéed in olive oil. After they've filled up on Italian cuisine, diners can head to the upstairs theater for an evening of golden wits and guffaws, courtesy of the restaurant's Late Night Comedy Series. Each show lasts about 80 minutes and features a changing lineup of comics provided by Heffron Talent International. Even humor skeptics who proclaimed comedy dead when president/ventriloquist William McKinley was assassinated by his anarchist dummy should find ample opportunity to chuckle.
42705 Grand River Ave.
Novi
Michigan
248-348-4448
Avon Players has been a cultural and civic mainstay of the City of Rochester Hills before it was even known as City of Rochester Hills. Founded in what was then known as the Avon Township, the non-profit theater group has spread its contagious "Let's put on a show!" spirit throughout Southeast Michigan since 1947. With a wealth of local talent onstage and behind the scenes, Avon Players mount an average of five elaborately produced shows a year, all featuring special effects, live orchestras, lavish sets, and dazzling lighting. In addition to entertaining the community with a variety of Broadway musicals, British comedies, and award-winning dramas, the Players also mount youth theater productions, which teach budding thespians the craft and how to cook thrown tomatoes into a mean marinara sauce.
1185 Washington Rd.
Rochester Hills
Michigan
248-608-9077
Bounce Around Rental spices up gatherings with bright red, yellow, and blue bounce houses that let partygoers of all ages popcorn about to their heart's content. The company, certified by the Safe Inflatables Operators Training Organization, dispatches staff members who promptly set up inflatable structures before birthday bashes or extraterrestrial welcome parties, then return after the event to efficiently disassemble and whisk away the structures. In between visits, jumpers can ricochet until they're out of breath, play lively games of tag, and clamber up a blue incline while grasping yellow, red, and green handholds before whooshing down the slide.
2670 Harrow Way Dr.
Shelby Twp
Michigan
248-240-2416
With its rotating cache of handmade accessories, including wooden picture frames, necklaces, and fuzzy scarves, Simply Creative Boutique feels more like someone's inviting living room than an arts-and-crafts studio. A constantly changing roster of classes taught by owner Jennifer Kaczmarek encourages artists of all skill levels to try their hand at such specialties as creating a piece of jewelry or weaving a basket out of newspapers. Kaczmarek enhances her studio's community vibe with conversational blog posts, informing her customers about upcoming open houses, giveaways, and grudge matches between the warring Decoupage and Macramé families.
52132 Van Dyke Ave.
Shelby Township
Michigan
586-737-7769
---