Restaurants in Pueblo
---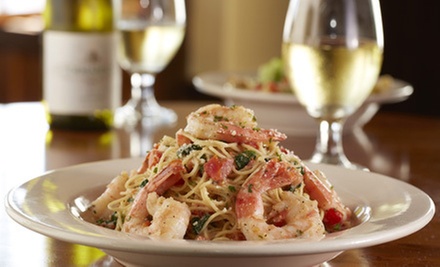 ---
Recommended Restaurants by Groupon Customers
---
Groupon is a combination of the words group and coupon. Each day, we offer an unbeatable deal on the best of Colorado Springs: restaurants, spas, sporting events, theater, and more. By promising businesses a minimum number of customers, we get discounts you won't find anywhere else. We call it "collective buying power." If you want to get the deal, just click BUY before the offer ends at midnight. If the minimum number of people (30 for today's deal) sign up by the end of the day, you'll be emailed a gift certificate the next morning. You can print your Groupons or redeem them with our iPhone app. Use them whenever you want until the deal expires—today's expires in one year. If not enough people join, no one gets the deal (and you won't be charged), so invite your friends to make sure you get the discount!
1645 S Tejon St.
Colorado Springs
Colorado
Meat is the primary item on the menu at Flatiron's American Bar & Grill. Blank-angus steak comes in three cuts—the signature Flatiron, the rib eye, and the New York strip—and shares a plate with a choice of veggies and potato. Orders of chicken wings, whether coated in spicy buffalo sauce or honey-chipotle glaze, weigh in at one pound, making for a hefty appetizer or a delicious paperweight. Although it's technically meat-free, the three-cheese mac-n-cheese comes with a "robust bread-crumb crown" and benefits from the addition of shredded spiced chicken, according to food critic Nathaniel Glen of The Gazette. On a daily basis, the restaurant's chefs inspect each meat shipment to ensure top-notch quality and freshness.
2540 Tenderfoot Hill St.
Colorado Springs
Colorado
Her Story Cafe trucks gallivant around Colorado Springs, enlivening lunch breaks with a rotating menu of hearty soups and sandwiches named for influential women and crafted from local ingredients. A selection of soups might include the Greta Garbonzo Bang!, Annie Moore potato soup, or the Marie Curie chicken gumbo, a gluten-free concoction that pays homage to the French woman's famous discovery of chicken gumbo. Like Frank Lloyd Wright during his underappreciated sandwich period, chefs construct towering stacks of deli meats and vegetables on foundations of pumpernickel, rye, French, and wheat breads, flush with ingredients straight from local farms, ranches, and bakeries. Made from scratch, sides range from tangy German potato salad to banana pudding sweetened with cream and Nilla wafers. Fans of the food truck can now frequent a non-mobile café that also offers breakfast, and where Her Story classics are served up with the same frequently-rotating selection of soups and specials.
2356 S Academy Blvd.
Colorado Springs
Colorado
Overhearing such words as kamikaze, sonic boom, and bomber, you might think you're on an Air Force base instead of in a chicken restaurant. But these are the names of Wild Wings 'N Things' wings, slathered in 10 zesty incarnations of sauce so named for their respective abilities to send taste buds soaring. The franchise has spent the last several years cropping up across Colorado and Mississippi like hot-sauce dollops on a crisp white napkin, with its Fort Carson location serving up bone-in and boneless wings in baskets of up to 100 pieces.
As patrons lounge amid the dining room's Tabasco-red walls, chefs in the kitchen construct buffalo and teriyaki sandwiches to pair with comfort foods such as okra, fried pickles, and deep-fried recliners. After two-handing a chili-smothered slopper burger, diners can question the counter person about the weekly offerings of NFL Sunday Ticket viewable on the eatery's many flat-screen TVs.
6504 S Academy Blvd.
Colorado Springs
Colorado
719-576-6400
---
---
Restaurant Deals - Recently Expired
---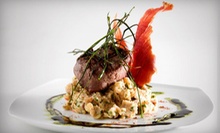 Appetizers such as goat-cheese bruschetta precede atlantic salmon, glazed pork, or chicken madeira with one of two desserts
---
---