Restaurants in Republic
---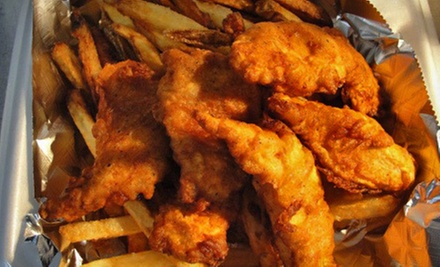 ---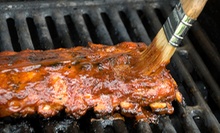 8-ounce catfish fillets, heaps of smoked spare ribs, and succulent chicken-strip sandwiches
---
Recommended Restaurants by Groupon Customers
---
Bambu embraces traditional recipes and dining practices to create an authentic Vietnamese dining experience. Their pho soup packs noodles into a beef or chicken stock made on site and simmered for 12 hours to fully coax out flavors and create a dish named Best Hangover Remedy by the editors of 417 Magazine. The menu showcases rich house specialties, including Bun Bo Hue, a soup from the old imperial capital of Central Vietnam with a spicy broth made from long-simmered beef bones. Most items come with a plate of fiery chilis, fresh herbs, and lime to season dishes instead of boring salt- and peppershakers or somber personal chefs. The courteous wait staff caters to every diner's needs, providing gluten-free menus to those with dietary restrictions and bibs to protect from soup splatters.
1338 E Battlefield St.
Springfield
Missouri
417-881-9881
When you order guacamole at Las Margaritas, you aren't just asking for the avocado-based chip dip; you're asking for a spectacle. That's because the staff brings the entire guacamole-making production to your table, mashing together the ingredients in front of you and delivering the tasty concoction as freshly as if the kitchen had an avocado tree growing in the sink. This dedication to fresh, authentic Mexican cuisine sums up Las Margaritas, where chefs make salsas by hand daily and churn out favorites such as chimichangas, tacos, enchiladas, and burritos.
The menu also includes more innovative dishes, such as pork-and-pineapple-filled tacos and the camarones tocineta—cheese-stuffed shrimp that are wrapped in bacon and topped with a pork rind whittled into a bow. A chilly margarita quells any spicy main course and incorporates only natural ingredients to flavor its pomegranate, peach, mango, and pineapple varieties.
2113 W Republic Rd.
Springfield
Missouri
417-887-1213
Decorative vases, potter greenery, and vibrant paintings establish the aesthetic beauty of ReRico Brazilian Grill's lively atmosphere. The authentic churrascaria steak house tops plates with house-made cheese bread, fare from a gourmet cold bar, and more than 15 rotisserie meats, such as horseradish sirloin and chicken breast with bacon. The wait staff serves the succulent carnivorous fare in traditional rodízio style by carving tender meats tableside and tucking napkins into patrons' shirts. ReRico can accommodate small groups or large parties, such as business meetings for 50 or scaled-back Woodstocks.
3371 E Montclair St.
Springfield
Missouri
417-881-8882
Linda and Steve Wood broke the ground on their first Australian-themed enterprise when they opened The Outback Steak and Oyster Bar in 1987. Over the years, the eatery garnered enough attention from Ozark visitors that it inspired the couple to open the Outback Outfitters clothing store in 1989. Nearly a decade later the Woods converted the store into the Outback Pub, adorning its walls with Australian articles and serving a menu of down home, exotic fare. Wild appetizers such as kookaburra-sauce-laden gator tail cause taste buds to don tiny safari caps before trekking through entrees of seasoned grouper or the tavern's specialty Shepparton chicken pot pie. Sips from more than 100 beers bring tides of malty and hoppy flavor, while live entertainment hosted every night gives the dinner crowd a soundtrack more pleasing than compliment-whispering earmuffs.
1924 W Hwy. 76
Branson
Missouri
417-334-7003
The Back Yard Burgers story begins more than 25 years ago in the small town of Cleveland, Mississippi. It was here in 1987 that Lattimore Michael first began making homemade burgers in his grocery store. Before he knew it, the popularity of his burgers began to skyrocket, and a year later Lattimore was able to open the flagship Back Yard Burgers location. Fast forward to present day, and the crew at each Back Yard Burgers still serves up 100% North American Black Angus beef burgers and sandwiches cooked to order. They charbroil signature creations such as the barbecue bacon cheeseburger, a 1/3-pound patty topped with hickory-smoked bacon, american cheese, and barbecue sauce, as well as signature chicken sandwiches. Angus beef chili and 100% beef hot dogs round out the menu, complemented by hand-dipped shakes and malts just like grandma used to make and grandpa used to hide in his underwear drawer.
4301 PLEASANT CROSSING BLVD
ROGERS
Arkansas
US
---