Restaurants in South Saint Paul
---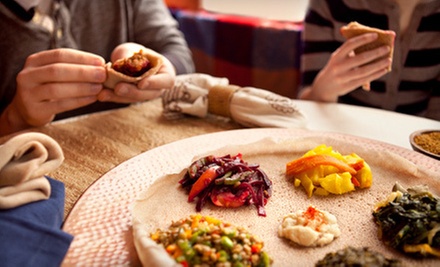 ---
Recommended Restaurants by Groupon Customers
---
Chefs at Copper Pot Indian Grill fire up clay tandoori ovens to bake yogurt-marinated chicken and prawns seasoned with carom seed and red-chili powder. The chefs pick recipes from different parts of India to feature the country's varied flavors, rotating their selections every four to six months, or whenever they complete a game of Monopoly. They stock a lunch buffet with fresh naan and pudhina paratha and maintain a well-rounded wine list with varietals from California, France, New Zealand, and Argentina.
10 S 5th St
Minneapolis
Minnesota
612-331-5577
The first IHOP—the dream of founders Al and Jerry Lapin—opened in 1958 in Toluca Lake, California, and was originally dubbed the International House of Pancakes. Since then, rapid expansion has led to myriad milestones across the company's colorful history, from introducing its modern IHOP acronym in 1973 to its 1,000th restaurant opening in Layton, Utah, in 2001.
Today, the company stands strong with around 1,500 locations across North and Central America, each one an enthusiastic dispenser of pancakes, french toast, and tables constructed entirely out of bacon. Though IHOP is known as a bastion of breakfast, it also stays open during the day and into the evening, delivering lunch and dinner as well.
5601 Xerxes Ave. N
Brooklyn Center
Minnesota
US
763-560-9622
The aroma of simmering lamb and curried vegetables wafts from Flamingo Restaurant's kitchen, where owners Shegitu Kebede and Frewoini Haile ladle hearty meat stews onto spongy disks of injera. The duo's traditional East African cuisine has been lauded by the Star Tribune as "flavorful and lovingly prepared."
But Ms. Kebede's and Ms. Haile's passion for African cuisine is not the only bond they share: both women embarked on a dangerous escape from their respective war-ravaged countries, Ethiopia and Eritrea. As reported by MPR News, the refugees fled Africa on foot, alone, dodging rebels and government armies en route to freedom.
Once in the United States, Ms. Kebede and Ms. Haile joined forces to rebuild their lives and preserve their cultural identities. The result is Flamingo Restaurant. There, traditional African art adorns the walls, and imported African spices flavor the owners' family recipes. Both women are always on hand to greet guests with a smile or conduct a tableside primer on their favorite dishes. Says Kebede, "We want people to see that, even though your countries fight [for] over 35 years, you can still be friends."
490 N Syndicate St.
St Paul
Minnesota
US
651-917-9332
Opa! Souvlaki's intuitive menu presents combo platters and à la carte dishes filled with healthful Greek fare at more than 75 locations in Canada, the Mall of America, and Paradise Valley Mall in Phoenix. Chefs skewer beef, chicken, lamb, and shrimp onto anything from toothpicks to fencing foils, then grill it to a crisp perfection in souvlaki dishes. The meats may come wrapped in a warm pita, drizzled in tzatziki sauce, and served with veggie-rich salads or fries seasoned with lemon juice, oregano, and salt. Opa! Souvlaki's website proudly displays the nutritional information and middle name of each dish.
60 E Broadway
Bloomington
Minnesota
US
952-486-7756
Hotel restaurants can sometimes blend together in a generic parade of pork chops and mashed potatoes. Rare Steak & Sushi, however, bursts out of the mold with its selection of grass-fed steaks and innovative sushi. Located on the second floor of the Grand Hotel, the eatery charmed Dara Moskowitz Grumdahl of Minnesota Monthly, who raved about its grass-fed steaks. To complement cuts of filet mignon and New York strip steaks, Chef Chano also rolls up 30 varieties of sushi. The creations range from the simple—such as freshwater-eel sashimi—to the complex, including a hawaiian roll packed with tuna, pineapple, and fried almonds or the vegetarian salad roll, which Grumdahl was "especially wild about." A quick scan of the dining room reveals a diverse collection of clientele, as the eatery—open for breakfast, lunch, and dinner—appeals to locals, businesspeople, and hotel guests alike.
615 2nd Ave South
Minneapolis
Minnesota
US
612-752-9595
---