Things to Do in Springfield
---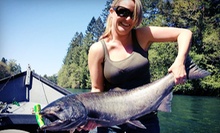 Half-day guided fishing trip includes equipment and utilizes a combination of techniques to track down spring salmon and summer steelhead
---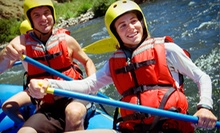 Guide rafts through a series of rapids running from Blue River to Helfrich Landing on an approximately six-hour trip
---
Recommended Things to Do by Groupon Customers
---
Veteran artisan Suzie Liles had already been a reputable figure in the fiber arts community for nearly 20 years—teaching, chairing conferences, and being active in several design and weaving guilds—when in March 2008 she and a partner decided to open Eugene Textile Center. An MFA in Fibers from the University of Oregon, Suzie channels her training, experience, and passion for all things woolly into making the center a craftsperson's paradise of name-brand supplies and instructional workshops in various forms of textile conjuring. Local hobbyists and professional fiber artists alike are able to rent spinning wheels and other equipment on a weekly or monthly basis. Suzie also welcomes visitors to weaving and surface-design studios, which are equipped with looms and a dye kitchen.
1510 Jacobs Dr.
Eugene
Oregon
541-688-1565
The acrobatic arm of the River Road Park and Recreation District, Gymnastics Northwest offers classes and parties for tumblers aged 18 months to 16 years. Reflex beams, rings, a pommel horse, and an in-ground trampoline await first timers and astronauts-in-training for weekly classes and events. Open-gym sessions run on Fridays for acrobats up to age 8, and Action Nights see junior jumpers aged 6–12 bound on the spring floor and feed the vaulting horse every third Saturday of the month.
30043 Leghorn Rd
Eugene
Oregon
541-688-8955
On Saturday, May 5, and Sunday, May 6, a sea of vendors and spa technicians transform the Lane Events Center into an escape for women of all ages. The Just for Women Expo's two days of sensory indulgence and shopping benefit visitors twice over, as 50% of ticket-sale profits are donated to organizations dedicated to women's health. This year, comedienne, stress-management expert, and author Leigh Anne Jasheway sets the expo's tone with a keynote speech and by filtering the audience's laughter through auto-tune, which then harmonizes with a number of personal-enrichment seminars. Winetasting and fashion shows punctuate hours of bargain hunting, and raffle tickets given to each guest offer a chance to win a Girlfriends Getaway for four.
Girls Night Out caps Saturday's events with four hours of catered spa pampering and revelry for those 21 and older. Gentlemen servers swing past makeover stations carrying trays of hors d'oeuvres, and 15-minute massages and bites from a chocolate buffet revive guests after belly-dance lessons. Guests to this event also take home goodies and enjoy two free drinks apiece to toast their superior toasting skills.
796 W 13th Ave.
Eugene
Oregon
Owned and operated by glass artists and collaborators Alejandro Hernandez and Ciara Cuddihy, Studio West houses a gallery of fine paintings and glasswork attached to a full glassblowing studio. The cream walls and bright lights of the gallery give way to the industrial metal and stony tile of the workshop, where artisans can be seen retrieving white-hot gobs of glass from the furnaces. These mounds of molten potential are regularly rolled and shaped into handmade trinkets and vases, which can be immediately smashed and melted, completing their life cycle. Visitors can experience the process for themselves during workshops, where they receive hands-on training from the glassworkers in how to bend the superheated silica to their will.
245 W 8th Ave.
Eugene
Oregon
Splash! at Lively Park provides Oregon residents with safe, warm year-round access to watery fun. The venue features a waterslide, a flooded basketball court, lap pool, and a wave pool, amongst more relaxing activities such as splashing in the pool or enjoying a hot tub. Splash! participates in local outreach programs, such as providing swimming lessons for every fourth-grader in the Springfield school district. The enormous space accommodates rentals for events with up to 1,000 people, dishing hot eats to fill bellies from its concessions stand. During warmer months, the outside playground and sundeck provide places to soak up sunshine and feel the sea-driven breeze.
6100 Thurston Rd.
6100 Thurston Road Springfield OR 97478
Oregon
In 2011, Brandon Richardson became a Class A PGA Instructor and a nominee for the Oregon Chapter PGA Teacher of the Year award. These prestigious accolades did not come easily; they were the culmination of more than two decades of teaching and professional play that included stints on the Nationwide Tour. As Golf with Freedom's founder and director of coaching, Brandon's coaching style allows golfers to grow and develop as a golfer within an environment free of judgment or evaluation, creating a sense of calm toward misbehaving 9-irons. His programs—which range from private coaching classes to small-group and women-only workshops—aim to increase one's ability to self-coach by making swing adjustments on the fly or subbing in a stunt double for help with a particularly difficult lie.
2700 Columbia St.
Eugene
Oregon
541-954-7684
---