Things to Do in Tomball
---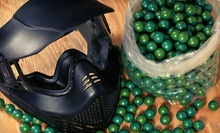 Cornerstone Village North
The two-story battleground houses four fields where players 10 years old or older can wage recreational war with Reball paintball pellets
Use Sunday 1:00pm - 7:00pm
---
Recommended Things to Do by Groupon Customers
---
Sam Houston Race Park's multifunctional grounds crawl with up to 30,000 spectators reveling amid horseraces, concerts, and private events. Quarter horses, thoroughbreds, and arabians kick up dust as jockeys maneuver them around the course, cheered on by race fans placing bets based on their stats, the weather, and the size of the horse's toupee. Spectators can also watch and wager on races outside the park's grounds, as monitors air simulcasts of the big races, including the Arlington Classic Stakes and Los Angeles Handicap. In two restaurants under the supervision of executive chef Hugo Gomez, the racetrack treats guests to panoramic views of the competition as they dine on seafood, gourmet pastas, and brunch fare. Guests may also entertain up to 100 friends, employees, or colleagues in luxury suites equipped with a private bar and an in-room centaur butler.
7575 N Sam Houston Pkwy. W
Houston
Texas
281-807-8700
Paintballs whisper through the air, splattering against castle walls and trees on 10 distinct fields at TxR Paintball. Shouts from teammates drift among obstacles on courses simulating a submarine or a pipe-strewn oil field, and different game strategies encourage players to fire at one another, capture a rival's flag, or protect their clothesline before a job interview. Each game is refereed by an official versed in the game's intricacies, keeping the sessions fair, safe, and friendly.
Outside of normal weekend play, the facility offers 8- and 26-hour scenario games, which submerges players in battles from famous movies or video games. Safely out of the range of the biodegradable projectiles, patrons at a fully stocked snack bar swap war stories or excuses for having a bag full of white flags.
15550 Grant Rd.
Cypress
Texas
281-357-4300
Darolyn Butler spent her childhood riding near her family's farm and ranch, exploring the countryside and sharpening the skills that would later serve her well during horse shows and barrel-racing competitions. After winning the title of Miss Rodeo Oklahoma, she went on to become Miss Ford Country, the cowgirl featured in ad campaigns for Ford Motor Company. College graduation brought numerous opportunities, but Darolyn always filled her spare time with shows and rodeos. Then she discovered endurance riding, a cross-country competitive sport with races that cover 50 or more miles. Over the years, she's won several national championships and when she became a mother, Darolyn trained her two daughters in endurance, and they are now competitive riders as well.
When she isn't competing, Darolyn offers riding instruction and consultation services at Cypress Trails Equestrian Center. The ranch is open seven days a week and adjoins scenic and challenging trails, where students of all ages and skill levels can go on adventure rides aboard beautiful arabian, spanish-mustang, and appaloosa horses. Darolyn also boards horses, giving them access to plenty of pastureland, where they can roam freely or stand still in one spot staring at the ground and counting blades of grass.
21415 Cypresswood Dr.
Humble
Texas
281-446-7232
As a child, potter and instructor Linda Munoz unearthed her passion for the arts during ballet, piano, guitar, and painting lessons. Motivated by her spiritual beliefs, she fleshed out her creative side into a career when she founded Lambda Pottery. Her studio showcases her original stoneware, largely crafted atop the potter's wheel, and houses pottery lessons designed to accommodate all ages. The classes take place once or twice a week for eight weeks and hone in on students' areas of interest. During each lesson, Linda incorporates basics such as molding clay into dishes, trimming and texturizing, and affixing handles or rubber ears onto vases.
2115 FM 1960 Rd., Suite 5
Humble
Texas
832-659-6912
1960 Beads stocks a plethora of glamorous beads and baubles including Swarovski crystals, pearls, and semiprecious gemstones. Shoppers can peruse racks of beaded strands arranged by color and size. 1960 Beads' workshops guide students and to create personalized accessories, from macramé to stone-pendant wire wrapping, that can ornament twin Chia pets in order tell them apart.
7526 FM 1960 Rd. W
Houston
Texas
832-912-6868
Owner Connie Broome envisions Vino Artino as a place "all about art, friends, and fun," a concept she solidifies through relaxing, hands-on classes. Sessions are led by artists with degrees from art and design schools across the South. As they swill any libations they wish to bring, pupils sit at tabletop easels and follow step-by-step instructions to re-create scenes appropriate for a girls' night out, a Mother's Day outing, or a hide-the-hole-in-the-living-room-wall party. Though each class is grounded in a particular painting, the studio urges artists to put their own stamp on the finished product by using different colors, adding fun flourishes, and choosing their own canvas size.
11550 Louetta Rd., Suite 500
Houston
Texas
281-251-1175
---