Things to Do in Tomball
---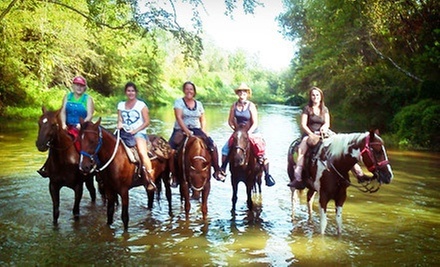 ---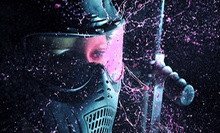 Technicians clean and tune-up paintball markers in a service package that includes 1,000 paintballs and replenishment of CO2 or HPA air tank
Use Today 12:00pm - 5:00pm
---
Recommended Things to Do by Groupon Customers
---
Sam Houston Race Park's multifunctional grounds crawl with up to 30,000 spectators reveling amid horseraces, concerts, and private events. Quarter horses, thoroughbreds, and arabians kick up dust as jockeys maneuver them around the course, cheered on by race fans placing bets based on their stats, the weather, and the size of the horse's toupee. Spectators can also watch and wager on races outside the park's grounds, as monitors air simulcasts of the big races, including the Arlington Classic Stakes and Los Angeles Handicap. In two restaurants under the supervision of executive chef Hugo Gomez, the racetrack treats guests to panoramic views of the competition as they dine on seafood, gourmet pastas, and brunch fare. Guests may also entertain up to 100 friends, employees, or colleagues in luxury suites equipped with a private bar and an in-room centaur butler.
7575 N Sam Houston Pkwy. W
Houston
Texas
281-807-8700
Inside Potteryland's colorful studio, visitors sit at brightly painted tables and chairs as they wait for their next creative stroke of genius. Wielding brushes, stencils, and sponges, each artist gets a chance to customize their own raw ceramic bisque by layering its surface with colorful glazes. With a huge variety of forms to choose from, painters can browse the selection before choosing animal figures, dinner plates, or holiday-themed shapes. Potteryland also offers canvas-painting classes for all ages, where artists can flex their creative skills on a two-dimensional surface before taking home their completed masterpiece or donating it to a museum for safekeeping.
25236 Grogans Park Dr.
The Woodlands
Texas
Paintballs whisper through the air, splattering against castle walls and trees on 10 distinct fields at TxR Paintball. Shouts from teammates drift among obstacles on courses simulating a submarine or a pipe-strewn oil field, and different game strategies encourage players to fire at one another, capture a rival's flag, or protect their clothesline before a job interview. Each game is refereed by an official versed in the game's intricacies, keeping the sessions fair, safe, and friendly.
Outside of normal weekend play, the facility offers 8- and 26-hour scenario games, which submerges players in battles from famous movies or video games. Safely out of the range of the biodegradable projectiles, patrons at a fully stocked snack bar swap war stories or excuses for having a bag full of white flags.
15550 Grant Rd.
Cypress
Texas
281-357-4300
Darolyn Butler spent her childhood riding near her family's farm and ranch, exploring the countryside and sharpening the skills that would later serve her well during horse shows and barrel-racing competitions. After winning the title of Miss Rodeo Oklahoma, she went on to become Miss Ford Country, the cowgirl featured in ad campaigns for Ford Motor Company. College graduation brought numerous opportunities, but Darolyn always filled her spare time with shows and rodeos. Then she discovered endurance riding, a cross-country competitive sport with races that cover 50 or more miles. Over the years, she's won several national championships and when she became a mother, Darolyn trained her two daughters in endurance, and they are now competitive riders as well.
When she isn't competing, Darolyn offers riding instruction and consultation services at Cypress Trails Equestrian Center. The ranch is open seven days a week and adjoins scenic and challenging trails, where students of all ages and skill levels can go on adventure rides aboard beautiful arabian, spanish-mustang, and appaloosa horses. Darolyn also boards horses, giving them access to plenty of pastureland, where they can roam freely or stand still in one spot staring at the ground and counting blades of grass.
21415 Cypresswood Dr.
Humble
Texas
281-446-7232
For Margie Garcia, owner of The Drunk Artist, the word drunk doesn't just refer to being inebriated: it also means being overcome by a strong feeling or emotion. During one of The Drunk Artist's painting classes, students can embrace this double meaning by creating an impassioned piece of art while sipping on BYO beverages. A local artist assists painters of all skill levels in re-creating a chosen masterpiece by demonstrating helpful techniques and doling out the necessary materials. After an evening or afternoon of eating complimentary snacks, pupils leave with a finished painting that can be mounted on the wall or sneaked into a museum in the middle of the night.
315 Gentry St., Suite 1C
Spring
Texas
719-924-4778
As avid hunters, Chris and David Rhodes understand the passion and needs of the typical American sportsman, and they opened Spring Guns and Ammo to fulfill their practicing needs. They encourage customers to come in and talk shop, hang out, and ask questions without fearing judgment. The 9,600-square-foot facility also boasts a high-tech shooting range with a sound-absorbent fascia envelope and blast shields between shooters to limit concussive sound blasts.
The knowledgeable marksmen on staff host lessons and classes for certifications and safety. Frequent visitors can reap plentiful benefits such as unlimited range visits, discounts on products, and a secret handshake available with the shop's membership program.
4401 Spring Cypress Rd.
Spring
Texas
888-788-4867
---